/ What is the best form of iron supplement?
Our Members Asked:
What is the best form of iron supplement?
---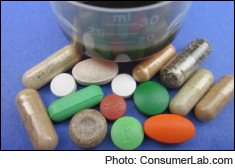 Answer:
Iron comes in many forms. If taken with just water, all are about equally well-absorbed, so less expensive forms, such as ferrous sulfate, are fine. However, with larger doses, some people experience gastric discomfort and/or constipation. Taking with food may reduce discomfort, but also reduces absorption of certain forms of iron, such as ferrous sulfate, while other forms are better-absorbed in the presence of food, such ferrous bisglycinate (sold as "Gentle Iron") and ferrous glycinate.
Note that some supplements include vitamin C to increase iron absorption but this is unlikely have a significant effect, and there is concern that slow- or timed-release products may lead to reduced absorption of iron. For more details see the
Forms of Iron and Avoiding Stomach Upset
section of our
Iron Supplements Review
. Also see our overall
Top Picks
among the iron supplements we tested.
Join today to unlock all member benefits including full access to all CL Answers and over 1,300 reviews.
Join Now
Already a member? Sign In Here.
Join now at www.consumerlab.com/join/
2

Comments