/ Do any supplements naturally suppress appetite and help with weight loss?
Our Members Asked:
Do any supplements naturally suppress appetite and help with weight loss?
---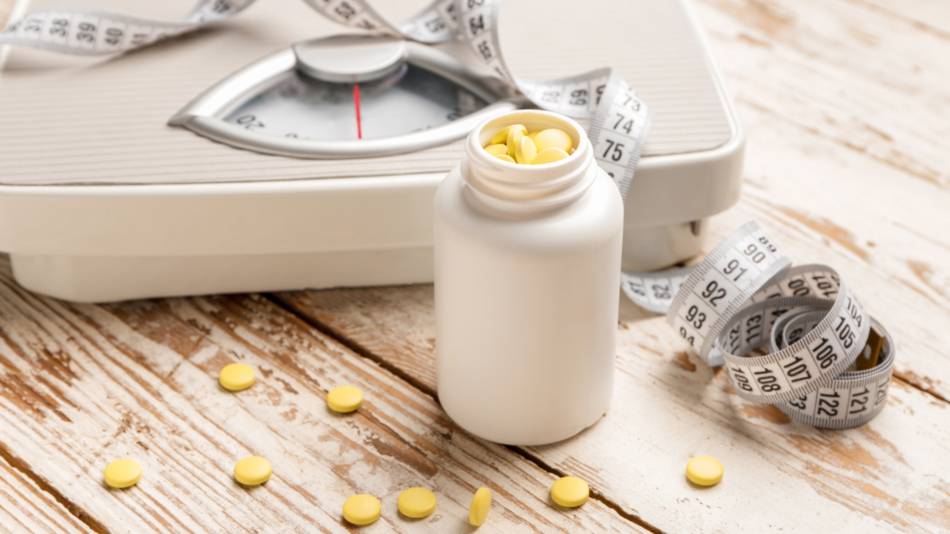 Answer:
Some supplements may suppress appetite by causing a sense of fullness when they expand and take up volume in the stomach (such as glucomannan and psyllium). Others may suppress appetite through the nervous system, likely due to their caffeine content, such as green tea extracts.
Small, short-term studies typically funded by supplement companies suggest that some of these ingredients these can modestly aid in weight loss, although it is not clear if they help when used long-term. Also, there are risks associated with the use of these supplements.
Below is a summary of evidence and risks for these supplements. We've included links to articles on ConsumerLab.com with more information about each type of supplement and, for some, to our Product Reviews, in which we purchased, tested, and compared the quality of these products.
Fiber Supplements
Glucomannan (from konjac root), an ingredient found in Skinny Fiber, is a water-soluble fiber that soaks up water and expands in the gut (by up to 17 times its original volume), which may make you feel full. A review of seven clinical trials concluded that, at a dose of between 2 and 4 grams per day, glucomannan was well tolerated and resulted in modest weight loss (around 2 pounds in 4 weeks and 5 pounds in 8 weeks) in overweight and obese individuals. However, a later study found that taking 4 grams of glucomannan daily did not decrease appetite or reduce body weight compared to placebo in overweight and moderately obese adults (the composition and purity of the glucomannan supplements used were confirmed through testing by ConsumerLab.com at the request of the researchers).
Be aware that glucomannan's ability to expand has a downside: The FDA warns that products containing glucomannan may pose a choking hazard (or cause intestinal blockage) if not taken with enough water to keep it moving along, and labels for these products should carry a warning.
Psyllium is a gel-forming viscous soluble fiber that is a laxative and may help control hunger. One clinical study found that drinking a beverage containing 6.8 grams (2 teaspoons) of psyllium twice daily while following a reduced-calorie, low-fiber diet for 3 days modestly decreased hunger and desire to eat between meals compared to a placebo beverage. A lower dose (3.4 grams) was not as effective, and a higher dose (10.2 grams) was no more effective. The specific psyllium product used was Metamucil Orange Sugar Free Fiber Singles (Procter & Gamble, which funded the study) (Brum, 2016 Appetite).
Keep in mind that since the participants in the above study were put on a low-fiber diet (to better assess the effects of psyllium), it is unclear if the same benefits would be seen for a person already consuming greater amounts of fiber from their diet. In addition, it is unknown if taking psyllium is helpful in achieving weight loss.
Psyllium can cause gas and bloating. Do not use psyllium if you have difficulty swallowing. Consult your doctor before using if you have kidney disease. In some people, regular use of psyllium may cause an increase in eosinophils (a type of white blood), levels of which are known to increase in response to allergens, infection or inflammation (Nelson, JAMA 1980). Psyllium can also affect the absorption of many drugs, so be sure to consult your physician before using psyllium if you are taking medication.
Green Tea Extract
Some studies have found green tea extracts to modestly aid in weight loss and protect against weight gain, although not all studies have found a benefit. Some researchers have suggested that green tea catechins may help with weight management by inhibiting starch digestion and absorption (by inhibiting digestive enzymes), while other researchers believe the weight loss effect is due to its caffeine, which, even alone, can reduce appetite (which is why it and other herbal ingredients that naturally contain caffeine, such as guarana, Yerba maté, and kola nut, are often found in stimulant-blend weight loss supplements. Caffeine is also found in green coffee bean extract supplements.). Studies using decaffeinated green tea extract have generally not shown a significant benefit.
Green tea is generally safe, although it may have stimulant side effects due to caffeine content. However, cases of liver toxicity have been reported with green tea extracts. Green tea may also interact with certain medications including MAO inhibitors, proteasome inhibitors, certain beta-blockers, statins, and thyroid medication such as levothyroxine (Synthroid). For more details about the side effects and possible drug interactions of green tea, see the Concerns and Cautions section of our green tea review.
Other Supplements Promoted as Appetites Suppressants
Yacon syrup is made from the tuberous roots of the yacon plant that is high in a prebiotic soluble fiber called fructooligosaccharides, or FOS (Lachman, Plant Soil Environ 2003). Although it is promoted for appetite suppression and weight loss, results from clinical research are mixed.
One study in obese, premenopausal women following a low-calorie diet and modest exercise regimen showed that 10 grams of FOS from yacon syrup (about 2 to 3 teaspoonfuls of syrup) given daily for 4 months reduced body weight by about 33 lbs. and also decreased waist circumference and body mass index compared to baseline, while women given a placebo had a slight increase in weight (Genta, Clin Nutr 2009).
On the other hand, a study in Brazil among 40 normal weight and obese women found that 40 grams of yacon syrup (containing 14 grams of FOS) consumed with a breakfast high in fat and carbohydrates did not decrease levels of ghrelin or GLP-1 (hormones that help regulate appetite after eating) nor decrease hunger or desire to eat up to three hours after the meal, compared to placebo (Adriano, Food Res Int 2020).
Like other ingredients with high fiber content, taking large amounts of yacon syrup or root powder can cause gastrointestinal discomfort, gas and bloating. In the clinical weight loss study mentioned above, a daily dose of about 10 grams did not cause side-effects, but when the dose was doubled, women experienced significant diarrhea, gas and nausea. Clinical studies are needed to determine the safety of long-term consumption and/or supplementation of yacon syrup and yacon root powder.
If you decide to try yacon, be sure to choose a syrup or supplement that lists the FOS content on the label.
Hydroxycitric Acid (from Garcinia cambogia) may aid weight loss by interfering with fat metabolism and/or suppressing the appetite, although there is mixed evidence as to whether HCA reduces food intake. HCA may be more effective in women than men and in people who are not markedly obese. A typical dose provides 500 mg of HCA taken three to four times a day. However, as discussed in the What to Consider When Using section of our Garcinia cambogia review, when and how you take the supplement may be important in determining its efficacy.
HCA seems to be generally safe, but no long-term studies have been conducted. Reported side effects include nausea, GI discomfort, and headache.
Be aware that ConsumerLab.com has found that many Garcinia products do not contain claimed amounts of HCA. Among the 13 Garcinia supplements selected for testing by ConsumerLab.com, only six contained their labeled amounts of HCA. The other seven products, which were "Not Approved," contained just 14% to 81% of the listed amounts of HCA. Labels may refer to the fruit of Garcinia cambogia or to the active compound HCA. HCA represents up to 16% of the weight of the dried fruit and typically 50% of the extract.
Caralluma fimbriata is a type of edible cactus. Although traditionally used for its appetite-suppressing effects, evidence to support this is effect is mixed, and it does not seem to help with weight loss. One small clinical study showed that 1,000 mg of Caralluma fimbriata extract given daily for 60 days reduced appetite and waist circumference compared to placebo, but it did not significantly reduce weight or body fat (Kuriyan, Appetite 2007). However, a slightly larger study using the same dose (at 500 mg twice daily) for 12 weeks did not significantly reduce appetite, body weight, body mass index, hip circumference, or waist circumference compared to placebo (Arora, Perspect Clin Res 2015). No serious adverse events have been reported with Caralluma fimbriata in clinical studies, although nausea, constipation, stomach pain, and other GI issues have been reported. The long-term safety of this ingredient is unknown, as all studies have been short-term.
Several small studies suggested that ginger may slightly help people who are overweight or obese, although results are mixed and it is unclear how ginger might promote weight loss.
Spark Keto, also commonly called "K3 Spark Mineral," is a product marketed for weight loss, but this product does not appear to have been clinically tested for efficacy and there does not appear to be compelling evidence supporting the benefits of the ingredients in the product. Spark Keto, which is touted as helping to burn fat and manage cravings, contains 800 mg of a proprietary blend of beta-hydroxybutyrate salts (magnesium, calcium, and sodium beta-hydroxybutyrate) called goBHB. Beta-hydroxybutyrate is one of the "ketones" or "ketone bodies," a group of chemicals naturally produced by the liver as an alternate source of energy in response to low dietary intake of carbohydrates (such as during fasting or when following a very low carbohydrate diet). Because ketones are derived from fat, production of ketones may help promote fat loss and weight loss (Gershuni, Curr Nutr Rep 2018; McPherson, J Physiol Biochem 2012) — but this does not mean that taking ketones helps with weight loss. Although a small study showed that taking beta-hydroxybutyrate diluted in a citrus-flavored drink following an overnight fast reduced hunger for up to 4 hours by about 50% more than consuming the same beverage with dextrose (a simple sugar), possibly by lowering blood levels of ghrelin (a gut hormone that increases the desire to eat) (Stubbs, Obesity (Silver Spring) 2018), this does not prove that it improves weight loss. Furthermore, some laboratory research suggests that increasing blood levels of beta-hydroxybutyrate reduces the production of ketones by the body (Taggart, J Biol Chem 2005), indicating that supplementation with beta-hydroxybutyrate may reduce the amount of body fat that is used for energy. Also, be aware that ketone supplements, including beta-hydroxybutyrate, have been reported to cause gastrointestinal side effects including flatulence, nausea, diarrhea, constipation, vomiting, and abdominal pain in up to 80% of study participants (Margolis, Adv Nutr 2020).
Foods For Weight Loss?
Peanuts, especially the skin of peanuts, contain antioxidant and anti-inflammatory constituents. Since inflammation and oxidative stress have been linked with obesity-related comorbidities (such as cardiovascular disease), researchers have speculated that regular consumption of peanuts may be beneficial. However, a clinical study found no weight loss benefit with peanuts, although there was a decrease in total cholesterol. In the study, obese women who ate 56 grams (about 2 ounces or a large handful) of whole (with skin) or skinned peanuts 30 minutes before lunch for 8 weeks, as part of a reduced-calorie diet, lowered their total cholesterol by about 30 to 40 mg/dL compared to a 6 mg/dL increase in the control diet group. Those in the skinned peanut group also showed a slightly greater reduction in BMI (about 0.5 kg/m2) compared to the control group, but no difference in weight loss or blood pressure reduction, and none of the groups showed significant improvements in triglycerides, HDL cholesterol, blood glucose, insulin, markers of liver injury, or markers of oxidative stress. Interestingly, women eating peanuts showed a slight but statistically significant increase in tumor necrosis factor (TNF)-alpha, a marker of inflammation, while those in the control group showed a slight decrease (Fialho, J Sci Food Agric 2021).
The Bottom Line:
As noted above, there's no solid evidence that any dietary supplement has significant natural appetite-suppressing effects, but some may have modest short-term benefits. Be aware that there may be risks associated with the use of these supplements, and no supplement has been shown to be more effective at weight-control than changes in the diet. Also keep in mind that ConsumerLab.com has found that many supplements do not actually contain the amounts of ingredients claimed on their labels, and the chance of this is particularly high when an ingredient receives media attention as an appetite suppressant or weight loss aid, and companies rush to sell it.
Join today to unlock all member benefits including full access to all CL Answers and over 1,300 reviews.
Join Now
Already a member? Sign In Here.
Join now at www.consumerlab.com/join/