ConsumerLab Tests Find More CBD, Less THC in CBD Oils, Gummies, and Topicals
---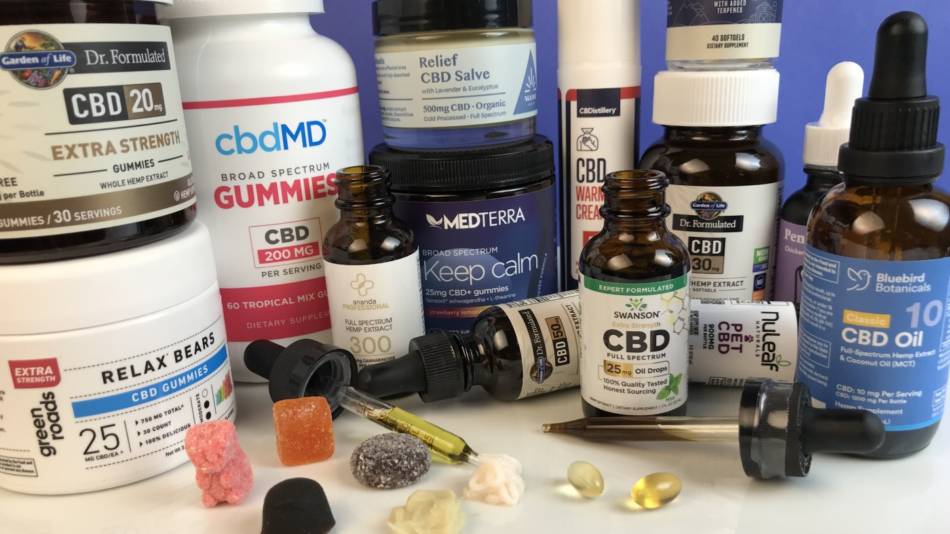 White Plains, New York, August 23, 2023 — 
Recent
ConsumerLab tests of popular CBD (cannabidiol) products
on the market revealed that, overall, products contain more CBD, and less THC (tetrahydrocannabinol, a psychoactive compound) than in previous years.
ConsumerLab selected, purchased, and tested 11 popular CBD products on the market, including oils, pills, gummies, topical products, and products for pets. All of the products were found to contain their claimed amounts of CBD. However, the dose of CBD provided in a suggested serving of the CBD oils, gummies, and pills ranged from 9.2 mg to 240.9 mg per serving, a striking increase compared to amounts ConsumerLab found in products in 2020, which ranged from 1.3 mg to 22.3 mg per serving among oral CBD products. All of the gummies in ConsumerLab's most recent tests contained at least 25 mg of CBD per serving, which is twice the amount provided by gummies tested in 2020. The current tests found no detectable THC in most products, and those that did contain THC contained less than 1 mg – although these small amounts can still
cause a positive drug test
for some people.
Based on quality, value, and dosage, ConsumerLab selected several
Top Picks among CBD products
, including a
Top Pick for CBD with THC
and
Top Picks for CBD without THC
among oils, softgels, and gummies, a
Top Pick among topical creams and salves,
and a
Top Pick for pets.
The results are available online now in ConsumerLab's new
CBD Oils, Softgels, Gummies, Creams & Salves Review
, which includes test results and comparisons for 14 products. Eleven products were selected for testing by ConsumerLab: Ananda Professional Full Spectrum Hemp Extract, Bluebird Botanicals Classic CBD Oil, CBDistillery CBD Warming Cream, cbdMD Broad Spectrum Gummies - Tropical Mix, Green Roads Relax Bears CBD Gummies - 5 Flavors, Lazarus Naturals CBD Softgels, Medterra Keep Calm - Strawberry Lemonade, NuLeaf Naturals Full Spectrum Pet CBD Oil, Nuume Organics Relief CBD Salve, Swanson Extra Strength CBD Full Spectrum Oil Drops - Mint, and Penguin Chicken CBD Oil – Pet. Three additional products passed the same testing and were Approved through CL's voluntary
Quality Certification Program
: Garden of Life Dr. Formulated CBD 30 mg, Garden of Life Dr. Formulated CBD 50 mg - Peppermint, and Garden of Life Dr. Formulated CBD 20 mg - Tart Cherry Flavor.
The review summarizes the clinical evidence for and against CBD for reducing the frequency of seizures, decreasing pain and symptoms of anxiety, schizophrenia, and gastroparesis, and other conditions, and dosages used in clinical studies. It also explains the differences between CBD oil, hemp oil, and hemp extract, what to look for on labels, and the best way to take CBD to increase absorption, as well as potential side effects and drug interactions with CBD. A
video
with expert tips for choosing and using CBD products is also available.
Founded in 1999,
ConsumerLab.com
is a leading provider of consumer information and independent evaluations of products that affect health and nutrition. Membership to ConsumerLab.com is
available online
and provides immediate access to continually updated reviews of nearly every popular type of dietary supplement and health food, answers to reader questions, and product recalls and warnings. ConsumerLab also provides independent product testing through its voluntary
Quality Certification Program
. The company is privately held and based in New York. It has no ownership from, or interest in, companies that manufacture, distribute, or sell consumer products.
CBD: How to Choose and Use It - Tod Cooperman, MD
— END — 
Members of the media contact may contact media@consumerlab.com or call the ConsumerLab.com main number (914-722-9149). Please include the name of your news organization when contacting us.