Best Protein Shakes & Drinks According to ConsumerLab Tests. Lead, Excess Sodium Found in Some
---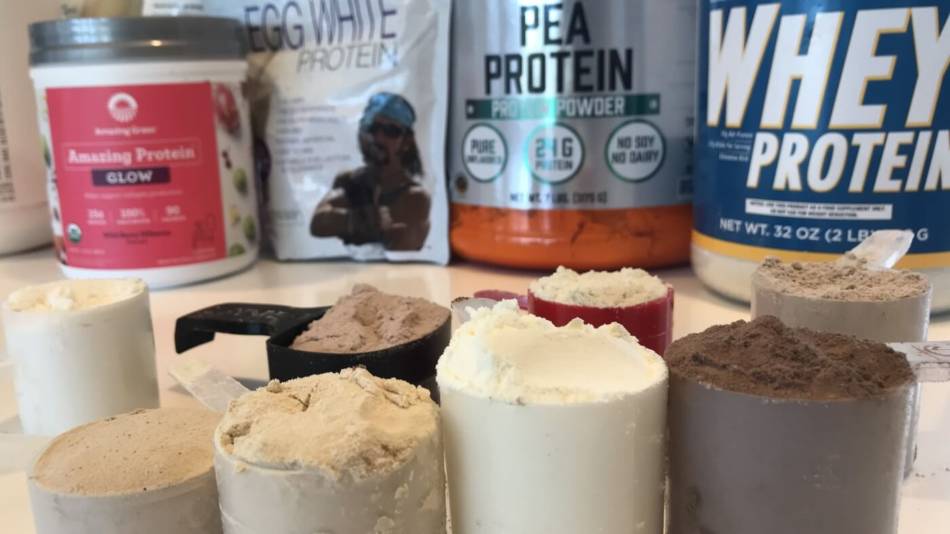 White Plains, New York, June 30, 2022 —
Consumers may get more sodium, fat, calories, or even lead, than they bargained for from some protein supplements, according to
recent ConsumerLab tests of over 20 popular protein powders and shakes
. The tests revealed that three products contained far more sodium than listed on the label, including a plant-based protein powder that claimed to contain none. This product was also found to contain more fat and calories than listed, and, most concerningly, was contaminated with lead.
ConsumerLab's tests included many protein powders, as well as ready-to-drink shake, made from a wide variety of protein sources, including whey, casein, milk, and egg, as well as vegetarian and vegan sources such as algae, chia, pea, hemp, peanut and rice protein. The products were also evaluated based on the percentage of protein they provided, amounts of fat, sugar, and calories per serving, as well as cost, taste, texture, and mixability.
Among products that were Approved, ConsumerLab selected an
overall Top Pick protein powder
, as well as
Top Picks
for
whey
,
casein
,
egg
,
pea
,
peanut
and
hemp
.
The results are available online now in ConsumerLab's new
Protein Powders and Shakes Review
, which includes test results and comparisons for 17 powder and drink products selected for testing by ConsumerLab: Amazing Grass Amazing Protein Glow – Wild Berry Hibiscus, Ancient Nutrition Plant Protein+ - Vanilla, California Gold Nutrition Micellar Casein – Unflavored, Designer Wellness Designer Whey – Vanilla, Dynamite Elite Casein – Rich Chocolate, Isopure Zero Carb Protein – Unflavored, Jarrow Formulas Whey Protein – Unflavored, Jay Robb Egg White Protein – Unflavored, Now Sports Pea Protein – Pure Unflavored, Nutiva Hemp Protein Powder, Nutricost Grass-Fed Whey Protein Isolate – Unflavored, Optimum Nutrition [ON] Gold Standard 100% Whey – Double Rich Chocolate, Orgain Organic Protein – Creamy Chocolate Fudge Flavored, PB&Me – Peanut Butter, PlantFusion Complete Protein – Vanilla, Truvani Plant Based Protein – Vanilla Flavored, and Vega One – French Vanilla. Seven other products were tested and Approved through CL's voluntary
Quality Certification Program
: GNC Amp Wheybolic – Chocolate Fudge, GNC Pro Performance 100% Whey – Chocolate Supreme, GNC Total Lean Lean Shake 25 – Rich Chocolate, GNC Total Lean Lean Shake 25 – Swiss Chocolate, Shakeology Plant-Based – Cookies & Creamy Flavored With Natural Flavors, Shakeology Plant-Based – Vanilla Flavored, and Shakeology Whey-Based – Chocolate Flavored.
A short video about the findings by ConsumerLab's President, Dr. Tod Cooperman, is available on
YouTube
.
Protein powders and shakes are a staple for many athletes and people who regularly exercise, as well as for meal replacement and people who are dieting, and older adults who may need to increase their protein intake to help guard against age-related muscle loss. While consuming extra protein may help to maintain muscle, as explained in the review, it has not been shown to build muscle or increase strength unless combined with resistance exercise. The review also discusses the clinical evidence for other uses, such as helping to control blood sugar levels, how much protein is needed daily based on age and activity level, the pros and cons of different protein sources, and the best time to take protein supplements for maximum benefit, as well potential side effects and safety concerns.
Founded in 1999,
ConsumerLab.com
is a leading provider of consumer information and independent evaluations of products that affect health and nutrition. Membership to ConsumerLab.com is
available online
and provides immediate access to continually updated reviews of nearly every popular type of dietary supplement and health food, answers to reader questions, and product recalls and warnings. ConsumerLab also provides independent product testing through its voluntary
Quality Certification Program
. The company is privately held and based in New York. It has no ownership from, or interest in, companies that manufacture, distribute, or sell consumer products.
— END — 
Members of the media contact may contact media@consumerlab.com or call the ConsumerLab.com main number (914-722-9149). Please include the name of your news organization when contacting us.