Initial Posting: 11/8/2014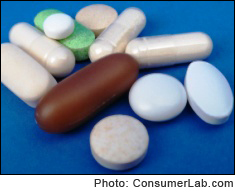 Sections:
Jump to a section by clicking on its name.
What It Is:
Garlic (Allium sativum) may be used medicinally as fresh garlic, dried or concentrated garlic powder, a liquid extract of garlic, or as aged garlic powder. Garlic consists of a main bulb (head) that can be separated into smaller secondary bulbs — the cloves.



What It Does:


Overall, garlic seems to reduce serum total cholesterol by about 4-5%. It appears to have this affect by lowering the triglyceride component of cholesterol by 6-22% (particularly reducing the VLDL component of lipoproteins, with no effect on LDL (bad) or HDL (good) cholesterol levels. These findings are based on two meta-analyses of human trials in which a variety of types of garlic products and varied doses were studied (Reinhart, Nutr Res Rev 2009, Zeng, J Sci Food Agric 2012). Some clinical research suggests that Kwai brand garlic powder (tested in this ConsumerLab.com Review) may reduce serum triglycerides to a greater degree than other garlic products (Reinhart, Nutr Res Rev 2009). (See What to Consider When Buying).

Garlic may slow the development of atherosclerosis, but garlic alone is probably not sufficient to treat people with significantly elevated cholesterol levels.

One apparently well-designed trial found evidence that regular use of garlic may help prevent colds.

There is also some evidence that consumption of garlic extract may help prevent insect bites.

Garlic supplements may slightly reduce blood pressure in hypertensive individuals. One clinical study of 84 men and women with uncontrolled high blood pressure (average age of 72) who were taking an average of two prescription anti-hypertensive medications found that taking 2 capsules of aged garlic (Kyolic High Potency Everyday Formula 112 Wakunaga/Wagner, Sydney, Australia) which provided a daily dose of 480 mg of aged garlic extract containing 1.2 mg S-allylcysteine, or SAC, for 12 weeks, significantly reduced systolic blood pressure (average reduction of 11.8 mm Hg), but not diastolic blood pressure, compared to placebo (Ried, Eur J Clin Nutr 2013). Neither a smaller dose (one capsule daily providing 240 mg of aged garlic extract and 0.6 mg SAC) nor a larger dose (four capsules daily, providing 960 mg of extract and 2.4 mg of SAC) significantly lowered blood pressure. The researchers noted that the larger dose
lowered systolic blood pressure, but this change did not reach statistical significance -- they attributed this to the fact that two people withdrew from the larger dose group due to gastrointestinal side-effects.

Very weak evidence from observational studies hint that garlic as a food may help prevent colorectal and gastric cancers.

It has been suggested that non-aged garlic is more effective when taken in a form that has higher allicin release (also referred to as "allicin yield" or "allicin potential"). Allicin is naturally found in fresh garlic in small amounts, but enzymes in the garlic produce larger amounts once the garlic is cut or crushed and exposed to water, such as in the gut. Allicin, in turn, triggers the production of other potentially active constituents such as S-allyl-L-cysteine (SAC) and ajoene. Most of the positive clinical trials with non-aged garlic have been performed with garlic yielding at least 3,600 to 5,400 micrograms (mcg) of allicin per day — roughly the amount expected from one small (4 gram) clove of fresh garlic; however, there have been many negative trials with such products as well.

Aged garlic does not produce allicin, but contains allicin-related compounds, such as SAC, to which it is often standardized. Because allicin-free aged garlic products have as good a research track record as allicin-containing products, allicin itself may not be the active component but a precursor to other active compounds. Distillation processes used to create garlic oil convert allicin into allyl sulfides which may also have biological activity.

There are more than 200 chemicals in garlic and some may interfere with other medications (see Concerns and Cautions.)

For additional information about garlic and its uses, see the article in the Natural Products Encyclopedia on this Web site.



Quality Concerns and What CL Tested for:


Some non-aged garlic preparations may not generate the amount of allicin regarded by some as effective due to use of poor quality (low allicin yield) garlic and/or low recommended dosages. While potentially helpful, the following types of information are not in themselves sufficient to tell you how much allicin to expect:


"Allicin-rich" claim. Unless defined in terms of micrograms of allicin that a product should produce, this frequently used term is meaningless.
Alliin amounts. Some products state their alliin concentration. Alliin is converted to allicin, but the amount converted can be as little as 10% to over 50%. Conversion depends on the amount and activity of the converting enzyme alliinase.
Amount of dried garlic or equivalent amount of fresh garlic. The allicin yield of garlic, fresh or dried, can vary by more than three-fold depending on the garlic used. One gram of fresh garlic should yield about 1,000 to 3,333 micrograms of allicin. Since garlic is two-thirds water, dried garlic should yield about three times as much allicin as an equal weight of fresh garlic, but this can vary depending on how well the garlic has been dried. One gram of well-dried, powdered garlic bulb should yield about 3,000 micrograms to 10,000 micrograms of allicin, but can go higher or lower based on the garlic and its processing.
Extracts. A garlic "extract" is supposed to be more concentrated than fresh or dried garlic. However, unless a product states its level of concentration, the extract may not be much different from regular dried powder (about 3 times the strength of fresh garlic).
Recommended daily serving. The recommended serving size on a product may not be set to yield sufficient compounds for its intended therapeutic use. You may need to adjust the dose depending on the actual yield of allicin, SAC, or related compounds. (See What to Consider When Using).
CL purchased ten garlic products and tested them for garlic-related compounds to determine whether or not they met their claims and the minimum standards for garlic quality applied in this review. Allicin yield was determined for non-aged garlic products. (See Testing Methods and Minimum Standards).

To be "Approved," a product had to yield at least a minimum expected amount of allicin or SAC (based on its type and amount of garlic), provide at least 2,400 mcg of total allicin (actual allicin plus allicin potential) in a daily dose (or 700 mcg of SAC for aged garlic extract powder), and meet all claims, and meet purity standards for lead, cadmium and arsenic. All products in tablet or caplet form were also tested for disintegration (how long it takes to break apart in liquid). If tablets can't break apart fast enough, less ingredient may be available for absorption by the body.


---
Want to see more?

To view this article in its entirety, please click below on the "Log In" button if you are already a subscriber or the "Subscribe" button to learn how to subscribe.


---


#190#