Initial Posting: 11/1/15 Last Update: 3/6/18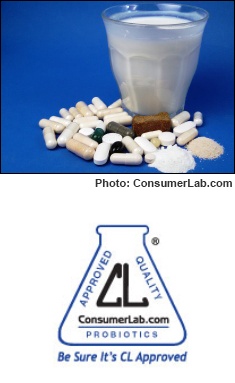 Sections: Jump to a section by clicking on its name.
Summary
Probiotic Supplements
There is such a variety of probiotic products available for purchase that choosing one can be difficult. To help, we suggest the following 3 steps:
Kefirs
Three kefir (cultured milk) products (
Evolve, Lifeway,
and
Latta
) were found to contained enormous numbers (150 to 950 billion) of live cells per cup. People with lactose intolerance are often advised to consumer kefir instead of milk; interestingly, all the kefirs contained lactose, ranging from 8.2 to 12.7 grams per cup, nearly as much as in milk. However, enzymes from the bacteria in kefir may help breakdown lactose in the digestive tract. (See the
Kefir
section).
What They Are:


Probiotic products consist of viable (live) bacteria and/or yeasts that confer a health benefit. Probiotics are available in varied forms such as yogurt and other cultured milk foods, capsules, tablets, beverages, and powders. Probiotics should not be confused with prebiotics, which are complex sugars (such as inulin and other fructo-oligosaccharides) that are ingested as fuel for bacteria already present in the gastrointestinal tract. Prebiotics and probiotics are sometimes combined in the same product and termed synbiotics.



What They Do:


The normal human gastrointestinal tract contains hundreds of different species of bacteria, referred to as intestinal flora. When the normal balance of these bacteria is disturbed by illness or antibiotic treatment, the most common effect is diarrhea. Probiotics were originally thought to work by re-colonizing the small intestine and crowding out disease-causing bacteria, thereby restoring balance to the intestinal flora. However, research is showing that probiotics are more likely to act in other ways, such as producing substances that inhibit disease-causing bacteria, competing for nutrients with them, stimulating the body's own immune system and interacting with nervous system present in the gut. For example, a U.S. government-funded study with Lactobacillus GG (Culturelle), showed that giving older, healthy individuals a capsule with 10 billion cells twice a day for 28 days caused no significant change in the composition of the intestinal flora but appeared to modulate bacterial activity in ways which could promote interactions with the gut lining and anti-inflammatory pathways. When retested a month after treatment ceased, the effects were no longer present — indicating that the probiotic was only effective during and/or shortly after administration (Eloe-Fadrosh, Mbio 2015). An analysis which looked at this and seven other studies of probiotics concluded that there is "a lack of evidence" as to "whether or not there is an effect of probiotics on the fecal microbiota composition in healthy adults" (Kristensen, Genome Medicine, 2016). It is important to note that this analysis (funded in-part by an unrestricted grant from the controlling entity of the pharmaceutical company Novo Nordisk A/S) assessed only the bacterial composition of feces and not the effects of probiotics in the treatment or prevention of disease, i.e., it is not a commentary on the clinical effects of probiotics.

A variety of probiotic organisms (alone or in combination) have been tested in clinical trials for a range of conditions. Here are some of the most notable findings by condition:



Update:
(4/28/17): The maker of one of the kefir products tested in this Review is demanding that ConsumerLab.com pubish a retraction of its finding that the product was incorrectly labeled. The kefir maker claims that CL's findings are misleading. CL stands by its findings, which remain in the Review. See the Update at the top of the full Review for more information.

#222#