---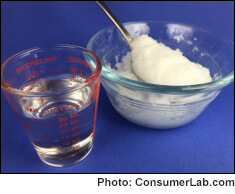 Coconut Oil and Medium Chain Triglycerides (MCT Oil) Review
Find the best coconut oil and MCT oil based on CL's tests and comparisons, including lab analyses of caprylic, capric, and lauric acid content by product. Learn more about coconut vs. MCT oil and their benefits and uses, such as in dieting and for the skin. Also learn about coconut and MCT oil dosage, safety, and side effects.
---
Other Related Product Reviews Found:
* = Search term may appear only in full report available to members. Sign in or Join now.
---
Encyclopedia Articles Found: (Articles do not mention brands)
Membership required for all articles. Sign in or Join now.
---
ConsumerLab.com Answers to Questions Found:
Membership required for some Answers. Sign in or Join now.
---
Clinical Updates Found:
---
News Releases Found:
---
SEARCH THIS SITE
This search engine specifically searches for information in the Product Reviews, The Natural and Alternative Treatments Encyclopedia, Recalls and Warnings, and Press Releases on the ConsumerLab.com Web site. It can be used, for example, to find all references to products from a specific manufacturer listed on the site or references to specific medical conditions or other terms.