/ How do the Beyond Burger, the Impossible Burger, and a beef burger compare in terms of vitamins and minerals, and which is best?
Our Members Asked:
How do the Beyond Burger, the Impossible Burger, and a beef burger compare in terms of vitamins and minerals, and which is best?
---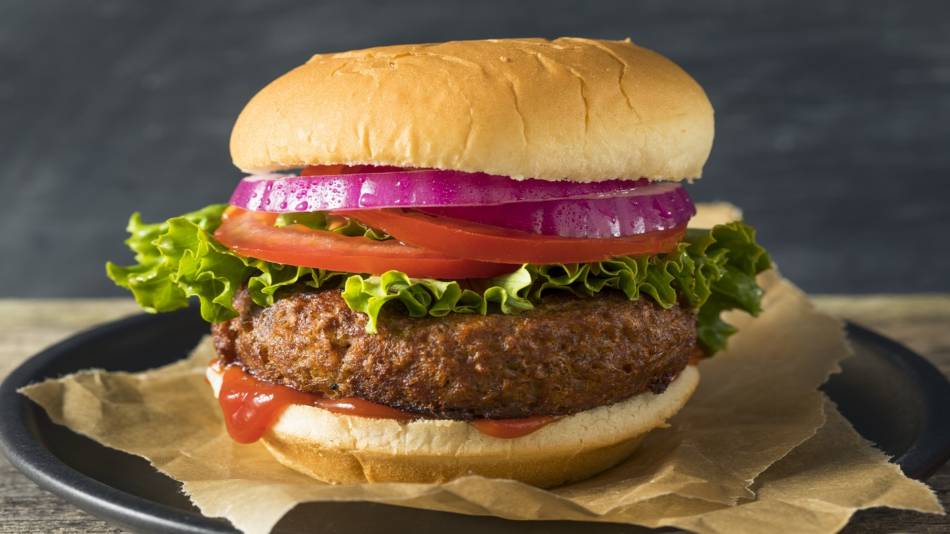 Answer:
Burgers can be compared in many ways (e.g., taste, fats, protein, environmental impact, GMOs, amount of processing, etc.), but, as far as vitamins and minerals go, the Impossible Burger is a better burger than the Beyond Burger because, as shown in the table below, it matches the many nutrients in a beef burger and goes beyond the Beyond Burger in of terms minerals -- and way beyond it in terms of vitamins because the Beyond Burger lists none.

The Beyond Burger and the Impossible Burger (plant-based, meat alternative burgers) contain somewhat similar amounts of several minerals: Both provide 25% of the Daily Value (DV) of iron — which is twice the amount in a beef burger, although the iron in meat is heme-bound, which may be better absorbed than the iron added to the meatless burgers; and both meatless burgers provide more calcium than the 18 mg in a regular burger: Beyond provides 104 mg and Impossible provides 170 mg. All the burgers provide some potassium.

Only the Impossible Burger matches a beef burger on zinc — each providing about half the daily requirement. Neither meatless burger provides the small amount of magnesium in a beef burger or the moderate amount of selenium. Both meatless burgers contain about four times the sodium that is in a beef burger — a concern for people watching their sodium intakes.

As to vitamins, Impossible Burger matches a beef burger in providing substantial amounts of niacin and vitamin B6. Impossible exceeds the 102% DV of vitamin B12 in a beef burger, providing 130% of the DV. Due to the difficulty some people have with extracting vitamin B12 from meat (a common problem among older people and those using acid-lowering medications), B12 may actually be better absorbed from the Impossible Burger than from a beef burger. Impossible Burger also provides more folate and riboflavin (30% of the DV of each) than a beef burger (just 2% and 5% of the DV, respectively), although only a beef burger provides choline (12% of the DV), which is particularly important for pregnant women.

A strange feature of the Impossible Burger is its very high amount of thiamin (2,350% of the DV) compared to none in the Beyond Burger and just 4% of the DV in a beef burger. The reason for such a high amount of thiamin is unclear as it is not just from natural ingredients but from thiamin listed as an added ingredient. Getting too large a dose of certain vitamins can be dangerous, but, fortunately, there is no established upper limit for thiamin, so this large amount of thiamin does not pose a safety issue.

Overall, the Impossible Burger provides as much or more of nearly every vitamin and mineral found in appreciable amounts in a beef burger, aside from choline and selenium. The Beyond Burger provides none of the vitamins, not even vitamin B12, which people on vegan diets need to get from fortified foods or supplements, as it is best obtained from meats, dairy, and eggs. The Beyond Burger does provide a good amount of iron, as does the Impossible Burger and, of course, a beef burger.

Keep in mind that none of burgers provides significant amounts of vitamins A, C, D, E, or K. You'll need to get those from other foods or, if needed, supplements.

If you want to find out your daily requirement of a vitamin or mineral, use the links in the first column of the table below which go to parts of our Recommended Daily Intakes and Limits table. From there you can also get to our reviews of supplements based on our laboratory tests of popular brands.

About Fats, Cholesterol, and Protein: [Added 9/20/2019]
Upon publishing this article, we received reader comments asking us to include information regarding fat and protein in the burgers and how leaner beef would compare, so we've added information to the comparison table and the discussion below.

For our original comparison, we chose to use a ground beef burger that was 84% lean, which is on the lean side for chuck and has the same amount of fat as a Beyond Burger (18 grams), although 4 grams more than an Impossible Burger. Leaner (and, typically, more expensive) beef will contain less fat and provide more protein (as discussed further below) but offers roughly the same amounts of vitamins and only slightly higher amounts of minerals.

The fat in a beef burger is about 50% saturated (the least healthy form). The fat in the Impossible Burger is about 57% saturated, although the total amount of saturated fat is only one gram more than in the beef burger. Fat in the Beyond Burger is only 33% saturated but, since it has more total fat than an Impossible Burger, this amounts to only two grams less of saturated fat than the Impossible Burger and one less than the beef burger. The saturated fats in the meatless burgers are due to coconut oil and, in the Beyond Burger, cocoa butter as well.

The meatless burgers provide a little less protein than the 21 grams in the beef burger: Beyond provides 19 grams and Impossible provides 20 grams. Of course, a burger made with leaner beef will provide more protein (a burger that is 95% lean contains 24 grams of protein, for example).

There is no cholesterol in either meatless burger, compared to 78 mg in the beef burger — about one-quarter of the maximum amount one should consume per day. Beef provides no fiber, compared to two to three grams of fiber in the meatless burgers. Impossible has an additional six grams of complex carbs and Beyond has one gram.

If you are at risk for kidney stones, be aware that, due to its soy content, the Impossible Burger likely contains more oxalate (which can contribute to stones) than the Beyond Burger, which is made with pea protein. (For more information, see our article about kidney stones.)


Vitamins, Minerals and Other Nutrients in Beyond, Impossible, and Ground Beef Burgers
(Amount and % Daily Value per Patty -- 4 oz /113 g)
Beyond Burger

Impossible Burger

Beef Burger (84% Lean)
Vitamins:
Thiamin
—
28.3 mg
(2350%)
0.047 mg
(4%)
Riboflavin
—
0.4 mg
(30%)
0.071 mg
(5%)
Niacin
—
5.3 mg
(35%)
5.162 mg
(32%)
Pantothenic Acid
—
—
0.609 mg
(12%)
Vitamin B6
—
0.4 mg
(25%)
0.386 mg
(23%)
Folate
—
115 mcg DFE
(30%)
7 mcg DFE
(2%)
Choline
—
—
68.1 mg
(12%)
Vitamin B12
—
3 mcg
(130%)
2.45 mcg
(102%)
Minerals:
Copper
—
—
0.075 mg
(8%)
Calcium
104 mg*
(8% DV)
170 mg
(15%)
18 mg
(1%)
Iron
4.5 mg*
(25% DV)
4.2 mg
(25%)
2.33 mg
(13%)
Magnesium
—
—
20 mg
(5%)
Potassium
300 mg
(6%)
610 mg
(15%)
328 mg
(7%)
Phosphorus
—
180 mg
(15%)
191 mg
(15%)
Selenium
—
—
17.7 mcg
(32%)
Sodium
390 mg
(16%)
370
(16%)
75 mg
(3%)
Zinc
—
5.5 mg
(50%)
5 mg
(45%)
Protein
20 g
19 g
21 g
Total Fat:
18 g
14 g
18
Saturated Fat
6 g
8 g
7 g**
Cholesterol:
0 mg
0 mg
78 mg
Total Carbohydrate:
3 g
9 g
0 g
Dietary Fiber
2 g
3 g
0 g
Sugars
0 g
<1 g
0 g
All values based on uncooked patties. Cooking may affect levels.
DVs based on a 2,000 calorie diet, typically the highest amount required by adults who are not pregnant or lactating. Impossible Burger rounds vitamins and most minerals to nearest 5%. Percentages for ground beef burger are calculated from amounts listed in the USDA database.
* Amount calculated from Daily Value listed on label.
** Based on fatty acids, which comprise roughly 90% of weight of fats.
Sources (Accessed 9/17/2019):
Join today to unlock all member benefits including full access to all CL Answers and over 1,300 reviews.
Join Now
Already a member? Sign In Here.
Join now at www.consumerlab.com/join/