/ How to Avoid Buying Counterfeit Vitamins and Supplements
Our Members Asked:
How to Avoid Buying Counterfeit Vitamins and Supplements
---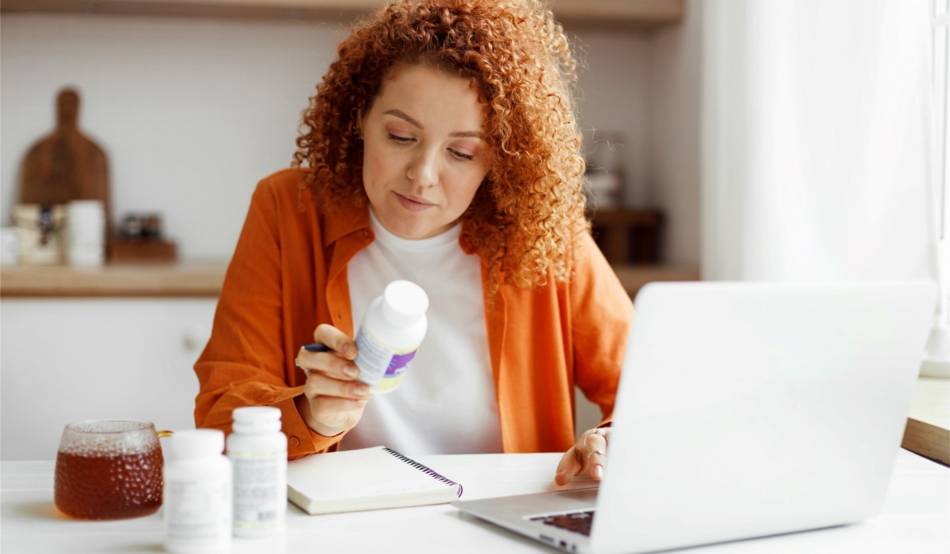 Answer:
Counterfeit supplements are being sold on Amazon and reports of this have been increasing lately. For example, in April 2023, two supplement companies, NOW Foods and Fungi Perfecti, separately reported counterfeit versions of their products sold on Amazon. Fungi Perfecti discovered 23 different sellers on Amazon selling counterfeits of its Host Defense brand mushroom supplements. NOW Foods discovered 11 different counterfeit NOW supplements, including psyllium husk capsules, magnesium citrate, and a men's multivitamin, sold on Amazon by a single Amazon seller.
Of course, before even selecting a supplement, it is important to ensure that a product does not have red flags that may indicate a problem with quality, and that it has been independently tested for quality by a third party such as ConsumerLab. To then make sure that what you buy online is the authentic product -- avoiding a fake and potentially dangerous item -- here are four important tips:
1. Shop Directly from the Brand's Website
The best way to avoid counterfeit products, when possible, is to purchase directly from the brand's website. Brands that do not sell directly to consumers will often have a "Where to Buy" page or may provide links to trusted distributors and retailers, some of which may also be authorized to sell from their storefronts on Amazon.
2. Choose Sold by/Ships from Amazon
If shopping on Amazon, purchase directly from the supplement brand's Amazon storefront or from a storefront authorized by the supplement company, as noted above.
In addition to making sure that the product is from the correct storefront or "store" on Amazon, make sure that you also see the words "Ships from: Amazon" and "Sold by: Amazon" on the page from which you are buying the product (look at the small print under the "Add to Cart/Buy Now" buttons). According to an Amazon representative contacted by ConsumerLab, this means that at least one lot of the product has been checked by Amazon to verify that its supply chain documentation is accurate.
3. Check Product Reviews for Reported Problems
Pay close attention to customer reviews and photos, particularly from reviewers with past experience with a product. Be concerned if reviews or photos indicate that a product received from a particular seller arrived in unusual packaging, contained pills of a different color, size, or shape than the authentic product, or had misspellings on labels. These tell-tale signs have been spotted with counterfeit supplements.
4. Check for Amazon Transparency Codes
Some products purchased on Amazon can now be verified using one of two smartphone apps (Amazon Shopping or the Transparency app). For brands that are registered with Amazon for the program, you can scan a product's transparency code on these apps after you receive it. Amazon verifies the identity of companies that apply to participate in the transparency program, which was launched in 2019 as part of its effort to help detect and remove counterfeit products from the site, known as Project Zero. More than 10,000 brands are apparently enrolled in the program, although Amazon does not provide a list of participating companies on its site.
What to Do if You Receive a Counterfeit Product
If you suspect that a product you received may be counterfeit, don't use it.
If you purchased the supplement from Amazon, request a refund or exchange. (Note that third-party sellers may have different return policies than those sold and shipped by Amazon – and some may have a no return policy, so be sure to check return and refund policies before buying). Also consider reporting the issue through the "Report a problem" link on the product page, and sharing the problem in a review, which may help other customers.
The Federal Trade Commission (FTC) also has a website for consumers to report fraudulent products, and you can let ConsumerLab know about quality issues or adverse events you've experienced with supplements you've purchased on our Report a Problem page.
If you experience a serious adverse event from any supplement – counterfeit or not -- you should report it to the U.S. FDA through their Safety Reporting Portal.
Join today to unlock all member benefits including full access to all CL Answers and over 1,400 reviews.
Join Now
Already a member? Sign In Here.
Join now at www.consumerlab.com/join/