/ What is the best way to take melatonin to get a good night's sleep?
Our Members Asked:
What is the best way to take melatonin to get a good night's sleep?
---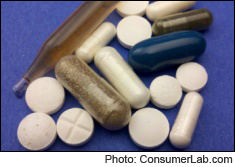 Answer:
Melatonin triggers sleep -- so it can help you fall asleep sooner, although it will not necessarily help you sleep longer. Generally speaking, melatonin should be taken a half-hour to an hour before bedtime to help you fall asleep (a liquid may work a bit faster than a pill). Although a range of doses have been used in successful clinical trials, keep in mind that melatonin is a hormone -- it may be wise to first see if a low dose works for you. For more about melatonin dosage and cautions, as well as our quality tests and comparisons of melatonin supplements, see the
Melatonin Supplements Review >>
For a broader look at supplements for sleep, as well as prescription drugs for sleep, see the
Insomnia
article in the Natural Products Encyclopedia on ConsumerLab.com. Also see our product review of
Valerian Supplements
-- which may have a calming effect; our information about
L-tryptophan
-- which can increase sleepiness and is used by the body to produce melatonin; and a question we answered about
L-theanine
, which may, interestingly, enhance the sleep quality and improve alertness during the day.
Join today to unlock all member benefits including full access to all CL Answers and over 1,300 reviews.
Join Now
Already a member? Sign In Here.
Join now at www.consumerlab.com/join/
31

Comments