Best Alternative Milks? ConsumerLab Tests Reveal What's Really in Plant-Based Milks
---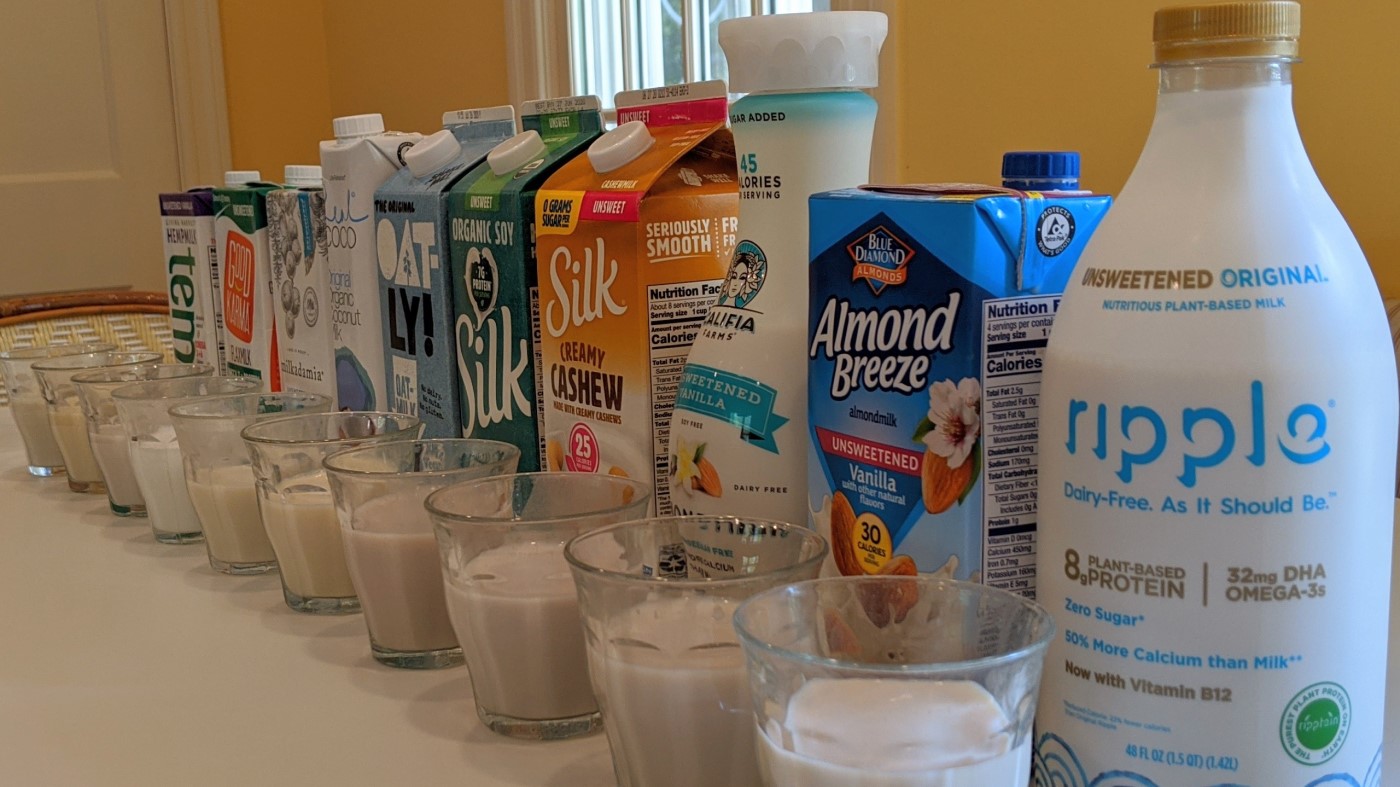 White Plains, New York, May 22, 2020 —
Plant-based milks such as soy, oat and almond milk are often promoted as a healthy alternative to regular milk. But do these non-dairy alternatives really contain all the protein, calcium, and vitamins that they claim, and which are best in terms of nutrition, quality and taste?
To find out, ConsumerLab
purchased, tested and reviewed 10 popular milk alternatives
made with soy, oats, almonds, cashews, macadamia nuts, coconut, flax, hemp, and/or pea protein. The tests revealed that most of the plant-based milks contained their claimed amounts of nutrients and, compared to regular cow's milk, many contained just as much, if not more calcium and vitamin D while providing less saturated fat and far fewer calories. However, one product was discovered to contain only 62% of the calcium listed on the label. It also contained more than twice its listed amount of vitamin B12, which, although not a health concern, suggests poor quality control.
The cost for one cup of plant-based milk ranged from 52 cents to $1.66 — about two to three times the cost of regular milk.
Among the products that were Approved, ConsumerLab selected three plant-based milks as
Top Picks
— two for their nutritional content (including just as much protein as regular milk) and one for its taste. All three were also found to mix well when added to coffee.
The full results are available online in ConsumerLab's new
Plant-Based Milks Review
, which includes test results and comparisons for the following ten products selected for testing by ConsumerLab: Blue Diamond Almond Breeze - Unsweetened Vanilla, Califia Farms Almondmilk - Unsweetened Vanilla, Good Karma Flaxmilk Omega-3 + Protein, Milkadamia - Unsweetened Macadamia Milk, Oatly Oat-Milk The Original, Real Coco Original Organic Coconut Milk, Ripple, Silk Creamy Cashew — Unsweet, Silk Organic Soy — Unsweet, and Tempt Hempmilk - Unsweetened Vanilla.
A short
video
about the findings by ConsumerLab's President, Dr. Tod Cooperman, is available on YouTube.
As discussed in the review, to avoid excess intake of supplementary calcium from plant-based milks, it's best to limit intake to one cup at a time and no more than two cups per day, and to reduce intake of supplements that provide the same nutrients. People with allergies to soy, almonds or cashews should avoid milks made from these ingredients.
Founded in 1999,
ConsumerLab.com
is a leading provider of consumer information and independent evaluations of products that affect health and nutrition. Membership to ConsumerLab.com is
available online
and provides immediate access to continually updated reviews of nearly every popular type of dietary supplement and health food, answers to reader questions, and product recalls and warnings. ConsumerLab also provides independent product testing through its voluntary
Quality Certification Program
. The company is privately held and based in New York. It has no ownership from, or interest in, companies that manufacture, distribute, or sell consumer products.
Plant-based Milks Tested and Compared by ConsumerLab - Learn the Differences
— END — 
back to top
Members of the media contact may contact media@consumerlab.com or call the ConsumerLab.com main number (914-722-9149). Please include the name of your news organization when contacting us.