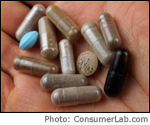 Product Review:
Valerian Supplements Review
Initial Posting: 10/20/13
Make Sure the Valerian Supplement You Take Passed Our Tests
Valerian "Sleep" Supplements Show Wide Variation in Amounts of Key Compounds;
2 Products Fail for Lead Contamination

Find Out Now If Yours Passed!
See the report now
---
Brands compared in report
Alluna Sleep
Bluebonnet Valerian Root extract
Botanic Choice Valerian Root
Douglas Laboratories Valerian Root Max-V
Gaia Herbs Valerian Root
Nature's Answer Valerian
Nature's Way Valerian
Seroyal's Valerian Plus
Shaklee Gentle Sleep Comple
Solgar Valerian Root Extract
Vitacost Valerian Root
Vitamin Shoppe Valerian Root Extract
See the report now
---
More about this report
Valerian root powders and extracts are popular herbal sleep aids and may have anti-anxiety effects. But few products on the market actually provide the amounts of compounds typically used in clinical trials, and some are contaminated with lead.
Among ten valerian root supplements which ConsumerLab.com selected for review, two were contaminated with small amounts of lead -- a heavy metal that can impair mental functioning and may affect blood pressure. The amounts of lead found in the valerian root supplements are not likely to cause toxicity alone, but it is best to avoid unnecessary lead exposure.
ConsumerLab.com also measured the amounts of valerenic acids in each product. These compounds may be important to choosing the best valerian for you: They appear to affect valerian's activity in the nervous system and are markers of valerian quality. While all but one product contained the levels expected by ConsumerLab.com from their labels, the amounts of total valerenic acids in a suggested daily serving ranged from just 1 mg to as much as 7.2 mg. The amounts of specific valerenic acids, which may have different functions, also varied widely.
You must be a ConsumerLab.com member to get the full test results for valerian supplements along with ConsumerLab.com's recommendations and quality ratings. You will get results for ten valerian supplements selected by ConsumerLab.com and for
two other valerian supplements which passed our voluntary Quality Certification testing.

In this comprehensive report, you'll discover:
Which valerian supplements failed testing and which passed
The evidence for and against valerian for sleep and anxiety
How valerian supplements compare on ingredients, dosage, amounts of valerenic acids, and cost
Important differences in valerian made from root powder vs. root extract
Dosage generally used for sleep and other applications
Concerns, cautions, drug interactions, and potential side-effects of valerian root supplements
See the report now
---