No Garlic in Some Garlic Supplements? -- Best and Worst Garlic Supplements Revealed in Tests by ConsumerLab
---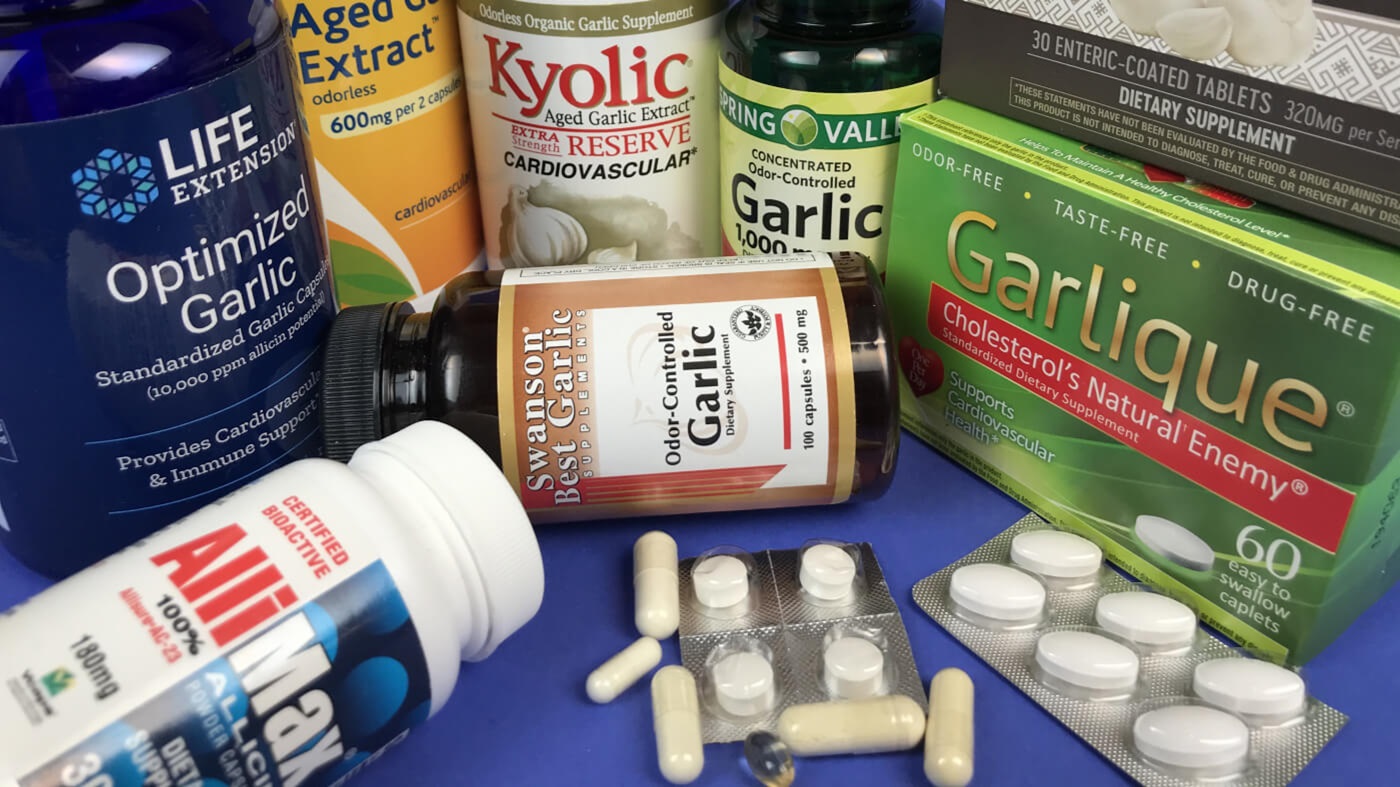 White Plains, New York, June 26, 2020 — Garlic can modestly reduce total cholesterol levels and blood pressure, and it may help prevent colds. However, recent ConsumerLab tests revealed that the strength of garlic supplements on the market varies widely, and some may not contain any garlic.
ConsumerLab tested popular garlic supplements sold in the U.S. for their amounts key garlic compounds including allicin, alliin, and S-allylcysteine (SAC), an allicin-derivative typically found in aged garlic. There was a wide range of garlic compounds per daily serving among most of the products. In non-aged garlic supplements, amounts of total allicin per serving ranged from 2,000 to over 40,000 mcg. Among aged garlic supplements, amounts of SAC per serving ranged from 944 mcg to 3,000 mcg. Surprisingly, several products that were not labeled as aged garlic had higher amounts of SAC than the aged garlic supplements. One widely sold garlic supplement contained no detectable amounts of alliin, allicin, or SAC, suggesting it contained little or no garlic.
Among products that were Approved, ConsumerLab selected its Top Pick for aged, non-aged, and overall garlic supplements.
The results are available online in ConsumerLab's new Garlic Supplements Review which includes test results and comparisons for nine products. Seven products were selected for testing by ConsumerLab: AlliMax Allicin, Garlique, Life Extension Optimized Garlic, Nature's Way Garlinase, Spring Valley Garlic, Swanson Best Garlic Odor-Controlled, and The Vitamin Shoppe Aged Garlic Extract. Two other products were tested and approved through CL's voluntary Quality Certification Program: Kyolic Aged Garlic Extra Strength Reserve and Solgar Garlic Powder.
Founded in 1999, ConsumerLab.com is a leading provider of consumer information and independent evaluations of products that affect health and nutrition. Membership to ConsumerLab.com is available online and provides immediate access to continually updated reviews of nearly every popular type of dietary supplement and health food, answers to reader questions, and product recalls and warnings. ConsumerLab also provides independent product testing through its voluntary Quality Certification Program. The company is privately held and based in New York. It has no ownership from, or interest in, companies that manufacture, distribute, or sell consumer products.
— END —
Members of the media contact may contact media@consumerlab.com or call the ConsumerLab.com main number (914-722-9149). Please include the name of your news organization when contacting us.