Best and Worst Multivitamins According to ConsumerLab – Nearly 30% Fail Testing
---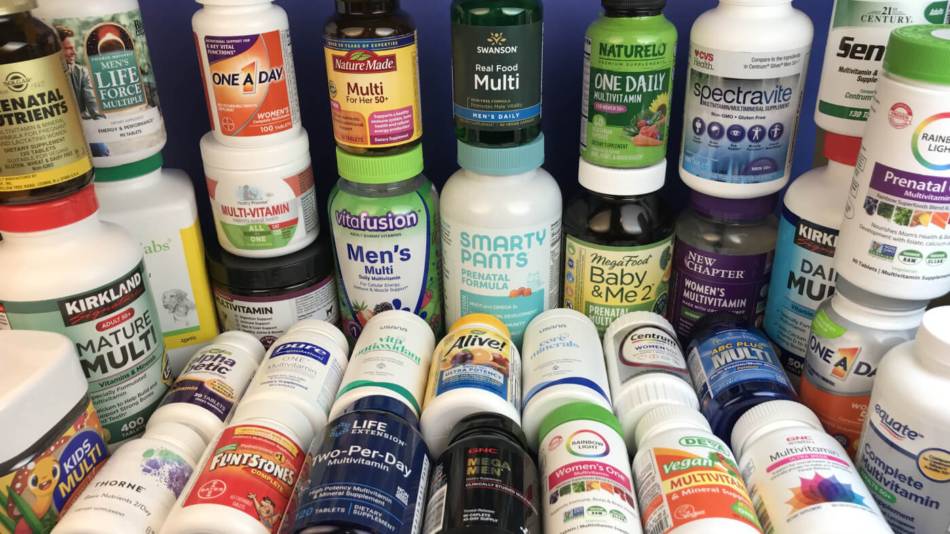 White Plains, New York, May 25, 2023 — 
Recent
ConsumerLab tests
revealed problems with nearly 30% of the popular multivitamin and multimineral supplements selected for testing. Gummy vitamins were particularly likely to have issues.
Seven of the 27 multivitamin/multimineral supplements ConsumerLab selected, purchased, and tested were found to contain far less, or far more, of a listed nutrient, including four gummy multivitamins selected for testing – several of which contained nearly double their claimed amounts of folate. In addition, one prenatal multivitamin was found to contain 88% more iodine than listed, a men's multivitamin tablet failed to fully disintegrate within the allotted time in order to properly release its ingredients, and a pet supplement provided only 14% of its listed vitamin D.
Many ingredients are less stable in gummies than in capsules and tablets, leading manufacturers to add large overages, an issue ConsumerLab has identified in testing
other gummy products
. In fact, consumers may not be aware that, for this reason, USP
standards for gummies are more lenient
than for tablets and capsules. ConsumerLab, however, applies the same standards to gummies as to tablets and capsules.
ConsumerLab's tests also showed that paying more for a multivitamin does not guarantee better quality. While the daily cost for a multivitamin ranged from just 3 cents to $1.00, several products on the higher end of this range were among those that failed testing.
Among products that passed all tests of quality and were Approved, ConsumerLab selected
Top Picks,
based on quality, appropriateness of dosage, formulation, and value, for each of the following categories:  
Multivitamin and Multimineral Supplements Review,
which includes test results and comparisons for 35 supplements for general use, women, men, individuals 50+, children, pets, and pregnant women. Twenty-seven products were selected for testing by ConsumerLab: Bayer Flintstones Complete, Bayer One A Day Women 50+, Bayer One A Day Women's, Centrum Silver Women 50+, CVS Health Spectravite Men 50+, Equate Complete Multivitamin Adults 50+, Healthy Promise Multi-Vitamin – Savory Chicken Flavor – Cat, Kirkland Signature [Costco] Daily Multi, Kirkland Signature [Costco] Mature Multi, MegaFood Baby & Me 2, Nature Made Multi For Her 50+, Naturelo One Daily Multivitamin For Women 50+, Nature's Way Alive! Men's 50+ Ultra Potency, Nature's Way Alpha Betic, New Chapter Women's Multivitamin Gummy, Olly Kids Multi – Gummy Worms – A Peppy Punch of Orange and Strawberry, Pet Honesty 10-For-1 Multivitamin – Flavor: Chicken – Dog, Pet-Tabs – Dog, Pure Encapsulations O.N.E. Multivitamin, Puritan's Pride ABC Plus Multi, Rainbow Light Prenatal One, Rainbow Light Women's One, Smarty Pants Prenatal Formula, Source Naturals Men's Life Force Multiple, Swanson Real Food Multi – Men's Daily, Thorne Basic Nutrients 2/Day, and VitaFusion Men's Multi. Eight products were tested and Approved through CL's voluntary
Quality Certification Program
: 21st Century Sentry, DEVA Vegan Multivitamin & Mineral Supplement, GNC Mega Men, GNC Women's Multivitamin Ultra Mega, Life Extension Two-Per-Day Multivitamin, Solgar Prenatal Nutrients, USANA Core Minerals, and USANA Vita Antioxidant.
The Review also explains what multivitamins
can and cannot do for your health,
appropriate dosages of nutrients based on
age and gender,
and how to
avoid nausea
(a common problem) when taking a multivitamin. A
video
with expert tips for choosing a multivitamin is also available.
Founded in 1999,
ConsumerLab.com
is a leading provider of consumer information and independent evaluations of products that affect health and nutrition. Membership to ConsumerLab.com is
available online
and provides immediate access to continually updated reviews of nearly every popular type of dietary supplement and health food, answers to reader questions, and product recalls and warnings. ConsumerLab also provides independent product testing through its voluntary
Quality Certification Program
. The company is privately held and based in New York. It has no ownership from, or interest in, companies that manufacture, distribute, or sell consumer products.
3 Expert Tips on Choosing a Multivitamin From ConsumerLab's Tod Cooperman
— END — 
Members of the media contact may contact media@consumerlab.com or call the ConsumerLab.com main number (914-722-9149). Please include the name of your news organization when contacting us.