ConsumerLab Tests Reveal Best B Vitamin Supplements -- 19% of B Vitamin Supplements Fail CL's Tests of Quality
---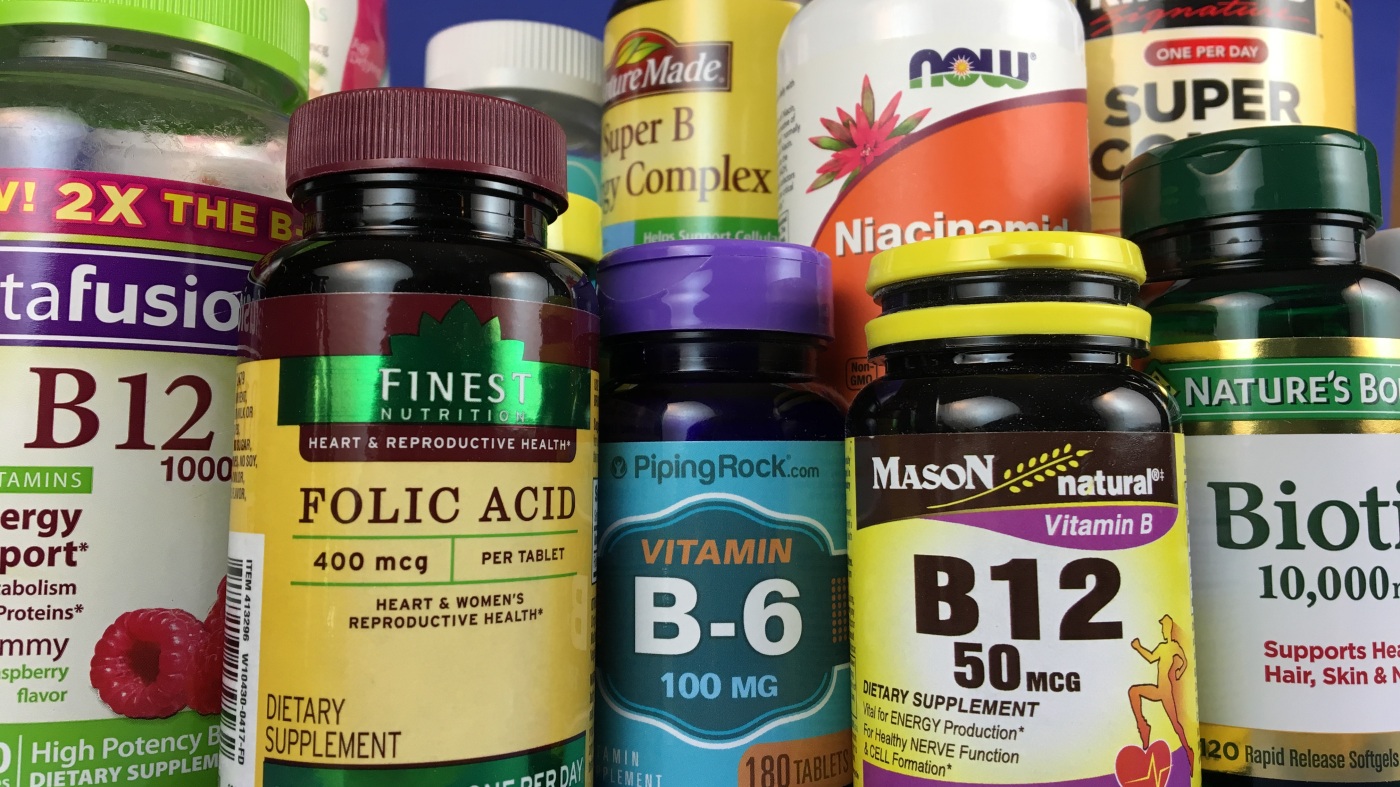 White Plains, New York, June 25, 2019 —
B vitamins and complexes are among the most popular supplements sold in the U.S. because B vitamins are essential for a wide range of functions in the body. Supplementation with B vitamins can help offset inadequacies in the diet and difficulties in extracting and absorbing B vitamins from foods, as is common in older people and those taking medicine that lowers stomach acid. But many people who take B vitamins may be getting much more than they need, or than they expect from labels according to
recently published test results
by ConsumerLab.com.
ConsumerLab purchased and tested B complexes and individual B vitamins such as B-6, B-12, folate (including methylfolate), and niacin, as well as popular hair and nail formulas containing biotin (B-7). The tests revealed that 5 of the 26 supplements selected for testing contained as little as 53% to as much as 223% of the listed amounts of certain B vitamins. For example, one "hair, skin and nails" formula was found to contain more than twice its claimed amount of biotin, and a popular B complex was found to contain almost twice as much folic acid as claimed, putting it above the daily tolerable intake level.
ConsumerLab also noted that many B vitamins are "mega" vitamins, intentionally exceeding recommended daily intake levels and, in some cases, exceeding tolerable upper intake levels. While this is sometimes medically necessary, it can also be of concern because long-term use of excessive amounts of some B vitamins, like B-6, niacin and folate, can cause toxicity. High doses B-12 may cause acne or rosacea, and high doses of biotin can interfere with common laboratory tests, causing misleading results. The FDA decreased recommended intakes for many B vitamins in 2016, but these changes do not have to be reflected on labels until 2020 or later.
Among the products that were Approved in testing, ConsumerLab selected a
Top Pick
for each category of B vitamin, based on dosage, quality and value.
The findings are available online in ConsumerLab's new
B Vitamin Supplements Review
, which includes test results and comparisons for 34 products. Twenty-six of the products were selected for testing by ConsumerLab and eight others underwent the same testing through CL's voluntary
Quality Certification Program
. Products covered in the report are: 21st Century B-1, Amazon Elements Berry B12, Bio-Tech B2-400, Bluebonnet Vitamin B6, BulkSupplements.com Flush-Free Niacin, Carlson Methyl Folate, Doctor's Best Benfotiamine 300, Douglas Laboratories Riboflavin, Elysium Basis Cellular Health & Optimization, Eniva B-Complex, Finest Nutrition [Walgreens] Folic Acid, Garden of Life mykind Organics B-Complex, GNC B-Complex Big 100, GNC Methyl B-12, Jarrow Formulas B-Right, Jarrow Formulas Pantothenic Acid B5, Kirkland Signature [Costco] Super B-Complex, Mason Natural B12, Nature Made Super B Energy Complex, Nature's Bounty Biotin, Nature's Way Pantothenic Acid, New Chapter Perfect Hair, Skin & Nails, NOW Niacinamide 500 mg, NutraBlast Hair Skin & Nails — Strawberry, NutriCology Pantethine, Nutrilite Vitamin B Dual-Action, Organika Vitamin B Complex, PipingRock.com Vitamin B-6, Pure Encapsulations B12 Liquid, Puritan's Pride Ultra Mega Biotin, Slo Niacin, Spring Valley [Walmart] Biotin, Sugarbearhair Hair Vitamins, and Vitafusion B12 - Natural Raspberry Flavor.
The review summarizes the clinical evidence for B vitamin supplementation for uses such as helping to prevent birth defects, lowering cholesterol levels, and slowing age-related cognitive decline. The report explains important differences among forms of B vitamins, such as those of niacin (nicotinic acid, niacinamide, and inositol hexanicotinate), folate (natural folate, folic acid, and L-5-methyltetrahydrofolate), and B-12 (methylcobalamin and cyanocobalamin). It also discusses recent changes in intake guidelines for B vitamins and how these compare to amounts commonly found in supplements, as well as safety and potential side effects and drug interactions.
Founded in 1999,
ConsumerLab.com
is a leading provider of consumer information and independent evaluations of products that affect health and nutrition. Membership to ConsumerLab.com is
available online
and provides immediate access to continually updated reviews of nearly every popular type of dietary supplement and health food, answers to reader questions, and product recalls and warnings. ConsumerLab also provides independent product testing through its voluntary
Quality Certification Program
. The company is privately held and based in New York. It has no ownership from, or interest in, companies that manufacture, distribute, or sell consumer products.
Copyright 2019 ConsumerLab.com, LLC. All rights reserved. It is unlawful to copy, excerpt, or distribute this content, nor use it for any promotional or commercial purpose, without express prior written permission from ConsumerLab.com, LLC.  
Coconut Water Review from ConsumerLab
  — END —
back to top
Members of the media contact may contact media@consumerlab.com or call the ConsumerLab.com main number (914-722-9149). Please include the name of your news organization when contacting us.