Best Fish Oil and Omega-3 Supplements? ConsumerLab Tests Reveal Some Are Rancid
---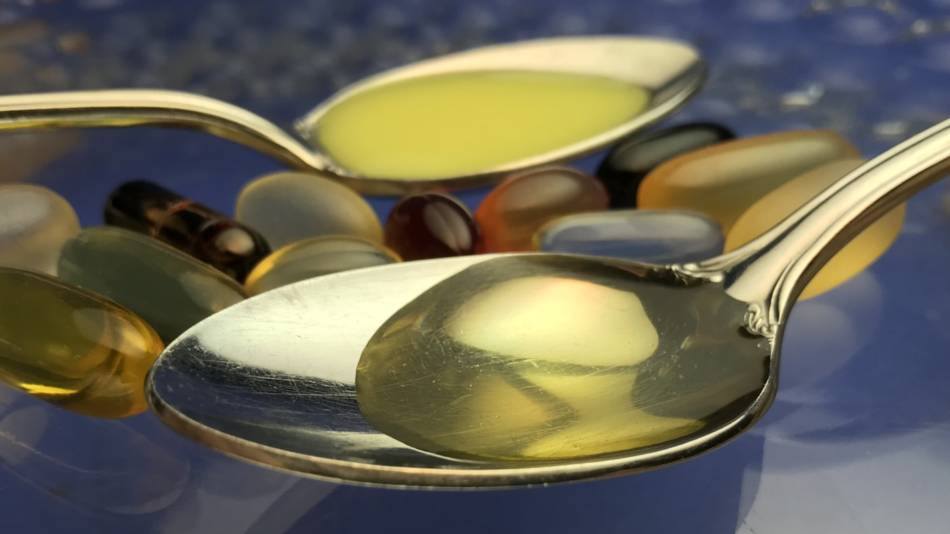 White Plains, New York, October 24, 2023 — 
Recent
ConsumerLab tests of popular fish, krill, and algal oil supplements
revealed several products to be rancid. Fish and marine oils that are rancid, or "oxidized," can have an extremely unpleasant odor and taste, and may be less safe and effective.
Three omega-3 oil supplements ConsumerLab selected for testing exceeded limits for oxidation, indicating rancid oil. An additional eight products could not be fully evaluated for oxidation due to interfering flavors or colorants, leaving 16 that passed these tests. All of the products were found to contain their expected amounts of omega-3 fatty acids EPA and DHA, and none exceeded contamination limits for heavy metals such as lead, arsenic, and mercury. The cost to obtain 500 mg of EPA and DHA from products ranged from 8 to 90 cents.
Among the products that passed all tests of quality, ConsumerLab selected its
Top Picks for fish oil supplements,
including softgels, enteric-coated capsules, bottled liquids, a prenatal supplement, a children's supplement, and a product for pets, as well as extremely concentrated products similar to prescription omega-3 products such as Vascepa and Lovaza. ConsumerLab also selected
Top Picks for krill oil
and
vegetarian algal oil
(from algae).
The results are available online now in ConsumerLab's new
Fish Oil, Krill Oil, and Algal Oil Omega-3 (DHA & EPA) Supplements Review,
 which includes test results and comparisons for 27 products. Fourteen products were selected for testing by ConsumerLab: Barlean's Omega Pals – Chirpin' Slurpin' Lemonade Flavor, Bronson Antarctic Krill Oil 1,000 mg, Iceland Pure Pharmaceutical Human Grade Fish Oils – Salmon Oil, Jamieson Omega-3 Complete 600 mg, Kirkland Signature [Costco] Fish Oil 1,000 mg, Member's Mark [Sam's Club] Superior Krill Oil 500 mg, Nature Made Fish Oil Minis, Nature's Way Super Fisol Fish Oil, Nordic Naturals Ultimate Omega – Great Lemon Taste, Now Kids DHA Fish Oil Chewables, Ovega-3, Pet Honesty Wild Caught Omega-3 Fish Oil – For Dogs & Cats, Spectrum Fish Oil Omega-3, and Wiley's Finest Wild Alaskan Fish Oil Prenatal DHA. Thirteen additional products passed the same testing and were Approved through CL's voluntary
Quality Certification Program
: Carlson Maximum Omega 2,000, Carlson The Very Finest Fish Oil, Carlson Vegetarian DHA - Natural Lemon Flavor - Liquid, Carlson Vegetarian DHA - Softgel, DEVA Vegan Omega-3 DHA-EPA 300 mg, Garden of Life Dr. Formulated Omega, GNC Triple Strength Fish Oil, Innovixlabs Triple Strength Omega-3, Life Extension Omega-3 Plus, OceanBlue Professional Omega-3 2,100, OmegaBrite O3, OmegaVia, and WHC UnoCardio 1,000 - Natural Orange Flavor.
The review summarizes the clinical evidence for and against omega-3 supplements for reducing inflammation, maintaining muscle, as well as effects on heart health, cognitive functioning and mood. It also explains how the health benefits of omega-3 supplementation differ from the benefits associated with consuming fish (see ConsumerLab's separate
Review of Canned and Packaged Fish
), differences between the ethyl ester and triglyceride forms of fish oil, dosage, what to look for on labels, the best way to take omega-3 supplements, and side effects and drug interactions with fish, krill, and algal oil. A
video
with expert tips on omega-3 supplements is also available.
Founded in 1999,
ConsumerLab.com
is a leading provider of consumer information and independent evaluations of products that affect health and nutrition. Membership to ConsumerLab.com is
available online
and provides immediate access to continually updated reviews of nearly every popular type of dietary supplement and health food, answers to reader questions, and product recalls and warnings. ConsumerLab also provides independent product testing through its voluntary
Quality Certification Program
. The company is privately held and based in New York. It has no ownership from, or interest in, companies that manufacture, distribute, or sell consumer products.
Expert Tips on Fish Oil, Krill Oil, and Algal Oil Omega-3 Supplements from Tod Cooperman, M.D
— END — 
Members of the media contact may contact media@consumerlab.com or call the ConsumerLab.com main number (914-722-9149). Please include the name of your news organization when contacting us.