Spirulina and "Greens" Supplement Tests Show Some Problems
---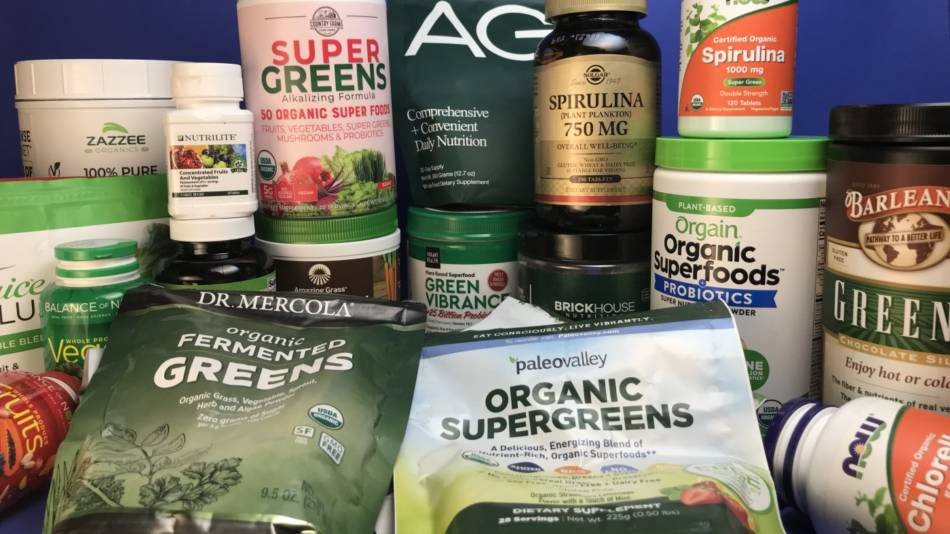 White Plains, New York, November 2, 2023 — 
ConsumerLab tests of spirulina, chlorella, and "greens" supplements revealed that tablets of three brands of spirulina failed to disintegrate within the allotted time, and several other products contained amounts of lead unsuitable for regular consumption by children or pregnant women. The products were tested as part of ConsumerLab's larger
Fruits, Veggies, and Other Greens Supplements Review,
which now includes 24 capsules, pills, powders, and drink mixes containing ingredients such as spirulina, chlorella, and leafy vegetables and fruits like wheat grass, alfalfa, kelp.
On a positive note, none of the tested products were found to be contaminated with pesticides or microbes, and all products labeled as "gluten-free" were confirmed by testing to meet this claim. Among products that were Approved through testing, ConsumerLab selected its
Top Picks for fruits, veggies, and supplements
based on ingredients, quality, cost, and, for powders, taste.
Fruit, vegetable, and "greens" supplements tend to be high in fiber and low in fats. They are often promoted as an easy alternative to eating vegetables and fruits on a daily basis to help increase energy levels, detoxify the body, improve digestion, alkalinize the body, and provide antioxidants to improve overall health and well-being. However, as
discussed in the review
and in an accompanying
video
about ConsumerLab's findings, these supplements should
not
be considered a replacement for a healthy diet rich in fruits and vegetables.
The results are available online in ConsumerLab's expanded
Fruits, Veggies, and Other Greens Supplements Review,
which includes test results and comparisons for 24 products. Twenty-three products were selected for testing by ConsumerLab: Amazing Grass Greens Blend Superfood – Chocolate, Athletic Greens AG1, Balance of Nature Whole Product Fruits, Balance of Nature Whole Produce Veggies, Barlean's Greens – Chocolate Silk, BrickHouse Nutrition Field of Greens, Country Farms Super Greens – Berry, Dr. Mercola Organic Fermented Greens, Earth Circle Organics Organic Chlorella Tablets, Juice Plus Fruit Blend +, Juice Plus Vegetable Blend +, Microingredients Superfoods Organic Broken Cell Wall Chlorella Powder, NOW Chlorella 500 mg, NOW Spirulina 1,000 mg, Nutrilite Concentrated Fruits and Vegetables, Orgain Organic Superfood + Probiotics, Organic Traditions Chlorella Powder, Paleo Valley Organic Supergreens – Organic Strawberry Lemonade Flavor with a Touch of Mint, Pure Hawaiian Spirulina, Root2 42 Fruits & Vegetables, Swanson Spirulina, Vibrant Health Green Vibrance, and Zazzee Organics 100% Pure Organic Spirulina Powder. One additional product passed the same testing and was Approved through CL's voluntary
Quality Certification Program
: Solgar Spirulina (Plant Plankton) 750 mg.
The report also discusses the clinical evidence for and against greens and whole foods supplementation, what types of greens products provide the best nutrients, the differences between chlorella and spirulina products, what to look for on product labels, the best way to take these powders, and potential side effects and drug interactions with various greens and whole foods products. As explained in the review, "whole foods" or "greens" may provide some benefits, but they should not be considered a replacement for a healthy diet rich in fruits in vegetables.
Founded in 1999,
ConsumerLab.com
is a leading provider of consumer information and independent evaluations of products that affect health and nutrition. Membership to ConsumerLab.com is
available online
and provides immediate access to continually updated reviews of nearly every popular type of dietary supplement and health food, answers to reader questions, and product recalls and warnings. ConsumerLab also provides independent product testing through its voluntary
Quality Certification Program
. The company is privately held and based in New York. It has no ownership from, or interest in, companies that manufacture, distribute, or sell consumer products.
Are Supplements Good Substitutes for Fresh Fruit and Vegetables?
— END — 
Members of the media contact may contact media@consumerlab.com or call the ConsumerLab.com main number (914-722-9149). Please include the name of your news organization when contacting us.