Best and Worst Multivitamins Revealed by ConsumerLab -- Problems Found With 44% of Multis Tested
---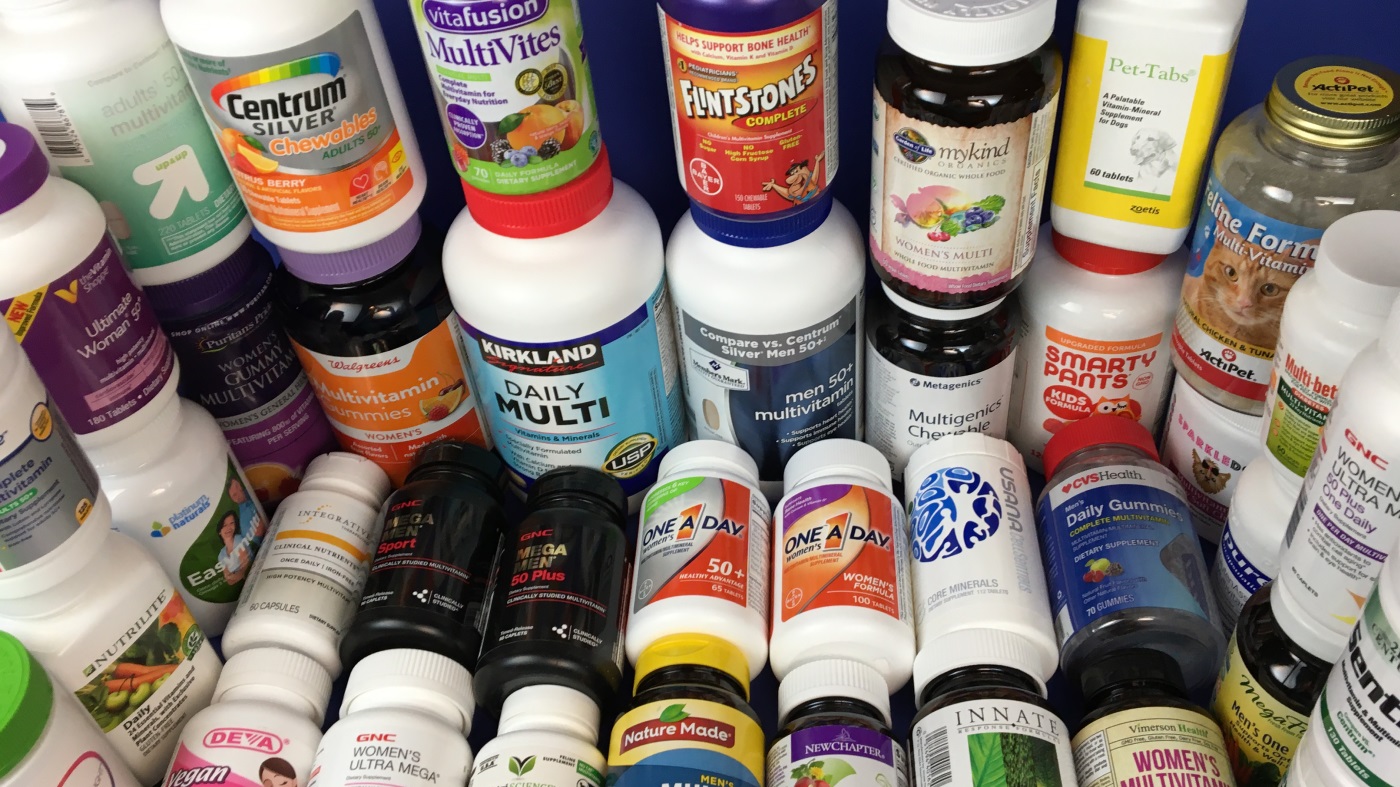 White Plains, New York, April 28, 2020 —
Multivitamin/multimineral supplements are among the top five
most popular supplements
, but with so many different formulas on the market, it can be difficult to choose the right one. Some can be a good source of vitamin D, vitamin C, and zinc, which are essential for immune system function and of particular interest during the
COVID-19
epidemic. However, ConsumerLab found quality issues with 44% of the multivitamin and multimineral supplements it recently selected for review.
Twelve of the 27 multivitamins ConsumerLab selected for testing were found to contain much less, or much more, of one or more vitamins or minerals than claimed, and/or failed to disintegrate properly within 30 minutes, the standard established for multivitamin tablets by the United States Pharmacopoeia (USP). As ConsumerLab has found in previous years, gummy vitamins remained the most likely form to contain much more of an ingredient than listed. Two popular brands of gummy vitamins were found to contain more than twice their listed amounts of folic acid, nearing the daily Tolerable Upper Intake Level for folic acid, above which the risk of
adverse effects
such as kidney damage are more likely to occur. Gummies can be difficult to manufacture due to their consistency and the process used to incorporate ingredients, although ConsumerLab identified some gummy vitamins that contained what they claimed and did not contain excessive amounts of folic acid or other vitamins.
Among products that were approved, ConsumerLab selected its
Top Picks for multivitamins
for seniors, men, women (including prenatal vitamins), diabetics, children and pets. Each Top Pick provides adequate intakes of vitamin D, vitamin C, and zinc without risking excessive intakes that can cause negative effects.
The results are available online in ConsumerLab's new
Multivitamin and Multimineral Supplements Review
, which includes test results and comparisons for 39 products for seniors, men, women (including prenatal vitamins), diabetics, children and pets. Twenty-seven products were selected for testing by ConsumerLab: ActiPet Feline Formula Multi-Vitamin, Bayer Flintstones Complete, Bayer One A Day Women's, Bayer One A Day Women's 50+, Centrum Silver Chewables - Adults 50+, CVS Health Men's Daily Gummies, Deva Prenatal One Daily, Equate Complete Multivitamin - Adults 50+, Innate Men's 40+ Multivitamin, Kirkland Signature [Costco] Daily Multi, MegaFood Men's One Daily, Member's Mark [Sam's Club] Men 50+ Multivitamin, Metagenics Multigenics Chewables, Multi-betic Multi-Vitamin, Nature Made Men's Multi, New Chapter Perfect Prenatal Multivitamin, Nutrilite Daily, Pet-Tabs, Platinum Naturals Easymulti, Rainbow Light Prenatal One, Smarty Pants Multi and Omega 3s, Sparkle Dog Multivitamin Daily Soft Chew, The Vitamin Shoppe Ultimate Woman 50+, Up & Up [Target] Adults' 50+ Multivitamin, Vitafusion MultiVites, VetriScience Nu Cat Multivitamin and Vimerson Health Women's Multivitamin. Another 12 products were tested and approved through CL's voluntary
Quality Certification Program
: 21st Century Sentry, Garden of Life mykind Organics Women's Multi, GNC Mega Men Sport, GNC Mega Men 50 Plus, GNC Women's Ultra Mega, GNC Women's Ultra Mega 50 Plus One Daily, Integrative Therapeutics Clinical Nutrients HP, Pure Encapsulations GlutenAssure Multivitamin, Puritan's Pride Women's Gummy Multivitamin, USANA CellSentials Core Minerals, USANA CellSentials Vita-Antioxidant and Walgreens Multivitamin Gummies Women's.
As explained in the Review, multivitamin supplements may list outdated Daily Values (DVs) for vitamins and minerals, as these were
updated by the FDA in 2016
, but don't have to be reflected on labels until 2021. The Review discusses what to look for when choosing a multivitamin supplement, including daily dosages for essential vitamins and minerals based on gender, age, and other considerations. For instance, older adults or those taking certain medications like stomach acid blockers may
need more vitamin B12
, while children need more iron and calcium, and pregnant women, more folic acid and iodine. It also explains the
best way to take multivitamins
, and how to avoid side effects, such as nausea.
Founded in 1999,
ConsumerLab.com
is a leading provider of consumer information and independent evaluations of products that affect health and nutrition. Membership to ConsumerLab.com is
available online
and provides immediate access to continually updated reviews of nearly every popular type of dietary supplement and health food, answers to reader questions, and product recalls and warnings. ConsumerLab also provides independent product testing through its voluntary
Quality Certification Program
. The company is privately held and based in New York. It has no ownership from, or interest in, companies that manufacture, distribute, or sell consumer products.
— END —
back to top
Members of the media contact may contact media@consumerlab.com or call the ConsumerLab.com main number (914-722-9149). Please include the name of your news organization when contacting us.