Best Probiotic Supplements Identified by ConsumerLab Tests
---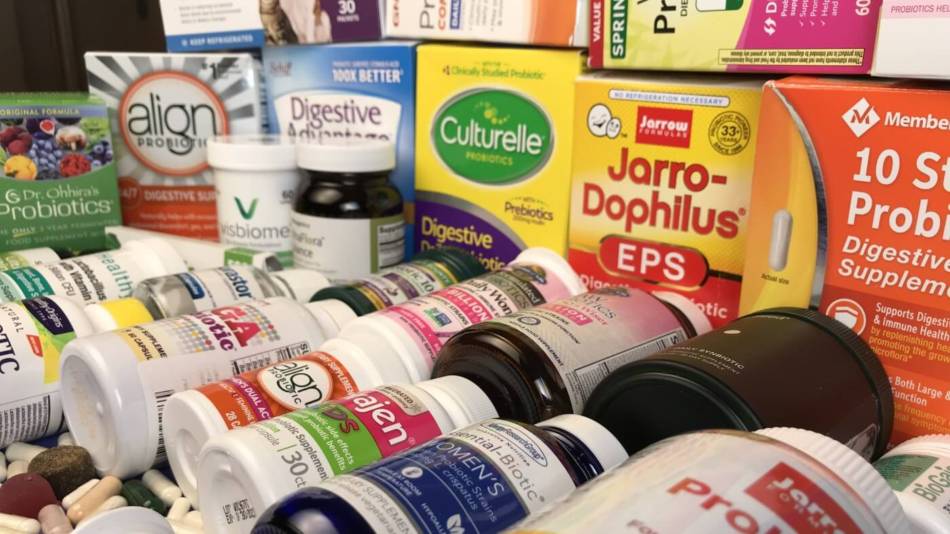 White Plains, New York, November 10, 2022 —
Probiotic supplements can be helpful in preventing or treating constipation, diarrhea, flatulence, vaginal infections, and other conditions, but with so many different products on the market, choosing the best one is no easy task.
Recent
ConsumerLab tests of 30 popular probiotic supplements
sold in the U.S. and Canada, including capsules, liquids, gummies and lozenges, showed that while most contained their listed amounts of probiotics, if not more, the number of viable cells provided by products varied widely. For many common uses, a probiotic should provide at least 1 billion cells daily. However, among the tested products, amounts of viable cells ranged from 1 million to 225 billion per recommended serving. One product contained hardly any viable organisms, despite listing many probiotic strains. None of the products were found to be contaminated with pathogenic organisms.
The cost to get one billion viable probiotic cells from most products ranged from 1 cent to 61 cents, with the exception the product found to contain few viable organisms, for which the cost to obtain one billion cells was over $600.
Among products that were Approved, ConsumerLab selected
Top Picks
that provide probiotic strains and dosages for their intended use that are supported by clinical evidence, at a good value, for
treating constipation,
preventing antibiotic-associated diarrhea,
reducing symptoms of irritable bowel syndrome (IBS),
preventing vaginal infections,
and other uses, including
probiotics for dogs and cats.
The results are available online now in ConsumerLab's new
Probiotic Supplements Review,
which includes test results and comparisons for 19 products, including women's and children's products, as well as products for pets: Align Probiotic, Allergy Research Group Essential-Biotic Women's, BioGaia Probiotic Lozenges – Mint Flavored, CulturedCare Probiotic Gum With Ave BLIS K12 – Organic Spearmint – Peppermint Flavor, Culturelle Digestive Daily Probiotic, Dr. Ohhira's Probiotics, Florajen Kids, Florastor, Gerber Good Start Sooth Birth+, Healthy Biom, Member's Mark [Sam's Club] 10 Strain Probiotic, Metagenics UltraFlora Balance, Microbiome Labs Mega Sporebiotic, RepHresh Pro-B, Schiff Digestive Advantage, Seed DS-01 Daily Synbiotic, Spring Valley [Walmart] Women's Probiotic, Swanson Dr. Stephen Langer's Ultimate 16 Strain Probiotic With FOS, and Vet's Best Probiotic Soft Chews. Eleven more products were tested and Approved through CL's voluntary
Quality Certification Program:
Align Probiotic Women's Dual Action, Garden of Life Dr. Formulated Probiotics Once Daily Women's, Garden of Life RAW Probiotics Women 50 & Wiser, GNC Probiotic Complex, Healthy Origins Probiotic 30 Billion CFUs, Jarrow Formulas Jarro-Dophilus EPS, Jarrow Formulas Probiotic Duo – Raspberry Flavor, Nature's Bounty Probiotic 10, Nutramax Proviable – DC, Visbiome High Potency Probiotic, and Visbiome Vet.
The review also summarizes the clinical evidence for and against the use of probiotic supplements for diarrhea, constipation and IBS, as well as for vaginal infections,
H. pylori
and
C. difficile
infections, cold and respiratory infections, oral health, and other proposed uses. It also explains dosage, what to look for on labels when choosing a probiotic supplement, and potential side effects and safety concerns with probiotics.
ConsumerLab also recently tested
pre
biotic supplements (which provide fiber to "feed" potentially beneficial bacteria, i.e., probiotics, in the gut), the results for which can be found in its separate
Prebiotic Supplements Review
.
Founded in 1999,
ConsumerLab.com
is a leading provider of consumer information and independent evaluations of products that affect health and nutrition. Membership to ConsumerLab.com is
available online
and provides immediate access to continually updated reviews of nearly every popular type of dietary supplement and health food, answers to reader questions, and product recalls and warnings. ConsumerLab also provides independent product testing through its voluntary
Quality Certification Program
. The company is privately held and based in New York. It has no ownership from, or interest in, companies that manufacture, distribute, or sell consumer products.
— END —
Members of the media contact may contact media@consumerlab.com or call the ConsumerLab.com main number (914-722-9149). Please include the name of your news organization when contacting us.