ConsumerLab Tests Vitamin D Supplements and Cautions About Dose
---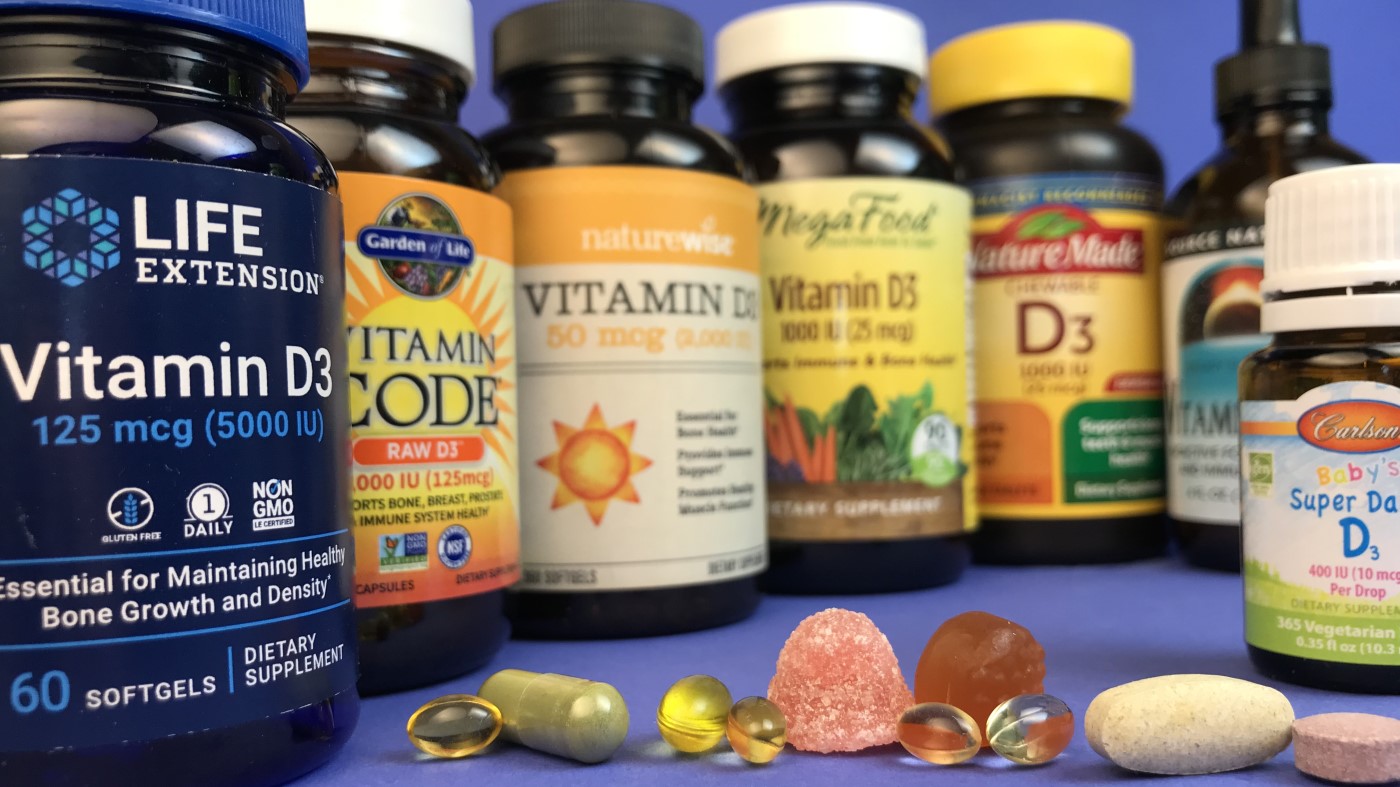 White Plains, New York, May 12, 2022 —
Getting sufficient vitamin D is essential for healthy bones and has a wide range of other health benefits. It's no wonder that it has been the
#1 supplement in popularity
year-after-year in ConsumerLab's survey of supplement users. However, getting too much vitamin D can have adverse effects. With so many different vitamin D supplements on the market, how can consumers know which products provide the best dose of vitamin D to meet their needs at the best quality and cost?
To help consumers, ConsumerLab recently
selected, purchased, tested, and compared popular vitamin D supplements
sold on the market, including tablets, capsules, liquids and gummies providing vitamin D alone, or in combination with calcium, magnesium, vitamin K, and/or boron. Each supplement was tested to see if it contained its claimed amount and form of vitamin D and other key ingredients. Products containing minerals or herbal ingredients were also tested for contamination with lead and other toxic heavy metals, and pills were tested to check for proper disintegration.
The tests showed that most of the products contained their claimed amounts of vitamin D. However, one combination product was found to contain more than twice its listed amount of vitamin D, and two other combination products were found to contain just a small percentage of the vitamin K2 listed on their labels. In addition, the daily dose of vitamin D ranged 12-fold from just 400 IU (10 mcg – the Recommended Daily Allowance for infants) to 5,000 IU (125 mcg) (which exceeds the safe Tolerable Upper Intake Level). Products with even higher amounts are on the market. There were also big differences in price, with the cost to obtain an equivalent amount of vitamin D (1,000 IU) ranging from just 1 cent from a vitamin D-only tablet to over $9.99 for a liquid combination product.
Among vitamin-D only products that were Approved, ConsumerLab chose
Top Picks
for low (400 IU) and moderate (1,000 IU) doses of vitamin D, which are both amounts that can generally be safely used to maintain adequate levels of vitamin D, as well as for high (2,000 IU) and very high (5,000 IU) doses of vitamin D, which are more appropriate for correcting deficiencies. ConsumerLab also selected
Top Picks
among combination products containing calcium, magnesium, vitamin K, and/or boron.
The results are available online now in ConsumerLab's new
Vitamin D Supplements Review,
which includes test results and comparisons for 31 products, including products which contain vitamin D in combination with other ingredients. Twenty-five products were selected for testing by ConsumerLab: Bayer Citracal Petites, Caltrate, Carlson Baby's Super Daily D3, Flora Bone Health+ with Calcium, Magnesium, and Vitamin D & K; HUM Here Comes The Sun, Jarrow Formulas BoneUp, Kirkland Signature [Costco] Adult Gummies Calcium – Orange & Cherry, L'il Critters Calcium + D3, MegaFood Vitamin D3 1,000 IU (25 mcg), Member's Mark [Sam's Club] Vitamin D3, Naturelo Bone Strength Plant Calcium Complex With Magnesium, C, D3, K2, & Zinc; Nature Made Chewable D3 1,000 IU (25 mcg) – Grape, Nature's Way Calcium & Vitamin D3 – Citrus Flavored, NatureWise Vitamin D3 50 mcg (2,000 IU), New Chapter Bone Strength Take Care, Nordic Naturals Vitamin D3 Gummies – Wild Watermelon Splash, NOW Vitamin D-3 & K-2, ProCaps Laboratories Andrew Lessman's Vitamin D3 1000, Source Naturals Vitamin D-3, Sports Research Plant-Based D3 + K2 2-in-1 Formula, Spring Valley [Walmart] Vitamin D3 25 mcg (1,000 IU), TwinLab Tri-Boron Plus 12, Vitacost Vitamin D3, Vitafusion Vitamin D3 – Natural Peach & Berry Flavors, and Webber Naturals Calcium Citrate Vitamin D3. Six other products were tested and Approved through CL's voluntary
Quality Certification Program
: Garden of Life Vitamin Code RAW D3 5,000 IU, GNC Calcium Plus, GNC Vitamin D-3, Life Extension Bone Restore with Vitamin K2, Life Extension Vitamin D3 125 mcg (5,000 IU), and Nature's Bounty Calcium.
The new review provides extensive information about the clinical evidence for vitamin D supplementation for bone and muscle health, preventing fractures and falls, cardiovascular health, cancer risk, and many other uses. The report also explains how to determine how much vitamin D to take from supplements and the best way to take vitamin D, as well as why getting too much vitamin D can be harmful.
Founded in 1999,
ConsumerLab.com
is a leading provider of consumer information and independent evaluations of products that affect health and nutrition. Membership to ConsumerLab.com is
available online
and provides immediate access to continually updated reviews of nearly every popular type of dietary supplement and health food, answers to reader questions, and product recalls and warnings. ConsumerLab also provides independent product testing through its voluntary
Quality Certification Program
. The company is privately held and based in New York. It has no ownership from, or interest in, companies that manufacture, distribute, or sell consumer products.
— END —
Members of the media contact may contact media@consumerlab.com or call the ConsumerLab.com main number (914-722-9149). Please include the name of your news organization when contacting us.