Best Water Filter Pitchers In 2023 According to ConsumerLab Tests
---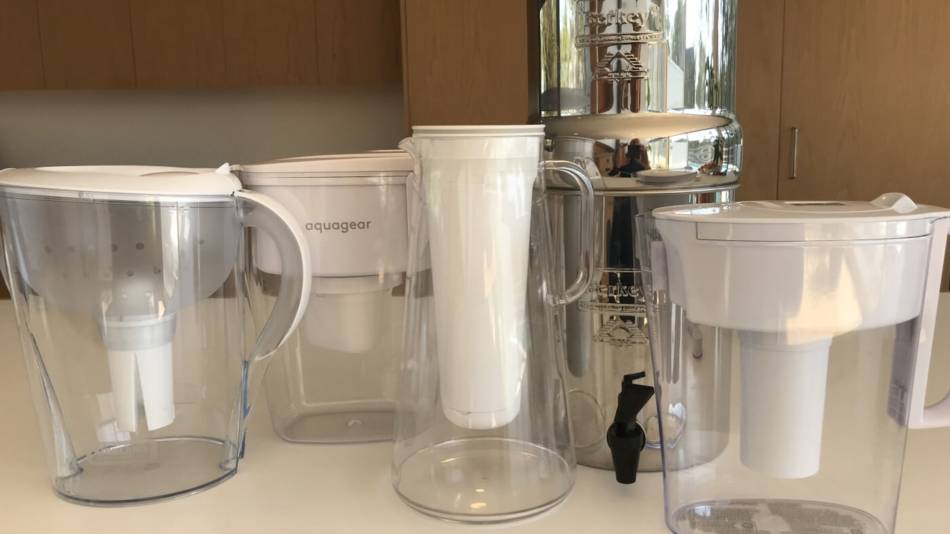 White Plains, New York, May 3, 2023 — ConsumerLab tests of popular counter-top water filter pitchers show there are wide variations in the amounts of fluoride, arsenic, and microplastics these products remove from drinking water – in fact, some filter pitchers were found to increase the amount of microplastics in water after filtering.

ConsumerLab's Water Filter Pitchers Review includes tests of products from Aquagear, Aquasana, Berkey, Brita, Kirkland, and LifeStraw, PUR, and ZeroWater – brands selected based on the popularity with ConsumerLab readers.

The tests showed that all of the filter pitchers removed the majority of lead, mercury, and cadmium (toxic heavy metals) from water, and all but one pitcher removed almost of the chlorine, which is often added to tap water to kill potentially dangerous microbiological organisms but can impart an undesirable taste.

ConsumerLab discovered significant differences in the ability of filter pitchers to remove another toxic metal, arsenic. Some products removed essentially all arsenic, while others removed as little as 15%. Several filter pitchers were found to remove the majority of microplastics from water, while some removed only modest amounts (including one claiming to remove 99.999%). One pitcher was found to increase the amount of microplastics in water after filtering by more than 1,200%. Many filters were also shown to release a large amount of carbon particles into filtered water, although these are not thought to be a health concern. As for fluoride, which is often added to water systems to help protect teeth, the tests showed that one pitcher removed all the fluoride, while others removed about 10% to 31%.

Among products that passed all tests of quality and were Approved, ConsumerLab selected it's Top Picks for removing chlorine taste, reducing fluoride levels, removing excess arsenic and removing earthy taste, which can occur due to high mineral levels and total dissolved solids (TDS).

The results are available online now in ConsumerLab's expanded Water Filter Pitchers Review, which includes test results and comparisons for nine products selected for testing by ConsumerLab: Aquagear Water Filter Pitcher, Aquasana The Clean Water Machine, Brita Soho With Longlast Filter, Brita Water Filter Pitcher For Tap And Drinking Water With Elite Filter, Kirkland Signature [Costco] Filtered Water Pitcher, LifeStraw Home 7-Cup BPA-Free Plastic Filter Pitcher, PUR Ultimate 7 Cup Pitcher With Lead Removal, Travel Berkey Water Filter, and ZeroWater 6-Cup Water Filter Pitcher.

The Review also shows additional contaminants products claim to reduce (such as PFAS, solvents, and microbes, explains why you shouldn't drink the first few pitchers of water when using a new filter, and what to do if your water pitcher is unusually slow. A video providing three ConsumerLab tips for choosing a water filter pitcher is also available.

Founded in 1999, ConsumerLab.com is a leading provider of consumer information and independent evaluations of products that affect health and nutrition. Membership to ConsumerLab.com is available online and provides immediate access to continually updated reviews of nearly every popular type of dietary supplement and health food, answers to reader questions, and product recalls and warnings. ConsumerLab also provides independent product testing through its voluntary Quality Certification Program. The company is privately held and based in New York. It has no ownership from, or interest in, companies that manufacture, distribute, or sell consumer products.
Find Out How to Choose the Right Water Filter Pitcher
— END — 
Members of the media contact may contact media@consumerlab.com or call the ConsumerLab.com main number (914-722-9149). Please include the name of your news organization when contacting us.