Best Zinc for Colds, Immunity, and More. ConsumerLab Selects Top Picks Among Zinc Liquids, Pills and Lozenges
---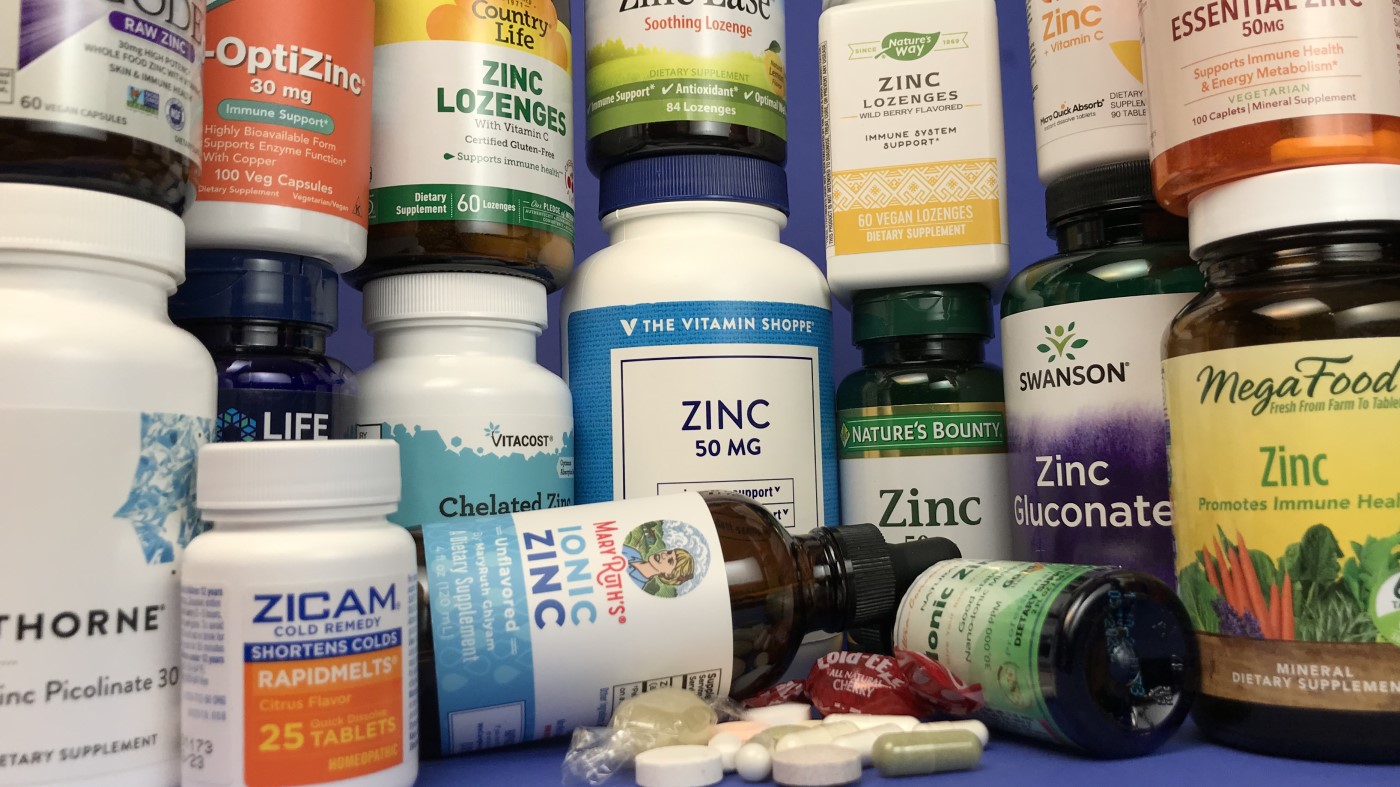 White Plains, New York, November 24, 2020 — The right zinc can shorten a cold and many people are deficient in zinc. So which zinc supplements and lozenges provide the right dose and form of zinc, the best quality, and at a reasonable price?
To find out, ConsumerLab purchased and tested popular zinc supplements and lozenges. Each product was tested to check if it contained the amount of zinc claimed on its label and wasn't contaminated with toxic heavy metals, such as lead. In addition, tablets and caplets were tested to be sure that they would properly disintegrate, making their zinc available for absorption.
While most products contained their claimed amounts of zinc, one product could not be Approved because it failed to disintegrate in the allotted time. Several products exceeded, in a single serving, the Tolerable Upper Intake Level (UL) for zinc for adults of 40 mg, and one product provided over three times the UL if taken at its maximum recommended dose. Although appropriate for treating zinc deficiency or for short-term use to treat colds, high doses of zinc used for too long can actually reduce immunity.
Among lozenges, only two of five contained the dose and form of zinc shown to reduce or shorten the duration of cold symptoms. The cost to obtain 30 mg of zinc from the products ranged from just 1 cent to over $1.17.
Among products that were Approved, ConsumerLab chose its Top Picks for zinc pills and its Top Pick among zinc lozenges.
The results are available online in ConsumerLab's Zinc Supplements Review, which includes test results and comparisons for 19 products. Thirteen products were selected for testing by ConsumerLab: Cold-Eeze - Cherry, Country Life Zinc Lozenges - Cherry Flavor, Frunutta Zinc + Vitamin C, Good State Natural Ionic Zinc, Mary Ruth's Liquid Ionic Zinc - Unflavored, MegaFood Zinc, NOW L-OptiZinc 30 mg, Swanson Zinc Gluconate, Thorne Zinc Picolinate 30 mg, Vitacost Chelated Zinc Albion Zinc Glycinate Chelate, Vitamin Shoppe Zinc 50 mg, Walgreens Zinc Lozenges - Cherry Flavor, and Zicam Cold Remedy - Citrus Flavor. Another six products were tested and approved through CL's voluntary Quality Certification Program: Carlson Zinc Ease - Natural Lemon Flavor, Garden of Life Vitamin Code Raw Zinc, Life Extension Zinc Caps 50 mg, Nature's Bounty Zinc 50 mg, Nature's Way Zinc Lozenges - Wild Berry Flavored, and Sundown Essential Zinc 50 mg. The report discusses the clinical evidence for zinc, the best way to take zinc lozenges to treat colds, as well as safety, side effects, and adverse effects of getting too much zinc.
A short video about the findings by ConsumerLab's President, Dr. Tod Cooperman, is available on YouTube.
Founded in 1999, ConsumerLab.com is a leading provider of consumer information and independent evaluations of products that affect health and nutrition. Membership to ConsumerLab.com is available online and provides immediate access to continually updated reviews of nearly every popular type of dietary supplement and health food, answers to reader questions, and product recalls and warnings. ConsumerLab also provides independent product testing through its voluntary Quality Certification Program. The company is privately held and based in New York. It has no ownership from, or interest in, companies that manufacture, distribute, or sell consumer products.
Zinc: Benefits, Safety, and How Supplements Compare | Tod Cooperman, M.D., ConsumerLab.com
— END — 
Members of the media contact may contact media@consumerlab.com or call the ConsumerLab.com main number (914-722-9149). Please include the name of your news organization when contacting us.