ConsumerLab Tests Reveal Big Differences Among Elderberry Supplements
---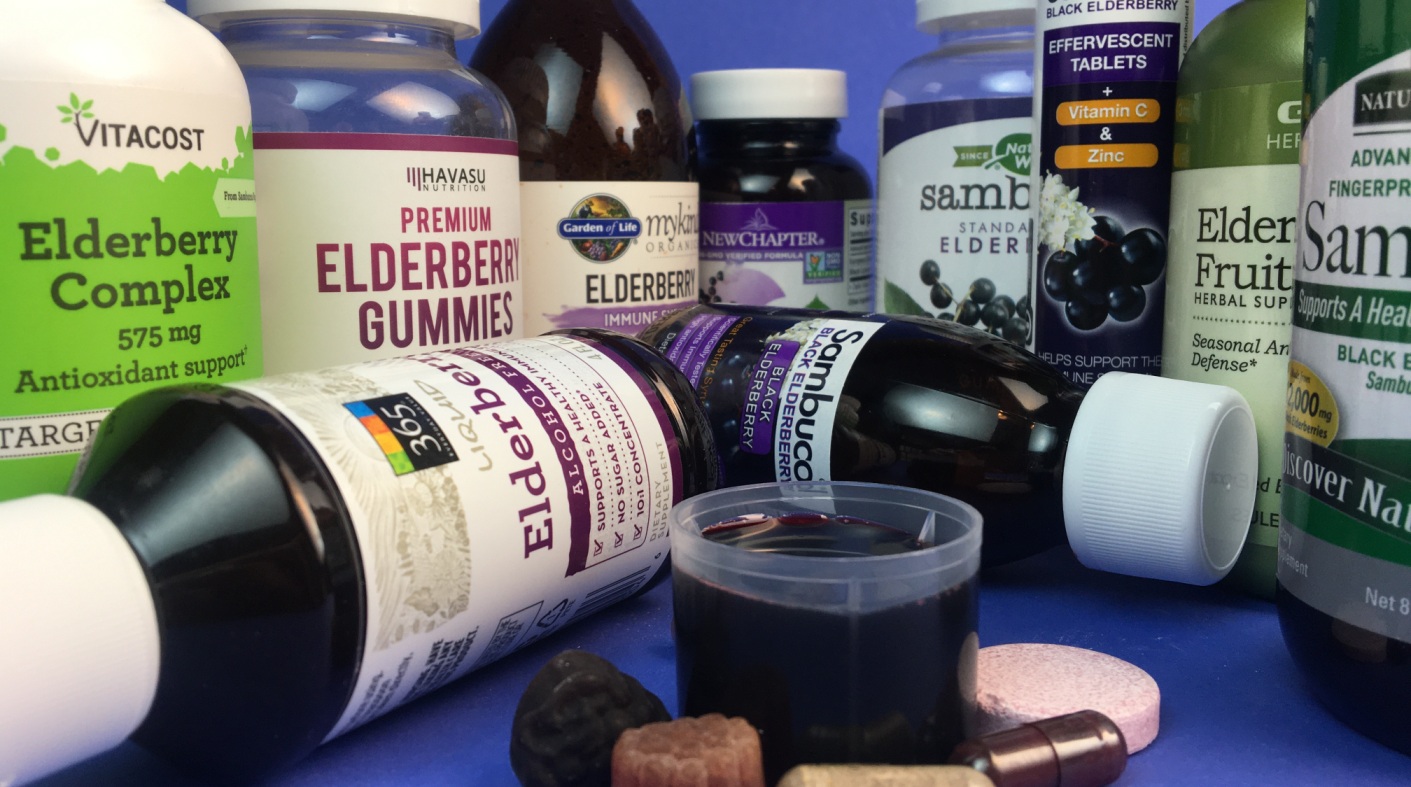 White Plains, New York, March 12, 2020 —
Elderberry extracts have long been promoted for fighting colds and flu, and, more recently, as a
natural remedy for coronavirus (COVID-19)
. Laboratory studies suggest that elderberry may inhibit certain viruses, and that phenolic compounds in European elderberry (
Sambucus nigra
), such as anthocyanosides, may be responsible for some of its potential benefits. But do elderberry supplements really work, and if so, which products on the market provide the best quality and value?
To find out, ConsumerLab carefully reviewed the clinical evidence for elderberry, and
purchased and tested popular elderberry supplements
sold in the U.S. The tests revealed big differences in the amounts of total phenolic compounds (from 5.5 mg to 134.1 mg) and anthocyanins (from 0.03 mg to 69.3 mg) the supplements contained per daily serving. The results suggest that each product was made with at least some, if not a large amount, of elderberry. Levels of compounds to which an elderberry product should be standardized to be effective have not been defined, but, in June 2019 the United States Pharmacopeia (USP) published a monograph for extracts of European elderberry, requiring that at least 17% of the extract weight be specific anthocyanosides. Only one product tested by ConsumerLab met this standard, while most contained less than 1% anthocyanins. The cost to obtain 1 mg of anthocyanins from the products ranged from 1 cent to over $15.00.
Among the products that were Approved, ConsumerLab selected two
Top Picks
that represented the best quality and value, including one that most closely resembled one of the more well-researched elderberry exacts.
The full results are available online in ConsumerLab's new
Elderberry Supplements Review
which includes test results and comparisons for 11 products, including the following seven products selected for testing by ConsumerLab: 365 [Whole Foods] Liquid Elderberry, Havasu Nutrition Premium Elderberry Gummies, Nature's Answer Sambucus, New Chapter Elderberry Force, Sambucol Black Elderberry Effervescent Tablets, Sambucol Black Elderberry Syrup and Vitacost Elderberry Complex. In addition, three elderberry supplements were tested and approved through CL's voluntary Quality Certification Program: Garden of Life Mykind Organics Elderberry Syrup, GNC Elderberry Fruit 550 mg, and Nature's Way Sambucus Standardized Elderberry.
As discussed in the review, small clinical trials suggest that elderberry extract may shorten the duration of the flu and help to alleviate cold symptoms, but the extracts used in these studies have not been well defined. There is no evidence that elderberry extract can prevent COVID-19 or reduce symptoms in people who have been infected. Elderberry extracts are generally well-tolerated, although allergic reactions have been reported. Raw elderberries should never be consumed, as they contain toxic compounds. The review explains this and other concerns, as well as dosage, and the best way to take and store elderberry supplements.
Founded in 1999,
ConsumerLab.com
is a leading provider of consumer information and independent evaluations of products that affect health and nutrition. Membership to ConsumerLab.com is
available online
and provides immediate access to continually updated reviews of nearly every popular type of dietary supplement and health food, answers to reader questions, and product recalls and warnings. ConsumerLab also provides independent product testing through its voluntary
Quality Certification Program
. The company is privately held and based in New York. It has no ownership from, or interest in, companies that manufacture, distribute, or sell consumer products.
— END —
back to top
Members of the media contact may contact media@consumerlab.com or call the ConsumerLab.com main number (914-722-9149). Please include the name of your news organization when contacting us.