Is Your Chocolate or Cocoa Healthful or Toxic? ConsumerLab Finds Major Differences Among Products.
---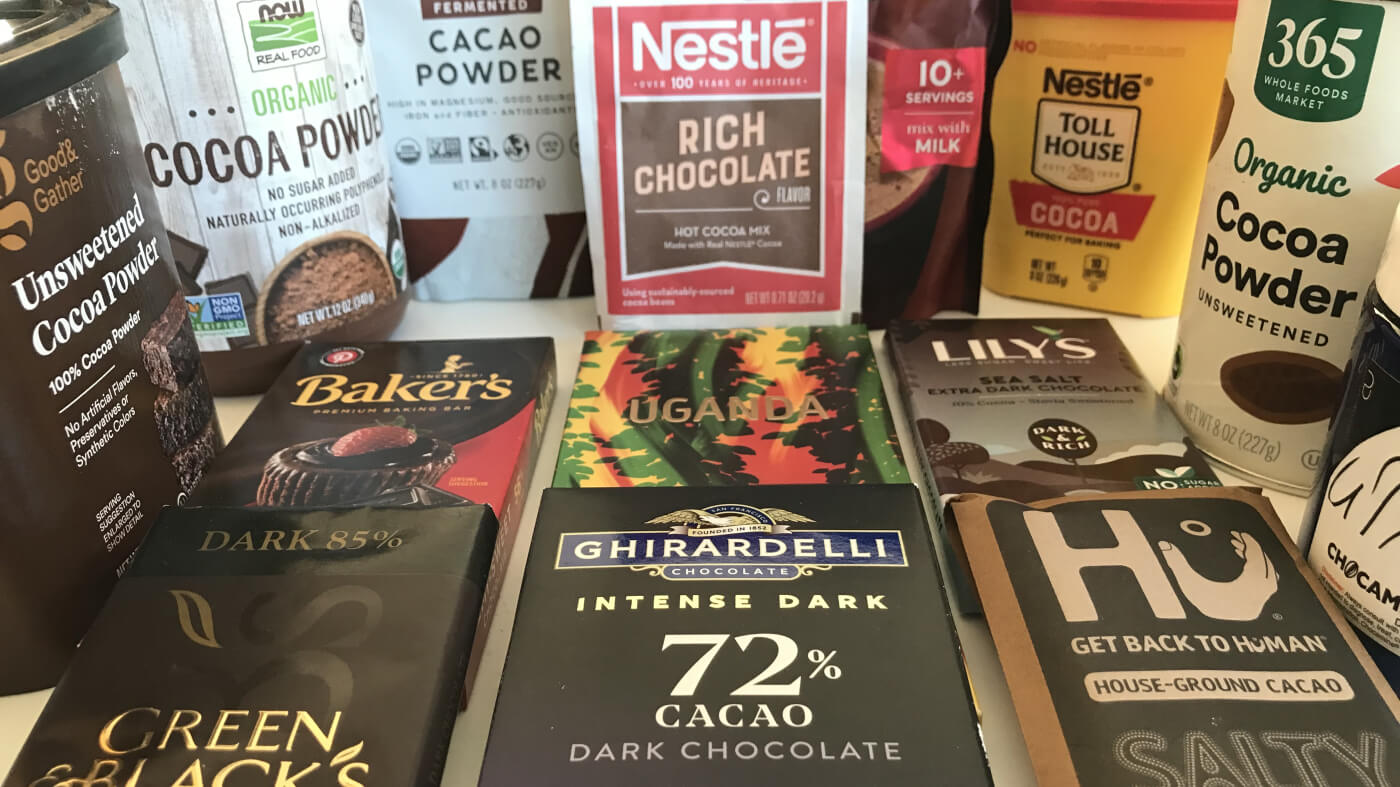 White Plains, New York, December 16, 2022 —
Although dark chocolate and cocoa can be good sources of potentially heart-healthy, antioxidant flavanols, they can also be contaminated with toxic heavy metals such as cadmium and lead – and consumers can't judge products from their labels. Recent
tests by ConsumerLab
have shown which products provide the highest flavanol content with the lowest possible contamination.
ConsumerLab's tests revealed cadmium levels to be up to 9 times higher in some dark chocolates than others and the same to be true with cocoa powders. Levels of potentially beneficial cocoa flavanols were found to vary even more, with levels ranging from just 1 mg to 374 mg in cocoa powders and mixes, 2 mg to 351 mg in dark chocolates, and 2 mg to 993 mg in supplements. Products providing a dose of at least 200 mg of cocoa flavanols are what have typically been used in clinical studies that have shown modest cardiovascular and memory benefits.
ConsumerLab found that the "% cocoa" or "% cacao" claimed on dark chocolate bars were not good indicators of flavanol concentrations since these percentages include varying amounts of cocoa butter, which contains no flavanols.
Among products that were approved in testing, ConsumerLab selected
Top Picks
that provide the highest amount of flavanols with the lowest amount of cadmium and other contaminants, as well as providing good value and flavor.
The results are available online now in ConsumerLab's new
Dark Chocolate, Cocoa Powder, Nibs, Extracts & Supplements Review,
which includes test results and comparisons for 40 products, including the following 37 products selected for testing by ConsumerLab: 365 [Whole Foods Market] Organic Cocoa Powder — Unsweetened, Alter Eco Deep Dark Blackout — 85% Cocoa, Baker's Semi-Sweet Chocolate — 56% Cacao, Baker's Unsweetened 100% Cacao, Choc Zero Sugar Free 70% Cocoa Dark Chocolate, Chocolove Strong Dark Chocolate — 70% Cocoa Content, Endangered Species Chocolate Strong + Velvety Dark Chocolate — 88% Cocoa, Evolved Midnight Coconut 100% Cacao Chocolate Bar, Ghirardelli Chocolate Premium Baking Chips — 60% Cacao Bittersweet Chocolate, Ghirardelli Double Chocolate Hot Cocoa Mix, Ghirardelli Intense Dark 72% Cacao Dark Chocolate, Ghirardelli Premium Baking Cocoa — 100% Cocoa, Good & Gather [Target] Unsweetened Cocoa Powder – 100% Cocoa, Green & Black's Organic Dark Chocolate — Dark 85% Cacao, Guittard Extra Dark Chocolate Baking Chips — 63% Cacao, Healthworks Cacao Nibs, Hershey's Cocoa Special Dark – 100% Cacao, Hu Salty Dark Chocolate — 70% Cocoa, Lily's Sea Salt — Extra Dark Chocolate — 70% Cocoa, Lindt Excellence Supreme Dark — 90% Cocoa, Montezuma's Dark Chocolate Absolute Black – 100% Cocoa, Navitas Organic Cacao Nibs, Navitas Organic Cacao Powder, Nestle Hot Cocoa Mix, Nestle Toll House 100% Pure Cocoa, Nootropics Depot Chocamine Extract, NOW Organic Cocoa Powder – 100% Cocoa, Scharffen Berger Unsweetened – 99% Cacao, Taza Chocolate Wicked Dark — 95% Dark, Terrasoul Superfoods Cacao Powder – 100% Cacao, Theo Sea Salt — 70% Dark Chocolate, Trader Joe's Organic Fair Trade Cacao Powder, Trader Joe's Pound Plus – 72% Cacao Dark Chocolate, Trader Joe's Uganda 85% Dark Chocolate Bar, Valrhona Poudre De Cacao Cocoa Powder – 100% Cacao, Volupta Cacao Powder, and Wildly Organic Fermented Cacao Powder – 100% Cacao. In addition, three cocoa supplements were tested and approved through CL's voluntary
Quality Certification Program:
CocoaVia Brain Health Memory+, CocoaVia Cardio Health, CocoaVia Cardio Health – Dark Chocolate Flavor Mix.
The report also includes the clinical evidence for or against cocoa flavanols for cardiovascular and cognitive benefits, dosage information, and cautions regarding the safety and potential side effects of cocoa-based products.
Founded in 1999,
ConsumerLab.com
is a leading provider of consumer information and independent evaluations of products that affect health and nutrition. Membership to ConsumerLab.com is
available online
and provides immediate access to continually updated reviews of nearly every popular type of dietary supplement and health food, answers to reader questions, and product recalls and warnings. ConsumerLab also provides independent product testing through its voluntary
Quality Certification Program
. The company is privately held and based in New York. It has no ownership from, or interest in, companies that manufacture, distribute, or sell consumer products.
How to Get the Best Chocolate and Cocoa Powder and Minimize Toxins
— END — 
Members of the media contact may contact media@consumerlab.com or call the ConsumerLab.com main number (914-722-9149). Please include the name of your news organization when contacting us.