ConsumerLab Tests Show Not All Quercetin and Rutin Supplements Contain What They Claim
---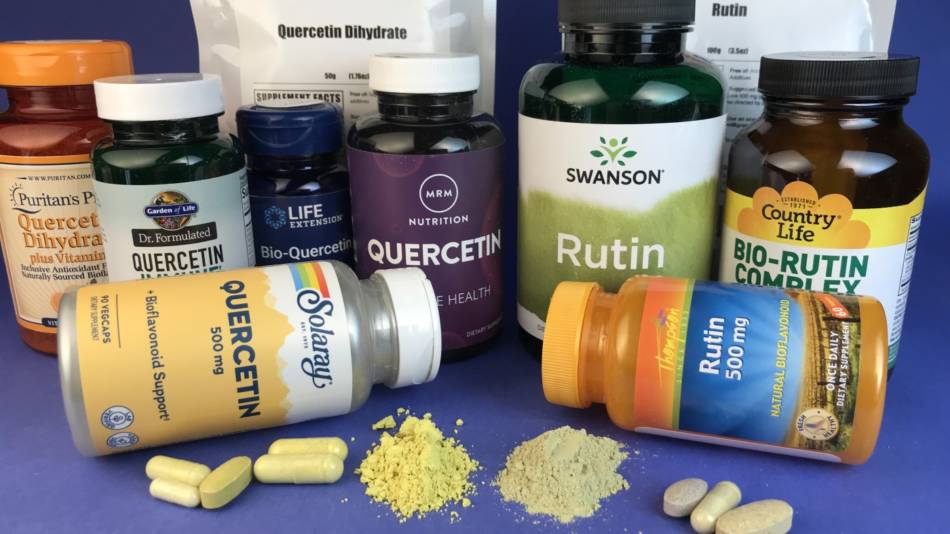 White Plains, New York, March 30, 2023 —
Quercetin is a plant compound found in its natural form, rutin, in foods such as capers, onions, and kale. Quercetin and rutin supplements are often promoted for use for seasonal allergies, fighting viruses, lowering blood pressure, and improving blood sugar and insulin function. However, recent ConsumerLab tests found that some quercetin or rutin supplements contain far less quercetin than claimed on their labels.
ConsumerLab
selected, purchased, and tested popular quercetin and rutin supplements
sold in the U.S., including tablets, capsules and powders. The tests revealed that one supplement contained just 17.4% of its listed amount of rutin and another contained only 88.7%.
There were significant differences in the amounts of quercetin the products provided, ranging from 11.7 mg to almost 600 mg per suggested daily serving. The cost to obtain 500 mg of quercetin (or potential quercetin from rutin) also varied widely, from 16 cents to more than $6.00.
Among the products that passed all of ConsumerLab's tests and were Approved, ConsumerLab selected two
Top Picks for quercetin
and one
Top Pick for rutin,
representing the best quality and value.
The results are available online now in ConsumerLab's new
Quercetin & Rutin Supplements Review,
which includes test results and comparisons for 10 quercetin and rutin supplements. Nine products were selected for testing by ConsumerLab: BulkSupplements.com Quercetin Dihydrate, BulkSupplements.com Rutin, Country Life Bio-Rutin Complex, Life Extension Bio-Quercetin, MRM Nutrition Quercetin, Puritan's Pride Quercetin Dihydrate Plus Vitamin C, Solaray Quercetin 500 mg, Swanson Rutin, and Thompson Rutin 500 mg. One product was tested and Approved through CL's voluntary
Quality Certification Program
: Garden of Life Dr. Formulated Quercetin Immune.
The review discusses the clinical evidence for and against quercetin and rutin, explains dosage, what to look for on labels when choosing quercetin and rutin supplements, the best way to take quercetin and rutin to maximize absorption, as well as potential side effects and interactions with quercetin and rutin.
Founded in 1999,
ConsumerLab.com
is a leading provider of consumer information and independent evaluations of products that affect health and nutrition. Membership to ConsumerLab.com is
available online
and provides immediate access to continually updated reviews of nearly every popular type of dietary supplement and health food, answers to reader questions, and product recalls and warnings. ConsumerLab also provides independent product testing through its voluntary
Quality Certification Program
. The company is privately held and based in New York. It has no ownership from, or interest in, companies that manufacture, distribute, or sell consumer products.
— END —
Members of the media contact may contact media@consumerlab.com or call the ConsumerLab.com main number (914-722-9149). Please include the name of your news organization when contacting us.