/ How can I get tested for the coronavirus? Can I get an at-home test for COVID-19? Which are the best tests? Are any tests free?
Our Members Asked:
How can I get tested for the coronavirus? Can I get an at-home test for COVID-19? Which are the best tests? Are any tests free?
---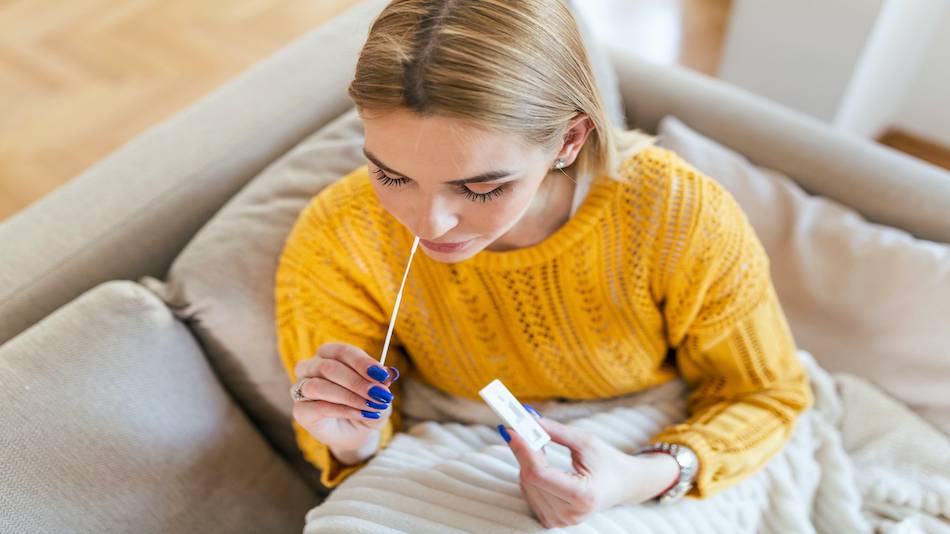 Answer:
Before we get into specifics, let's start with a quick overview of the types of tests for coronavirus.

Types of COVID-19 Tests

There are basically two types of tests for the coronavirus that causes COVID-19:

Virus test
This test detects the virus (SARS-CoV-2) to help determine if you have a current infection. Although you can be infectious before showing any symptoms, the virus is best detected during the first week of symptoms (which is about two weeks after becoming infected from exposure) (Sethuraman, JAMA 2020).

There are two type of virus tests: the PCR and antigen test. Early in the pandemic, both tests had to be performed in a laboratory or clinic with special rapid, portable machines, but rapid, home-based PCR and antigen tests have become available. There are also at-home sampling kits by which you can collect your own sample and drop it off or mail it to a lab, which will report PCR results back to you.

Virus tests are typically done by collecting a sample of mucous from a nose swab (typically from the nasopharynx or nostril) or saliva or oral swabs. There is some evidence that virus detection may be better with samples from saliva or the mouth or throat (Blythe, medRxiv 2021 — preprint; Wyllie, Correspondence in JAMA, 2020), but most tests (and all antigen tests) authorized for use in the U.S. rely on samples from the nose and the FDA has advised against using antigen tests designed for the nose to be used in the mouth. Nevertheless, a study in the Netherlands, showed that an antigen test (BD Veritor) was able to detect about 20% more positive cases using samples collected first from the throat (around the tonsils) and then from the nose than with samples just from the nose. The combined samples were also used on Roche's SD Biosensor (aka COVI9-19 At-Home Test) antigen test which was even more accurate than BD Veritor (Zwart, medRxiv 2022 -- preprint). (Interestingly, one antigen test in the UK utilizes a swab of the throat (tonsils) that is then used to swab one nostril.) An apparent benefit of sampling from the throat is that the virus appears at higher levels there about a day earlier than in the nose, although levels then rise higher in the nose and remain higher there for a longer period, as shown in a study of people in the UK given COVID-19 by being infected with virus in their nose (Killingly, In Review 2022 -- preprint). Using only a swab from the inside of the check, however, was shown to identify only 2 positive cases out of 22 that were positive with nostril swabs in a small study that used the Abbott BinaxNow antigen test (Schrom, medRxiv 2022 — preprint).

The PCR test uses a technique that amplifies genetic material (RNA) from the virus. This can take as little as a few minutes or several hours. The FDA has authorized at-home sampling kits with which you can collect your own sample and drop it off or mail it to a lab, which will report the results back to you. It has also authorized at-home PCR tests that take about 20 to 60 minutes. Home PCR tests are more expensive than home antigen tests but may detect infections earlier than antigen tests. (Sign in to see our reviews of home PCR tests from Cue, Detect, and Lucira, and to see our Top Pick among these.)

Update (12/14/22): Certain lots of an over-the-counter PCR COVID test were recalled due to an increased chance that the tests may yield false negative results. Sign in for details.

An analysis of tests performed among symptomatic and asymptomatic patients at Vanderbilt University Medical Center showed that the proportion of samples testing positive on PCR tests were twice as high at 2 pm than in the morning, decreasing later in the afternoon and evening. Researchers proposed this may indicate that test accuracy varies by time of day and could have public health implications (McNaughton, medRxiv 2021 -- preprint).

Update: In addition to the many commercial PCR tests that have received Emergency Use Authorization from the FDA, the CDC has been producing its own, FDA-authorized, PCR test. More recently, the CDC developed a newer test that can simultaneously test for and distinguish between COVID, influenza A and influenza B, and, as of January 1, 2022, it will withdraw the older test. Sign in to find out why.

The antigen test identifies a protein (or "antigen") that is specifically found on the virus. Advantages of the antigen test are that it can provide results in as little as 15 minutes and can be produced at lower cost, lending itself to wider use in screening. In addition, only a nasal swab is needed from the nostrils, not a much deeper, nasopharyngeal swab. The downside with antigen tests is that they are more likely to provide a false negative result than a gene amplification test; that is, it's more likely to identify your sample as negative when you are actually positive. Consequently, negative results from an antigen test should be repeated within three days, but at least 36 hours later (or confirmed with a PCR test) for people who are at high-risk of infection — but a positive antigen result is highly likely to be accurate. False negatives may also occur with emerging viral variants, if the variants have significant mutations of the target antigen. However, most popular antigen tests in the U.S. target nucleocapsid antigen, which is still present in variants such as Delta and Omicron. Be aware of a common mistake made when reading rapid home antigen tests and that one of the chemicals in these tests can cause skin irritation and other symptoms if mishandled.

Sign in for details about benefits and limitations of rapid antigen testing for the Omicron variant and find out how likely are you to still be contagious if you test positive on a rapid antigen test after a 5-day isolation.

Be aware that one of the chemicals home antigen tests can cause skin irritation and other symptoms if mishandled.
Several home antigen tests have been authorized by the FDA and are available, such as Abbott BinaxNow Self Test, BD Veritor, Celltrion DiaTrust COVID-19 Ag Home Test, CLINITEST, Flowflex, iHealth, INDICAID COVID-19 Rapid Antigen At-Home Tests, InteliSwab, On/Go (AccessBio CareStart), Roche At-Home, and Quidel QuickVue. However, there important differences in the accuracy of these tests, their shelf-lives and stability in freezing temperatures, and their cost. Also, versions of some of these tests have been recalled.

[Sign in for our comparison of antigen tests and our Top Picks.]

You can anonymously report at-home COVID test results (positive or negative), for you or a member of your family, to the government at makemytestcount.org in order to help researchers better understand how these tests are being used. Only age and zip code are required.


Antibody test
This test detects antibodies to the virus and requires blood — either a drop or a vial — to determine if you have been infected in the past and have developed some level of immunity. This test (also called a serology test) can be run in a laboratory or on a test strip, although even test strips must be used in an authorized facility, not at home.

As it takes time to develop antibodies that can be detected, antibody tests are most accurate when performed at least 20 days after the first disease symptoms and may be most accurate (in terms of not missing antibodies that are present) 4 months or longer after a positive virus test. This was shown in study of 486 COVID patients in California in which the likelihood of a positive antibody (IgG) test result increased with time after a positive virus test. Antibody tests were most accurate (~80%) among those ages 40 to 59 years and least accurate (~65%) among those 70+ or under 40. The tests were more accurate for men than women (79% vs 72%) (Vashisht, JAMA Netw Open 2021).

Tests focus on levels of the antibody IgG, which persists without much decline for several weeks, but may include levels of IgM which fall off more rapidly (Sethuraman, JAMA 2020). These tests look for antibodies to specific parts of the virus, namely its spike proteins (proteins on the outside of the virus that can bind to receptors on human cells) or nucleocapsid proteins (proteins inside the virus). An advantage to testing for antibodies to the nucleocapsid is that these antibodies can be easier to detect, however, antibodies to the spike proteins are believed to be more important in conferring immunity against the virus, as these antibodies may block viral entry into cells — although antibodies to nucleocapsid proteins may still serve as proxies for immunity. See Finding the Best COVID-19 Test — Antibody Test to learn which marketed tests target each protein.

Although it is not recommended that antibody tests be relied upon to determine the effectiveness of vaccines, be aware that only tests that focus on antibodies to spike protein would be useful for this purpose because the authorized vaccines generate antibodies only to spike proteins. A negative result on a nucleocapsid antibody test provides no information about the effectiveness of a vaccine although it would suggest that a person has not had COVD-19. The list of authorized antibody tests below indicates whether a test focuses on spike, nucleocapsid, or both types of proteins.

If, at some point, tests for spike protein antibodies are indicated for assessing antibody response to COVID-19 vaccines, those that provide a quantitative or semi-quantitative measurement, will be more useful than those that provide only a yes/no answer. Sign in for more information about antibody tests that focus on the spike protein and are semi-quantitative, including one that is available from a major U.S. laboratory.

Note: Avoid taking large doses — 10,000 mcg or more — of biotin (a B vitamin) for several days before an antibody test, as biotin may skew results.
Sign in to learn which tests may be affected by biotin.
Another way our bodies fight the virus is with T cells. Preliminary research suggests that even if antibody levels are too low to be detected, people previously infected with the virus may produce enough T cell response to provide immunity (Sekine, MediRxiv 2020). However, currently authorized tests do not measure this type of immunity, and one should still apply distancing and health precautions regardless of test results.

Some labs may provide you with an index value that reflects the strength of the antibody signal produced from your test. Higher antibody levels generate higher signals and higher index values. The interpretation of these index values depends on the test used. For example, for a particular test the cut-offs could be "less than 1.01" for negative, "1.01 to less than 1.21" for indeterminate, and "greater than or equal to 1.21" for positive (Theel, J Clin Microbio 2020). Or, there could just be a single cut-off index value of, say, 1.40 for positive, with anything below being negative (Example: Abbott Alinity -- https://www.fda.gov/media/137910/download). If you would like to know your index value, be sure to check that the lab you use provides the value.

Who is checking these tests?
To speed the availability of tests, rather than put these through its normal approval process, the FDA has provided a special emergency use allowance (EUA) for tests that, although imperfect, may be useful at this time. So there are actually no FDA "approved" SARS-CoV-2 virus tests, but a list of "FDA authorized" tests. The FDA allowances are based on data submitted by the test manufacturers, but the National Institutes of Health (NIH) and other government laboratories are now conducting independent tests of these tests and the FDA has been making the results public (see results in the Finding the Best COVID-19 Test section and watch for further announcements in our newsletter.)

Several other organizations around the world have been testing the test and/or certifying virus and antibody tests. The European Union's has been certifying tests, conferring on them its CE (Conformité Européenne) mark, and the Chinese National Medical Products Administration (NMPA) has been doing the same. Researchers in California, Denmark, and elsewhere have been testing the antibody tests.

Be aware that in June 2020 the FDA warned consumers about at-home antibody tests being sold without FDA clearance or approval and issued warning letters to three companies selling these tests. Some of these tests were falsely labeled as FDA approved. [Update (August 19, 2020): The U.S. Department of Health and Human Services (HHS) announced that CLIA- certified laboratories are no longer required to notify the FDA, nor request its authorization, for tests they develop in-house. It is not clear what information about such tests will be maintained or published. This change could allow for novel tests to become available more quickly but eliminates oversight by the FDA, creating more of a buyer-beware situation. Labs may, voluntarily, still choose to apply to the FDA, and the FDA will continue to publish information about tests submitted this way. If in doubt, ask your doctor or lab if the test you are considering is authorized for use by the FDA. (Links to the FDA information are provided in the Finding the Best COVID-19 Test section.

Where to Get COVID-19 Tests

Virus Test
To date, the FDA has permitted the use of over 90 virus tests. The vast majority must be performed on a sample collected in a medical setting, such as in a doctor's office, a diagnostic laboratory, or a drive-through facility, but the FDA has also begun authorizing at-home sample collection tests for the virus.

Local testing (often free)
Although you can ask your doctor for a virus test, you may be able to arrange to get a virus test for free from your state or local government. You can also go to a diagnostic laboratory or testing center, including some pharmacies. The test may be covered by your insurance or the government based on an assessment of your risk level. Here are some examples of testing programs around the country.

At-home tests
The FDA has authorized several fully self-administered virus tests (providing rapid results) or test kits (to be sent into a lab) for use at home. Currently, two of these (Abbott BinaxNOW Antigen Self-Test and Quidel QuickVue) can be purchased at pharmacies and take about 15 minutes. Note that these will not provide you with a digital pass for events, airlines, or restaurants. Another version of the BinaxNOW Antigen test (the "home" version) provides a digital Navica pass, but this test must be purchased online (at about twice the cost) and many venues may not accept the digital pass.

Update: On October 1, 2021, 200,000 test kits of another COVID-19 home test were recalled due to a manufacturing defect causing false positive results (i.e., indicating that someone has COVID-19 when they do not). For details, including what to do if you've used this home test, sign in to the full answer, which also includes details about four other currently available at-home tests.

As of September 25, 2023, people living in the U.S. (including U.S. Territories or those with overseas military and diplomatic addresses, i.e., APO/FPO/DPO) may order one set of four at-home tests per household through www.covidtests.gov. The tests are free and shipping (at no cost) will start the week of October 2. Be aware that some tests may be past their printed expiration dates, but expiration dates have been extended (see list of extended expiration dates.) People who are blind or have low vision can also order 12 at-home accessible tests online or by calling 1-800-232-0233. The USPS, which distributes these tests, does not state which test brand will be shipped.

Antibody Test
As with virus tests, many laboratories have received FDA approval to conduct antibody tests, some of which are very accurate. Although the FDA has not approved or authorized rapid, home tests for antibodies, many such tests are available in other parts of the world and some have been sold in the U.S. The FDA has authorized one rapid antibody test for use at point-of-care settings, i.e., non-laboratory medical settings such as in medical offices and pharmacies.

Through a local healthcare provider
Your healthcare provider can arrange for you to get an antibody test if deemed appropriate. Blood would be drawn either by your provider or at nearby diagnostic laboratory. Similarly, many walk-in, urgent care centers can arrange for you to have the test, for a fee, which may be covered by your insurance. The samples are typically sent to a commercial laboratory, so results can take a few days.

Consumer-initiated testing
Be aware than in many cases, the cost of antibody tests may be covered by insurance if ordered by your physician or health care provider. Some labs will require payment for consumer-initiated tests, while others will bill your insurance. Be sure to check the payment policy of the lab you plan to use if requesting your own test. You can also check if your insurance company covers COVID-19 testing. Medicare often covers the full cost of COVID-19 virus and antibody tests. If you are uninsured, health care providers can submit a claim to have virus and antibody tests covered by the Families First Coronavirus Response Act.

QuestDirect allows consumers to request a COVID-19 IgG antibody test and pay for it online ($119 plus a $10.30 physician oversight fee). An appointment is made for a blood draw at one of Quest Diagnostics 2,200 patient service centers and test results are available online one to two days later. Interested consumers must not have experienced symptoms of COVID-19 for at least 10 days. Quest has stated that the testing will initially rely on antibody tests run on the Abbott Architect and EUROIMMUN systems.

Labcorp also allows consumers to request a test directly through its website. According to the website, there is no up-front out-of-pocket cost for consumer initiated tests, but you will be charged a $10 fee for physician oversight services (there is no physician oversight fee if the test order comes directly from your own physician or healthcare provider). Labcorp will "bill the cost of the COVID-19 IgG antibody test directly to your insurance carrier, or if uninsured, to the appropriate government program." Antibody tests offered by Labcorp include Abbott SARS-CoV-2 IgG, Roche Elecsys Anti-SARS-CoV02 (IgG), and DiaSorin SARS-CoV-2.

You can see how each of these tests compare in the Finding the Best COVID-19 Test section below.

Rapid, home tests
The FDA has not yet approved or authorized of the use of any rapid, home antibody tests but several have been approved by the European Union, which provides its CE mark (Conformité Européenne) and/or by the Chinese National Medical Products Association (NMPA). In addition, research groups have been evaluating these tests. Some of these tests have been marketed in the U.S. without FDA approval or allowance.

Finding the Best COVID-19 Test

There are now more than 90 virus tests (including a recently approved saliva test) and 22 antibody tests for COVID-19 authorized by the FDA. ConsumerLab has reviewed the data on their performance and assessed which appear to be the best antibody tests for COVID-19. We've added this information for ConsumerLab members. Sign in as a member or become a member now to learn how specific brands of virus and antibody tests compare, which currently appear to be the best, where to get them, and whether any of the tests can identify which variant caused an infection.

What Does a Negative Antibody Test Mean?
If you took a coronavirus antibody test and it came back negative, it can mean one of several things:
The test was not sensitive enough to detect antibodies that existed. This is more likely if the test had a sensitivity of less than 100% (see Finding the Best COVID-19 Test — Antibody Test for sensitivities of FDA-authorized tests);
You may have never had COVID-19;
You took the test too early -- generally less than 20 days after first disease symptoms, although, according to the CDC, some people may take longer; or
You didn't develop levels of antibodies high enough to be detected by tests -- which preliminary research suggests may happen in mild and asymptomatic cases (Long, Nature Med 2020).
There is currently not enough data to know if a negative result could result from taking the test too late. More research is needed to determine how long significant levels of antibodies to SARS-CoV-2 persist.

The CDC cautions, "Regardless of whether you test positive or negative, the results do not confirm whether or not you are able to spread the virus that causes COVID-19. Until we know more, continue to take steps to protect yourself and others."

This article will be updated as new information is obtained.
Join today to unlock all member benefits including full access to all CL Answers and over 1,400 reviews.
Join Now
Already a member? Sign In Here.
Join now at www.consumerlab.com/join/