How Much Aloe Is Really in Aloe Products? ConsumerLab Tests Show Some Products Contain None
---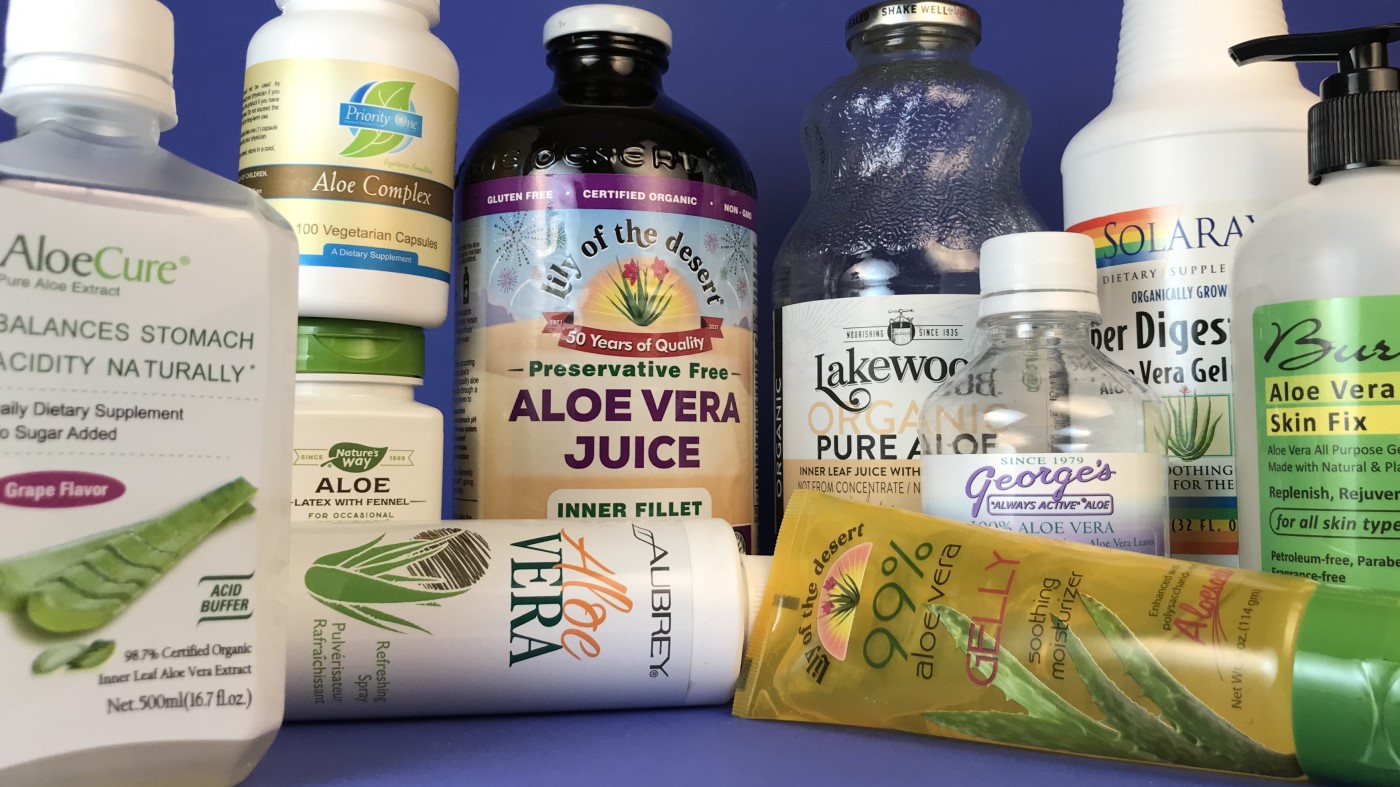 White Plains, New York, December 15, 2021 —
Recent ConsumerLab tests of popular aloe juices, gels and supplements sold in the U.S. found substantial amounts of aloe in some products, while others contained very little. In fact, one product that claimed to be "100% Aloe Vera" appeared to little more than high-priced water, as tests detected
no aloe.
ConsumerLab
selected, purchased and tested 10 popular aloe juices, gels and supplements
, and carefully checked them to determine if they contained the labeled and expected amounts of acemannan, the key marker compound for aloe. They were also analyzed to determine amounts of aloins, also known as "aloe latex," which has a powerful laxative effect and, based on animal studies, may be carcinogenic.
The tests revealed that amounts of acemannan in aloe juices and drinkable products varied widely from
none
in one drinkable product to 42.5 mg per serving in an aloe extract, and, in topical products, from 0.16 mg to 0.76 mg. Aloe supplements, which are intended to be used as laxatives, contained significant amounts of aloins. None of the products exceeded contamination limits for lead, cadmium, or arsenic.
The cost to obtain 25 mg of acemannan from drinkable aloe products ranged from 20 cents to more than $2.00. Topical products tended to be the most expensive, with the cost ranging from $1.45 to over $9 for 25 mg of acemannan.
Among products that were Approved for quality through ConsumerLab's testing, ConsumerLab selected its
Top Picks among drinkable aloe and topical aloe products
.
The results are available online in ConsumerLab's new
Aloe Juices, Gels, and Supplements Review
which includes test results and comparisons for AloeCure Pure Aloe Extract, Aubrey Aloe Vera, Burn Out Aloe Vera Skin Fix, George's 100% Aloe Vera, Lakewood Organic Pure Aloe, Lily of the Desert 99% Aloe Vera Gelly, Lily of the Desert Aloe Vera Juice, Nature's Way Aloe Latex with Fennel, Priority One Aloe Complex, and Solaray Super Digestaway Aloe Vera Gel Drink.
The FDA has banned the sale of all aloe products as over-the-counter (OTC) medicine, although they remain legal as dietary supplements. Recently, some
aloe gels and sprays have also been found to contain benzene, a carcinogen.
As explained in the review, small studies suggest that applied topically, aloe may accelerate the healing of herpes sores and have other benefits. Taken orally, aloe may help to control blood sugar levels. However, more research is needed to confirm these benefits. The review summarizes the clinical evidence for, as well as against, use of aloe products, how to choose an aloe product, dosage, and potential side effects and drug interactions with aloe.
Founded in 1999,
ConsumerLab.com
is a leading provider of consumer information and independent evaluations of products that affect health and nutrition. Membership to ConsumerLab.com is
available online
and provides immediate access to continually updated reviews of nearly every popular type of dietary supplement and health food, answers to reader questions, and product recalls and warnings. ConsumerLab also provides independent product testing through its voluntary
Quality Certification Program
. The company is privately held and based in New York. It has no ownership from, or interest in, companies that manufacture, distribute, or sell consumer products.
— END —
Members of the media contact may contact media@consumerlab.com or call the ConsumerLab.com main number (914-722-9149). Please include the name of your news organization when contacting us.