Best Apple Cider Vinegar? Quality of Bottled Apple Cider Vinegars and Supplements Varies, According to ConsumerLab
---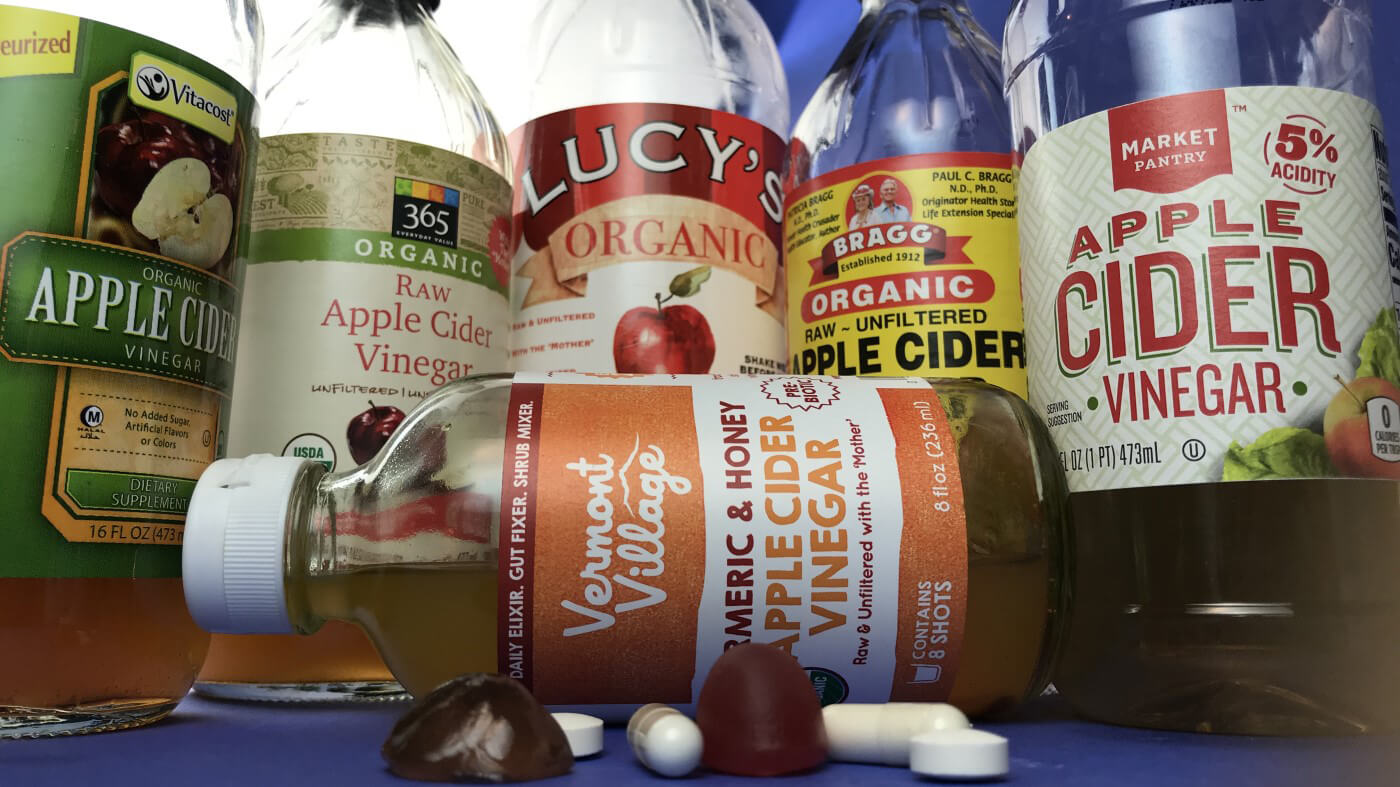 White Plains, New York, October 21, 2020 — Apple cider vinegar is often promoted for lowering blood sugar levels, weight loss, "balancing" pH, and improving digestion. But does it really work, and if so, which are the best apple cider vinegars and how do supplements in pill or gummy form compare to bottled apple cider supplements in terms of strength, efficacy, and safety?
To find out, ConsumerLab carefully reviewed the clinical evidence for apple cider vinegar and purchased and tested popular liquid apple cider vinegars and apple cider vinegar supplements, including tablets, capsules and gummies. ConsumerLab tested each product to determine whether it contained authentic apple cider vinegar (based on its chemical fingerprint) and its concentration of acetic acid, which is thought to be responsible for apple cider vinegar's effects. Bottled apple cider vinegar typically contains about 5% acetic acid, and according to FDA guidelines, should contain no less than 4%. However, acetic acid can be dangerous in concentrations of 20% or more, and ConsumerLab tests of apple cider vinegar supplements in 2018 showed that some contained acetic acid in concentrations as high as 30%. All unfiltered products and those containing whole herbs and/or more than 250 mg of minerals per daily serving were also tested for contamination with lead, cadmium and arsenic, and tablets were tested for proper disintegration.
ConsumerLab's tests showed that most bottled apple cider vinegars contained about 4-5% acetic acid and about 700 to 800 mg of acetic acid, while one was found to contain just 2.2% acetic acid. The amounts of acetic acid found in apple cider vinegar supplements (in gummy, capsule, or tablet form), was just a small fraction of that in the bottled products, with amounts ranging from 14 to 51 mg and two supplements contained 20% less acetic acid than expected from their labels. The cost to get 750 mg of acetic acid from products ranged from just 6 cents from a bottled liquid to more than $20 from a supplement.
Among the products that were Approved, ConsumerLab selected two Top Picks for bottled apple cider vinegar based on quality, acidity, taste and cost. It also selected a Top Pick among apple cider vinegar supplements that provides a relatively high, but safe amount of acetic acid at a good value. [Note: Past tests by ConsumerLab have revealed that some supplements contain very high concentrations of acetic acid and can be dangerous.]
The results are available online in ConsumerLab's new
Apple Cider Vinegar Review
, which includes test results and comparisons for 13 products. Ten products were selected for testing by ConsumerLab: 365 [Whole Foods] Organic Raw Apple Cider Vinegar, Bragg Apple Cider Vinegar With The "Mother", Goli Nutrition Apple Cider Vinegar Gummies, Lucy's Organic Apple Cider Vinegar, Market Pantry [Target] Apple Cider Vinegar, NOW Apple Cider Vinegar 450 mg, Spring Valley [Walmart] Apple Cider Vinegar, Vermont Village Turmeric & Honey Apple Cider Vinegar, Vitacost Organic Apple Cider Vinegar, and Wellpath Pure Organic Apple Cider Vinegar Gummies. Another three products were tested and approved through CL's voluntary 
Quality Certification Program
: American Health Apple Cider Vinegar Tablets, Nature's Bounty Apple Cider Vinegar 480 mg, and Puritan's Pride Apple Cider Vinegar 480 mg.
Founded in 1999, ConsumerLab.com is a leading provider of consumer information and independent evaluations of products that affect health and nutrition. Membership to ConsumerLab.com is available online and provides immediate access to continually updated reviews of nearly every popular type of dietary supplement and health food, answers to reader questions, and product recalls and warnings. ConsumerLab also provides independent product testing through its voluntary Quality Certification Program. The company is privately held and based in New York. It has no ownership from, or interest in, companies that manufacture, distribute, or sell consumer products.
How Apple Cider Vinegar and ACV Supplements Compare in Tests (Reviews) by ConsumerLab
— END — 
Members of the media contact may contact media@consumerlab.com or call the ConsumerLab.com main number (914-722-9149). Please include the name of your news organization when contacting us.