Best B Complexes, B12, and Other B Vitamin Supplements Revealed by ConsumerLab Tests: Beware of High Doses
---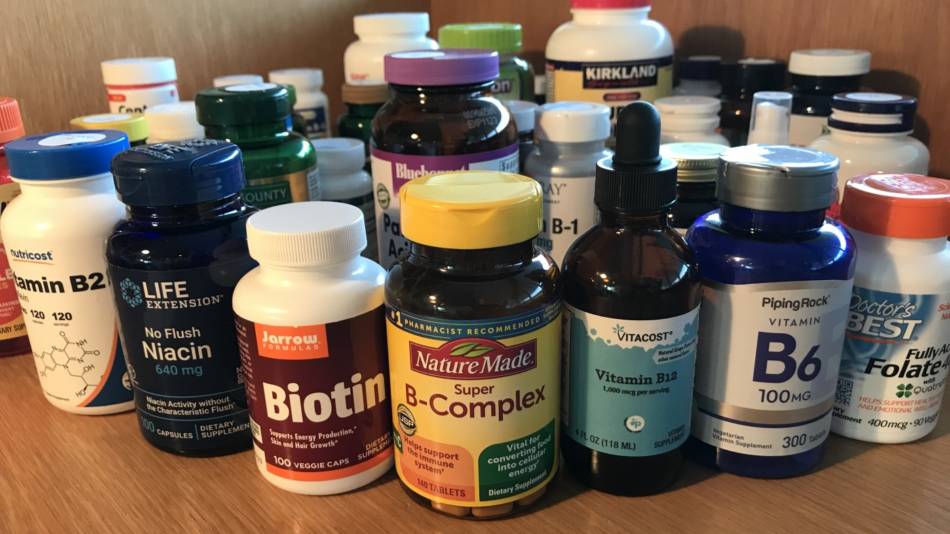 White Plains, New York, June 14, 2022 —
Recent
ConsumerLab tests of over 30 popular vitamin B complexes and supplements
revealed that four products contained either much less, or much more, of at least one B vitamin listed on the label. One B complex, for example, contained only 79% of its B12, while another fell short on three key B vitamins, providing between just 69% to 80% of the thiamin, pantothenic acid and folic acid listed on its label.
In addition, many products contained B vitamins in extraordinarily high amounts that are generally only necessary for people with a B vitamin deficiency. In some cases, products exceeded established Tolerable Upper Intake Levels (ULs), above which adverse effects are more likely to occur. This was most common for niacin, high dosages of which are sometimes taken to help lower cholesterol, but, due to the potential for adverse effects -- such as flushing, tingling, and most concerningly, liver inflammation -- should only be used under physician supervision.
Among products that were Approved, ConsumerLab selected its
Top Picks for vitamin B complexes,
as well as for individual B vitamins including vitamins
B-12,
B-6,
folate
(including methylfolate),
thiamin,
pantothenic acid,
and
niacin.
The results are available online now in ConsumerLab's
B Vitamin Supplements Review,
which includes test results and comparisons for 34 products. Twenty-six products were selected for testing by ConsumerLab: Best Naturals Vitamin B-6 25 mg, Bluebonnet Pantothenic Acid 500 mg, Centrum Energy & Vitality, Doctor's Best Fully Active Folate 400 With Quatrefolic, Douglas Laboratories Riboflavin, Endurance Products Company Endur-Acin, Finest Nutrition [Walgreens] Folic Acid Dist. By Walgreens Co., Kirkland Signature [Costco] Super B-Complex, Life Extension No Flush Niacin 640 mg, Mason Natural Vitamin B12 50 mcg, MethylPro L-Methylfolate 15 mg, Natural Factors Methylcobalamin B12 1,000 mcg, Nature Made Super B-Complex, Now Niacinamide 500 mg, NusaPure Benfotiamine 300 mg, Nutricost Vitamin B2 400 mg, PipingRock.com Vitamin B6 100 mg, Pure Encapsulations B-Complex Plus, Pure Synergy Super-B Complex, Slo Niacin, Solaray Vitamin B-1 100 mg, Spring Valley [Walmart] Biotin 10,000 mcg, Swanson Real Food Biotin, Vitacost Vitamin B12 – Natural Grape Flavor with Other Natural Flavor, Vitafusion Biotin 5,000 mcg – Natural Blueberry Flavor, and Vitafusion Gummy Vitamins Vitamin B12 1,000 mcg. Eight other products were tested and Approved through CL's voluntary
Quality Certification Program:
CVS Health Biotin 10,000 mcg, Garden of Life mykind Organics B-12 Organic Spray – Raspberry Flavor, Garden of Life Vitamin Code Raw B-Complex, GNC B-Complex 50, Jarrow Formulas Biotin, Natrol Biotin Beauty 5,000 mcg – Strawberry Natural Flavor, Nature's Bounty Quick Dissolve B-12 2,500 mcg, and Solgar B-Complex 100.
As discussed in the review, most people are not deficient in B vitamins, although vegans, older adults, and people who take stomach acid-blocking medications or the antidiabetes medication metformin may be more likely to develop a deficiency in vitamin B-12. The review also explains the differences between forms of B vitamins such as cyanocobalamin versus methylcobalamin and folic acid versus methylfolate. In addition, the clinical evidence is discussed for and against B vitamin supplementation for reducing the risk of stroke, slowing cognitive decline and reducing the risk of dementia, including Alzheimer's disease, and improving mood and increasing energy, as well as the best way to take B vitamins, and potential side effects and drug interactions with B vitamin supplements.
Founded in 1999,
ConsumerLab.com
is a leading provider of consumer information and independent evaluations of products that affect health and nutrition. Membership to ConsumerLab.com is
available online
and provides immediate access to continually updated reviews of nearly every popular type of dietary supplement and health food, answers to reader questions, and product recalls and warnings. ConsumerLab also provides independent product testing through its voluntary
Quality Certification Program
. The company is privately held and based in New York. It has no ownership from, or interest in, companies that manufacture, distribute, or sell consumer products.
— END —
Members of the media contact may contact media@consumerlab.com or call the ConsumerLab.com main number (914-722-9149). Please include the name of your news organization when contacting us.