Best Cranberry Juices and Supplements for Urinary Tract Infections
---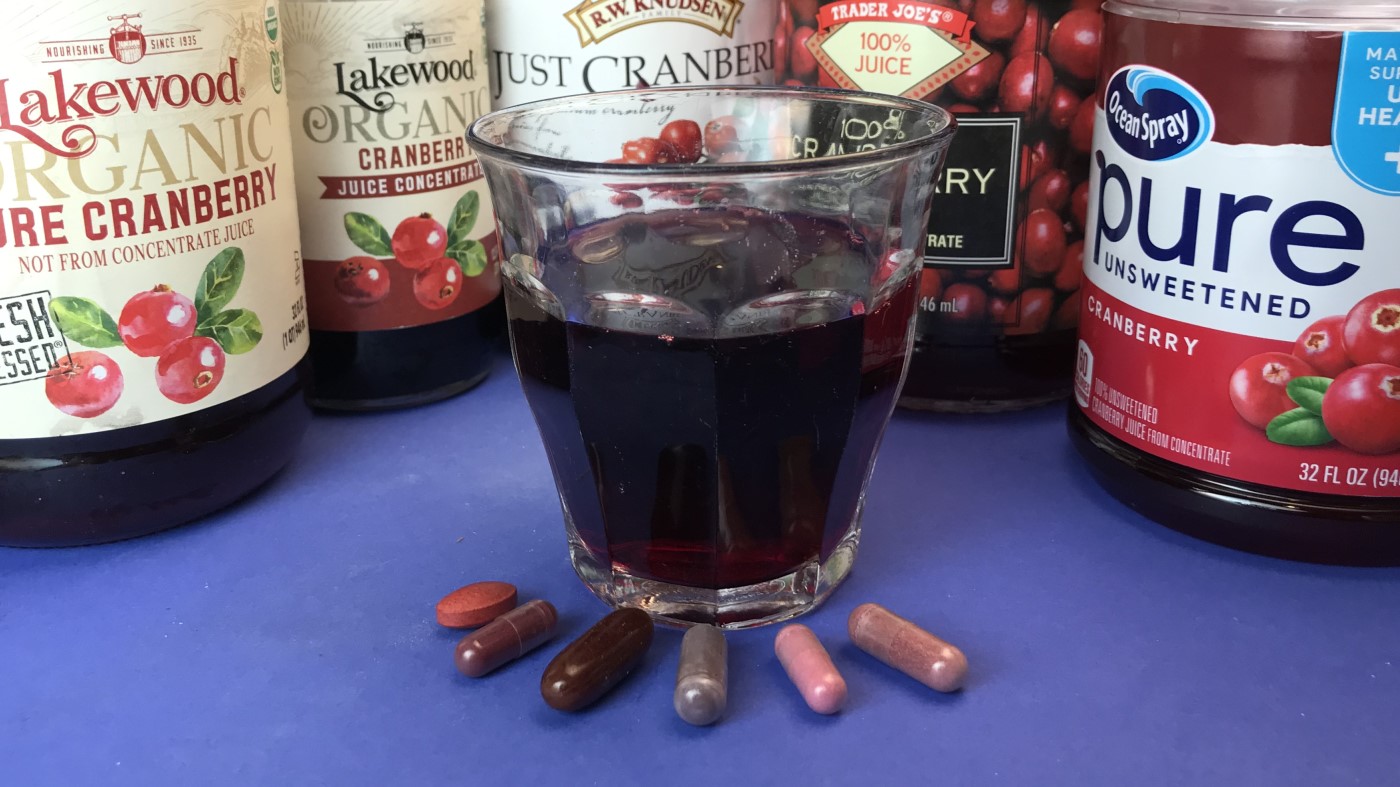 White Plains, New York, July 9, 2021 —
Recent
ConsumerLab tests of popular cranberry juices and supplements
revealed that some products contained substantial amounts of key cranberry compounds that may help reduce the risk of urinary tract infections (UTIs), while others contained only small amounts -- far less than what has been shown to help in clinical trials.
Cranberries contain a variety of polyphenolic compounds that include proanthocyanidins (PACs).PACs from cranberry, particularly soluble, A-type PACs, have been shown to limit the ability of
E. coli
bacteria to adhere to the walls of the bladder and urinary tract, potentially reducing the risk of UTIs. Products that have shown benefit in clinical studies have typically provided about 36 mg of soluble PACs per serving, taken twice daily.
However, ConsumerLab found amounts of soluble PACs per serving in the products it tested ranged 200-fold, from 0.54 mg in a popular cranberry supplement marketed for urinary tract infections to 105.6 mg in a cranberry juice.
Importantly, all products were tested using the BL-DMAC (or DMAC/A2) method, which
specifically measures soluble PACs
and will be part of an upcoming USP (US Pharmacopoeia) Monographs for cranberry. Other testing methods, some of which may be used to report amounts of PACs on product labels, may yield very different results, which could mislead consumers to think they are getting more soluble PACs than products provide.
Among the products that were Approved, ConsumerLab selected its
Top Picks
, including an overall
Top Pick
for use in preventing or treating recurrent UTIs, a cranberry juice, and a cranberry supplement.
A short
video
about the findings by ConsumerLab's President, Dr. Tod Cooperman, is available on YouTube.
The results are available online in ConsumerLab's new
Cranberry Juices and Supplements Review
which includes test results and comparisons for 11 cranberry juices and supplements selected for testing by ConsumerLab: Lakewood Organic Cranberry Juice Concentrate, Lakewood Organic Pure Cranberry, Ocean Spray Pure Unsweetened Cranberry, R.W. Knudsen Family Just Cranberry, Trader Joe's 100% Cranberry Juice, Azo Cranberry, Ellura, Solaray CranActin, Swanson Cranberry, Theralogix Nutritional Science TheraCran One and Trunature [Costco] Cran-Max.
The review discusses the clinical evidence for cranberry juice and cranberry supplements for reducing the risk of UTIs, as well as other for reducing lower urinary tract symptoms (LUTS) in men with non-bacterial prostatitis, benign prostatic hyperplasia (BPH), or who are undergoing prostate cancer treatment, and for
H. pylori
infection, a common cause of chronic gastritis and peptic ulcer disease. The review also explains what to look for on product labels, dosage, and potential side effects and drug interactions with cranberry.
Founded in 1999,
ConsumerLab.com
is a leading provider of consumer information and independent evaluations of products that affect health and nutrition. Membership to ConsumerLab.com is
available online
and provides immediate access to continually updated reviews of nearly every popular type of dietary supplement and health food, answers to reader questions, and product recalls and warnings. ConsumerLab also provides independent product testing through its voluntary
Quality Certification Program
. The company is privately held and based in New York. It has no ownership from, or interest in, companies that manufacture, distribute, or sell consumer products.
— END — 
Members of the media contact may contact media@consumerlab.com or call the ConsumerLab.com main number (914-722-9149). Please include the name of your news organization when contacting us.