Acai Berry Supplements and Beverages Review
Find the Best Acai Berry Supplements and Beverages. See Which Acai Berry Supplements and Beverages Passed Our Tests of Quality.
---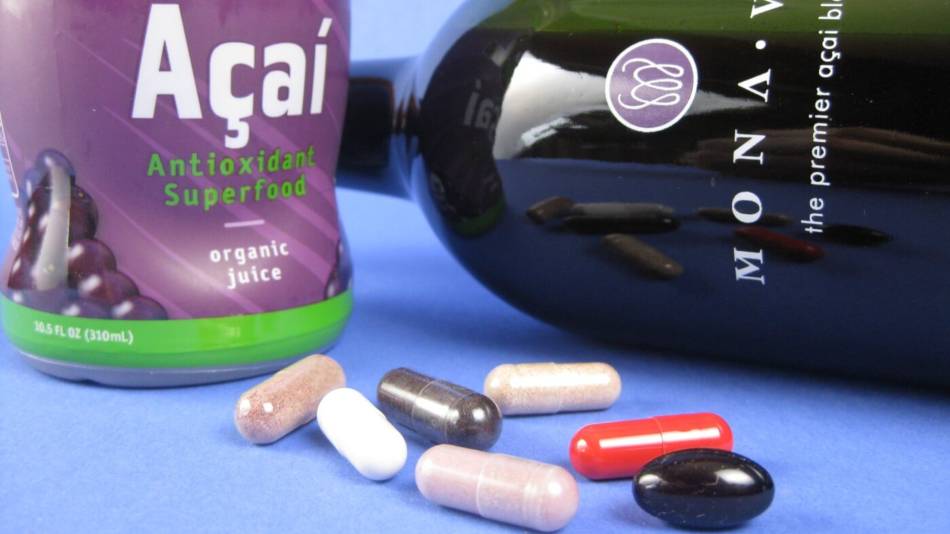 Alphabetical list of acai berry supplements and beverages compared in this review
Nature's Herbs Power-Herbs Acai Fruit
Pure Encapsulations Acai 600
Swanson Superior Herbs Acai Berry Extract
Vitamin Shoppe Acai Extract
Acai berry is rich in antioxidants and has been called a "super fruit." Acai berry has also been widely promoted for the treatment or prevention of many ailments -- but are these acai berry claims true? 
For this review of acai berry products, ConsumerLab.com purchased and analyzed a wide variety of acai berry supplements and beverages.  While it is not currently possible to determine the amount and authenticity of acai berry, all of the acai berry products we reviewed were found to meet quality criteria for heavy metal and pesticide contamination.  However, our review also revealed potentially dangerous laxatives in one supplement and over 100 mg of caffeine in another.  Some product labels don't even tell you how much acai berry they contain.  We also encountered worrisome billing practices with two companies.
You must subscribe to get the full test results, reviews and ratings for acai berry supplements and acai berry juices or beverages along with ConsumerLab.com recommendations. You will get results for six acai berry supplements and beverages selected for testing by ConsumerLab.com and for six other brands of acai berry supplements evaluated through our voluntary testing program, as well as information about two acai berry products similar to ones tested.
In this comprehensive review, you'll discover:
Which acai berry supplements and beverages met our quality criteria

What acai berry has or has not been shown to do 

Which acai berry product may be dangerous if used improperly
Which acai berry products contain caffeine and how much 

What part of the acai berry provides the most antioxidants

Concerns, cautions, and how some companies charge you more money than you may expect
As a ConsumerLab.com member, you may print a copy of this report for your personal use.
You can access a special print version by clicking the "Print" icon in the upper right corner of this report. You can then use your web browser's print functions to print the whole report or just selected pages.
You may also email or post a link to this report using the web address above. Non-members using the link will see a free summary and can join to view the full report. Other means of copying or distributing this report, in part or full, are not permitted.
If you are sight-impaired and your computer is having trouble converting the text in this report to speech, contact us for assistance at Membership@ConsumerLab.com or by phone at 914-722-9149.