High Levels of Cadmium Found In Whole and Ground Flaxseed In ConsumerLab Tests
---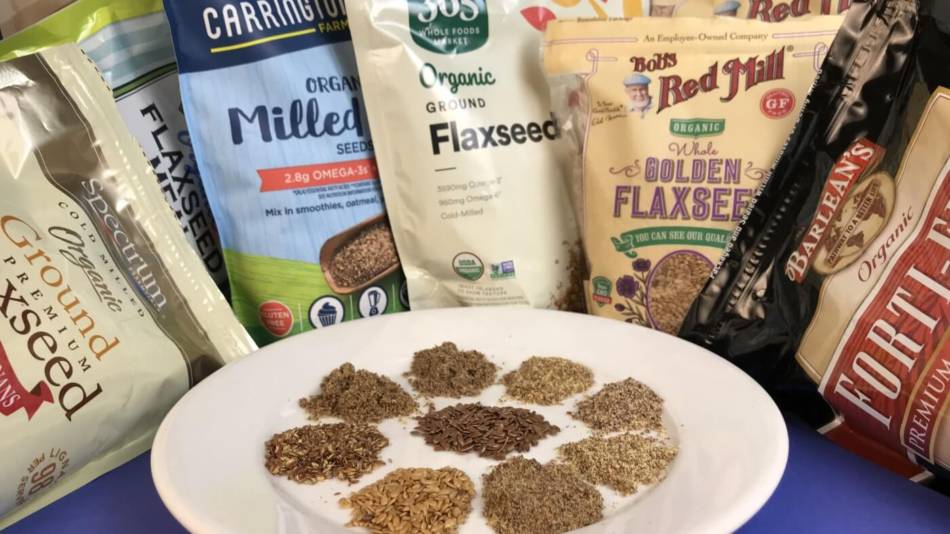 White Plains, New York, January 12, 2023 —
Recent ConsumerLab tests revealed concerning levels of cadmium, a toxic heavy metal, in several popular flaxseed products which, otherwise, provided the listed amounts of healthy fats, fiber, and protein without microbial contamination. Some products contained up to five times as much cadmium as others.
Three out of nine flaxseed products ConsumerLab purchased and tested were found to exceed the State of California's Prop 65 limit of 4.1 micrograms of cadmium per recommended daily serving, above which a warning regarding reproductive harm is to appear on the label if a product is sold in or into that state. There is no established federal limit for cadmium in foods in the U.S.
There was no association between cadmium contamination and the cost of products, type or form of flaxseed, or whether or not they were organic.
Among the products that passed testing and were Approved for their quality, CL selected one that was low in cadmium and other heavy metals, provided good flavor, and cost less than half the price of many other products as its
Top Pick for flaxseed.
Cadmium, which plants can absorb from the soil in which they are grown, is a probable carcinogen. It can also be toxic to the kidneys, can soften the bones and cause bone pain, and may affect fetal development. Cadmium accumulates in the body due to its long biological half-life in humans of 10 to 35 years.
The results are available online now in ConsumerLab's new
Whole, Ground, and Milled Flaxseed Review,
which includes nine products selected for testing by ConsumerLab: 365 Whole Foods Market Organic Ground Flaxseed, Barlean's Forti-Flax Premium Ground Flaxseed, Bob's Red Mill Whole Golden Flaxseed, Bob's Red Mill Whole Ground Flaxseed Meal, Carrington Farms Organic Milled Flax Seeds, Great Value [Walmart] Ground Flax Seed, Spectrum Essentials Organic Ground Premium Flaxseed, Terrasoul Superfoods Brown Flax Seeds, and Trader Joe's Organic Flaxseed Meal.
ConsumerLab is currently testing additional flaxseed products.
A short
video
about the findings is available on YouTube.
ConsumerLab has also tested, in separate Reviews,
flaxseed oils
and
flax milk
(along with other plant-based milks), but cadmium contamination is unlikely in these products because cadmium is largely attached to other parts of the seed (particularly cell walls and proteins) rather than the oil. However, ConsumerLab testing has found cadmium contamination to be a problem in
dark chocolate and cocoa.
Founded in 1999,
ConsumerLab.com
is a leading provider of consumer information and independent evaluations of products that affect health and nutrition. Membership to ConsumerLab.com is
available online
and provides immediate access to continually updated reviews of nearly every popular type of dietary supplement and health food, answers to reader questions, and product recalls and warnings. ConsumerLab also provides independent product testing through its voluntary
Quality Certification Program
. The company is privately held and based in New York. It has no ownership from, or interest in, companies that manufacture, distribute, or sell consumer products.
Caution: High Levels of Cadmium Found In Flaxseed Products with ConsumerLab's Dr. Tod Cooperman
— END — 
Members of the media contact may contact media@consumerlab.com or call the ConsumerLab.com main number (914-722-9149). Please include the name of your news organization when contacting us.