Lactose Intolerance Products Review (Lactase Enzyme Supplements and Lactose-Free Milks)
Choose the Best Lactase Enzyme Supplement and Lactose-Free Milk. Find a CL Approved Lactose Intolerance Product.
---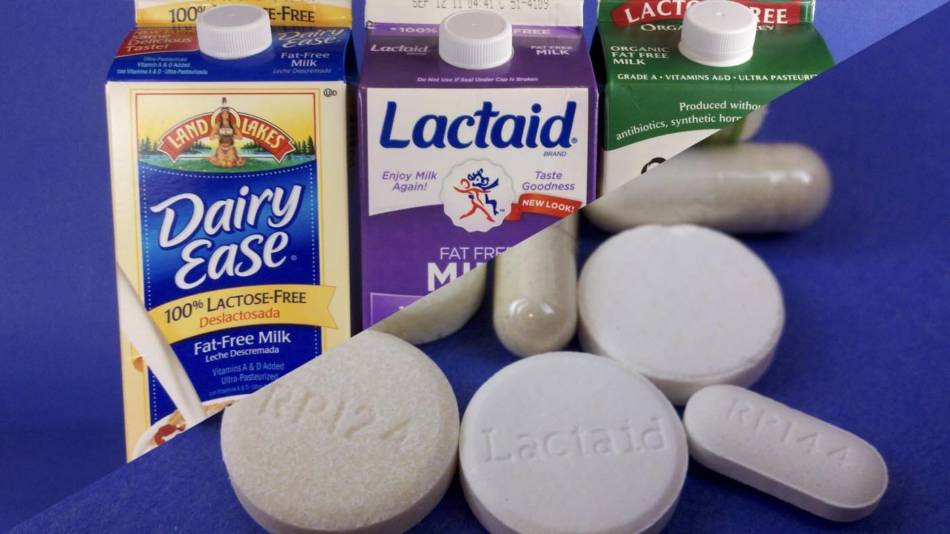 Make sure you're choosing the best lactose intolerance products approved in our tests!
See the Full Review Now
Already a member? Sign in here.
Join now at www.consumerlab.com/join/
Lactase supplements and lactose-free milks compared in this review
CVS pharmacy Dairy Relief Fast Acting Vanilla Twist Flavor
equate Fast Acting Dairy Digestive Supplement
Garden of Life Raw Enzymes Women 50+ & Wiser
KAL Lactase Enzyme 250 mg
Kirkland Signature Fast Acting Lactase
Lactaid Fast Act Vanilla Twist Flavor
Land O Lakes Dairy Ease Fat Free Milk
natural Factors Lactase Enzyme
Nature's Plus Say Yes to Dairy
Organic Valley Lactose Free Organic Fat Free Milk
Puritan's Pride Lactase Enzyme
Seeking Health Lactase Drops
Source Naturals Lactase Digest
Can lactose-free foods -- like like lactose-free milk -- and lactase enzyme supplements really help people with lactose intolerance? They may -- but it depends on how much enzyme activity is in the supplement and how much lactose has been removed from the food.
ConsumerLab.com selected and tested ten different lactase supplements and three popular brands of lactose-free milk. We also reviewed one product through our voluntary Quality Certification Program. The testing showed one lactase supplement with so little activity as to be of questionable value. But ConsumerLab.com also found many supplements that met their claims and may be helpful. The three lactose-free milks had no detectable lactose but only two provided a significant amount of vitamin D.
ConsumerLab.com found that an equal amount of lactase enzyme (enough to help with a high lactose meal) cost as little as 8 cents to as much as $6.79 depending on the brand of lactase supplement.
In this comprehensive review of lactase supplements and lactose-free milks, you'll get test results and quality ratings for 14 lactase supplements (two of which can be added to milk) and 3 lactose-free milks, as well as information about one other lactase supplement similar to another that was tested. You'll learn:
Which lactase supplements (including lactase drops) and lactose-free milks passed or failed testing 

How lactase supplements and lactose-free milks compare on quality, ingredients, and cost, and which best save you money

The dose of lactase needed to reduce symptoms of lactose intolerance and how to properly take lactase supplements
What to expect with lactose-free milk vs. regular milk

Strategies and lactose-free food choices to reduce lactose in your diet and treat lactose intolerance, including how to make your own lactose-free milk

What to consider when treating lactose intolerance and potential side-effects of lactase 
As a ConsumerLab.com member, you may print a copy of this report for your personal use.
You can access a special print version by clicking the "Print" icon in the upper right corner of this report. You can then use your web browser's print functions to print the whole report or just selected pages.
You may also email or post a link to this report using the web address above. Non-members using the link will see a free summary and can join to view the full report. Other means of copying or distributing this report, in part or full, are not permitted.
If you are sight-impaired and your computer is having trouble converting the text in this report to speech, contact us for assistance at Membership@ConsumerLab.com or by phone at 914-722-9149.