/ Does Arthrozene help with joint pain, and is it safe?
Our Members Asked:
Does Arthrozene help with joint pain, and is it safe?
---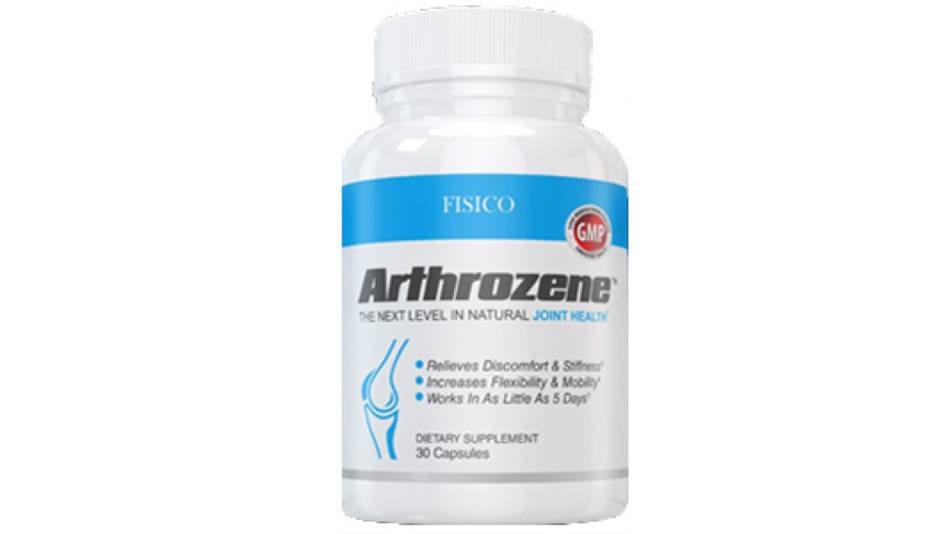 Answer:
Arthrozene (by Fisico) is a dietary supplement sold in capsules and promoted for relief of joint stiffness, soreness, and discomfort. The product claims to contain ingredients that lubricate the joints, protect cartilage, and soothe inflammation. However, there do not appear to be any published clinical studies evaluating Arthrozene for joint health. Although Arthrozene contains some ingredients that have demonstrated modest benefit for joint pain and stiffness in clinical research, the supplement itself is quite expensive and it might be more cost effective to simply supplement with certain individual ingredients in Arthrozene.
Read below for information about the ingredients in Arthrozene, whether these ingredients are beneficial for joint health, possible safety concerns, and cost.
What is in Arthrozene?
Arthrozene is a joint health supplement that claims to contain 100 mg of Boswellia serrata extract (ApresFlex by Laila Nutraceuticals), 80 mg of natural chicken comb extract (Mobilee by Bioiberica, which is standardized to at least 60% hyaluronic acid, 5% collagen type I, and 10% glycosaminoglycans), and 40 mg of collagen type II from chicken sternum (Collavant n2® by Bioiberica; Collavant n2® was previously called B2Cool) (Note: ConsumerLab has not tested Arthrozene to confirm the claimed amounts of these ingredients). While some of these individual ingredients have demonstrated possible benefit for joint health in people with conditions such as osteoarthritis, there do not appear to be any placebo-controlled studies showing that the combination and amounts of ingredients found in Arthrozene would have similar or greater benefit than the individual ingredients.
Boswellia serrata extract
Boswellia serrata extract contains the anti-inflammatory compound AKBA (3-O-acetyl-11-keto-beta-boswellic acid), which can help block the production of leukotrienes — compounds that cause inflammation. Boswellia extract also appears to inhibit certain enzymes involved in the breakdown of cartilage, collagen, and connective tissue. One small, manufacturer-funded study showed that taking 100 mg/day of Boswellia extract as ApresFlex — the same Boswellia extract found in Arthrozene — reduced knee pain, stiffness, and functional limitation in people with knee osteoarthritis after one month. The dose of ApresFlex used in the published study is the same as that found in a suggested serving of Arthrozene.
Hyaluronic acid
Hyaluronic acid, the main constituent of the chicken comb extract (Mobilee by Bioiberica) in Arthrozene, is a natural component of cartilage and synovial fluid. Although it is sometimes added to joint health supplements, the evidence is mixed as to whether it works when used orally. Furthermore, the amount that might be beneficial (80 to 200 mg per day) is notably more than the amount found in Arthrozene — 48 mg of hyaluronic acid per suggested daily serving. Although the chicken comb extract in Arthrozene also contains small amounts of type I collagen, this type of collagen is mainly found in tendons, bone, and skin and used in supplements for the skin, while type II collagen, which is the form found in cartilage, is used in joint health supplements, as discussed below.
Type II Collagen
Type II collagen is found most abundantly in cartilage, which tends to become thinner with age. For this reason, it is commonly included in supplements for joint health. However, most clinical research suggests that taking collagen for 3 to 6 months reduces joint stiffness and/or pain modestly, at best. Nevertheless, there is some evidence that low daily doses of type II collagen may be beneficial for joint pain, and the dose and form of type II collagen in Arthrozene (Collavant n2®) appears to be similar to UC-II, the most studied collagen product for joint pain.
What are the possible side effects of Arthrozene?
Boswellia extract in Arthrozene may cause gastrointestinal side effects, including diarrhea, heartburn, nausea, and abdominal pain in some people. Headache, itching, and swelling of the foot have also been reported.
Hyaluronic acid, which is found in Arthrozene, appears to be generally safe, although at least one person developed a rash when using it.
Collagen-based supplements (such as Arthrozene) may be well tolerated, although some people have reported mild side effects including mild gastrointestinal symptoms, headache, dizziness, insomnia, lack of appetite, itchy or pustular skin rash and canker sores. In rare cases, liver function abnormalities have been reported.
Cost
Arthrozene costs $69.95 for 30 capsules, or about $2.33 per day, which is expensive for a supplement. Since Arthrozene contains some ingredients that do not appear to have strong evidence of benefit for joint function, it might be just as beneficial and certainly less expensive to consider starting out by taking only the two main ingredients in Arthrozene that have demonstrated possible benefit in clinical studies — type II collagen and Boswellia serrata extract.
Our Top Pick Boswellia-only supplement costs just 20 cents for 125 mg of Boswellia extract providing 37.5 mg of AKBA (which is more than the 20 mg of AKBA found in ApresFlex in Arthrozene). Our Top Pick collagen supplement for joint pain, which provides a similar amount and form of type II collagen as Arthrozene, costs just 27 cents. Taking these two individual supplements would cost only 47 cents per day, which is only about 1/5th the cost of Arthrozene.
Join today to unlock all member benefits including full access to all CL Answers and over 1,400 reviews.
Join Now
Already a member? Sign In Here.
Join now at www.consumerlab.com/join/