/ What is Skinny Fiber and does it really work? I see that glucomannan is a key ingredient. What is that?
Our Members Asked:
What is Skinny Fiber and does it really work? I see that glucomannan is a key ingredient. What is that?
---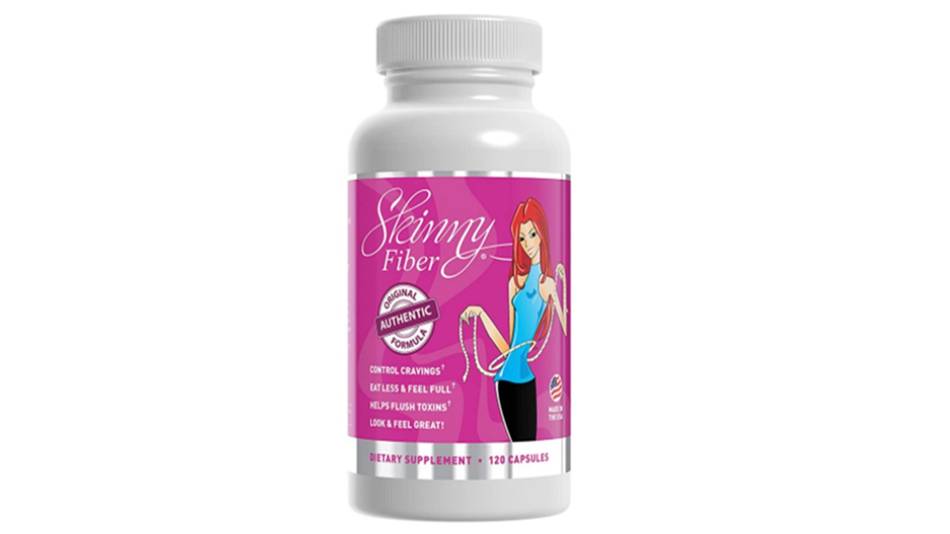 Answer:
Skinny Fiber could, potentially, help with weight loss (at least short-term) due to one of its ingredients. However, safety concerns, a lack of evidence for glucomannan and other ingredients, and lack of clear information about the amounts of the ingredients in the product raise questions about the use of Skinny Fiber as a weight loss supplement. It is also relatively expensive.

A two-capsule serving of Skinny Fiber is listed as containing 1.16 grams of a "Proprietary Blend" consisting, first, of glucomannan powder, followed by Caralluma fimbriata (Indian cactus), and leaf powder from Cha de Bugre (a tree native to Brazil). It also contains 260 mg (0.26 grams) of a "Proprietary Enzyme Blend" consisting first of amylase (which breaks down carbohydrates), followed by protease, lipase, glucoamylase, papain, cellulose, and bromelain. Specific amounts of each ingredient are not listed.

The main ingredient, glucomannan (from konjac root), is the "fiber" in Skinny Fiber. Glucomannan is a water-soluble fiber which soaks up water and expands (by up to 17 times its original volume), making you feel full and, therefore, potentially reducing your appetite. A review of seven clinical trials concluded that at a dose of between two and four grams per day, glucomannan was well tolerated and resulted in modest weight loss (around 2 pounds in 4 weeks and 5 pounds in 8 weeks) in overweight and obese individuals (Kiethley, Alt Ther 2005). Studies also suggest improvements in cholesterol levels and a reduction in systolic blood pressure.

However, a more recent 8-week clinical study (conducted without any company funding) found that taking 4 grams of glucomannan daily (1.33 g with 8 oz. of water before breakfast, lunch and dinner) did not result in a decrease of appetite or body weight compared to placebo. The study was conducted in overweight and moderately obese adults and composition and purity of the glucomannan supplements used was confirmed through testing by ConsumerLab.com at the request of the researchers (Keithley, J Obes 2013).

Although it's hard to know how much glucomannan is in Skinny Fiber without testing it, it could potentially contain 1 gram per two capsules, and if you take that amount before each meal (as suggested on the label) this would seem in-line with what has been used in clinical trials. It's worth noting, however, that in 2005 the maker of several other weight loss supplements containing glucomannan, such as FiberThin, Prolene and Lipozene, was charged by the FTC for making unsubstantiated weight loss claims.
Be aware that glucomannan's ability to expand has a downside: The FDA warns that products containing glucomannan may pose a choking hazard (or cause intestinal blockage) if not taken with enough water to keep it moving along, and labels for these products should carry a warning as Skinny Fiber does.

As for the other ingredients in Skinny Fiber, there is preliminary, but insufficient evidence that they might be beneficial for weight loss, and there are no published safety studies for them. One clinical study, for example, found that 1 gram of Caralluma fimbriata given daily for 60 days reduced appetite and waist circumference compared to placebo, but did not significantly reduce weight or body fat (Kuriyan, Appetite 2007). However, this is the only known published clinical study of this ingredient. The fruit of the Cha de Bugre tree has been traditionally used in Brazil to brew a "coffee" thought to provide energy and appetite control, but there is no published scientific evidence to support this use or its safety. The digestive enzymes in Skinny Fiber, while not a cause for concern, also have not been shown to cause weight loss.

As with the glucomannan in Skinny Fiber, it is unknown what portion of the proprietary blends is made up of Caralluma fimbriata, Cha de Bugre, and the specific digestive enzymes.
The bottom line: Some, but not all evidence suggests that the glucomannan in Skinny Fiber and other weight loss supplements may make you feel full, which may potentially help you lose weight in the short term. However, there's just not enough evidence to suggest that the ingredients in Skinny Fiber (especially at their unknown doses) are safe or effective for weight loss. In general, be cautious with proprietary blends like this, since you don't really know what you are getting and the formula has not been clinically studied. If you want to see if glucomannan alone can help you lose weight, you may be better off trying a single-ingredient glucomannan supplement which would also be less expensive and provide a defined dose. Skinny Fiber costs $59.95 for 120 capsules, so two capsules (providing about 1.2 grams or less of glucomannan) cost approximately $1. You can get a 1.3 gram dose of glucomannan for just 22 cents if you buy a bottle of glucomannan capsules (about $11 for 100 capsules, each containing 666 mg of glucomannan), but be aware that ConsumerLab.com has not yet tested commercially-available glucomannan supplements.

See ConsumerLab.com's Review of Weight Loss Supplements for tests of other weight loss products.
Join today to unlock all member benefits including full access to all CL Answers and over 1,400 reviews.
Join Now
Already a member? Sign In Here.
Join now at www.consumerlab.com/join/