/ How much magnesium do I need and how much magnesium from supplements is too much?
Our Members Asked:
How much magnesium do I need and how much magnesium from supplements is too much?
---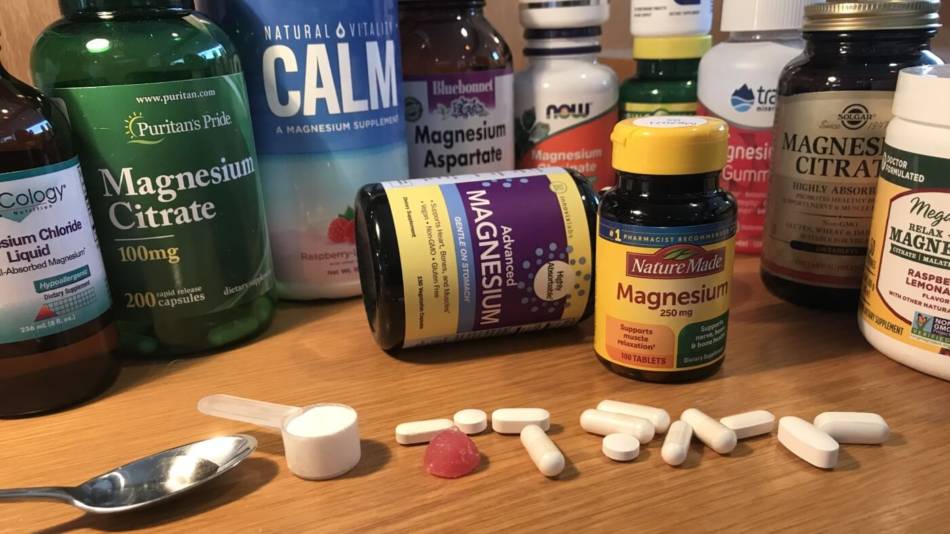 Answer:
How much magnesium do I need and how can I get enough?

A healthy diet can provide the recommended daily intake of magnesium, which, for men and women age 30 or older, is 420 mg and 320 mg, respectively, per day (use the table below for recommended intakes for all ages).


Sources
Abbreviations
* - Adequate Intake (AI)
mg - milligram (1,000 milligrams = 1 gram)
mcg - microgram (1,000 micrograms = 1 milligram)
NE - DV not established
ND - UL not determined
m - male; f - female
lact - lactating (breast feeding); preg - pregnant
Age ranges are in years
Good sources of dietary magnesium include nuts such as almonds and peanuts, and foods such as spinach, black beans, and potatoes. See a
list of foods that provide magnesium
in our Magnesium Supplements Review.
However, if you are not getting enough magnesium from your diet, it may be beneficial to take a supplement that will provide, for example, 200 mg to safely get you to the recommended intake. See our
Top Picks among magnesium supplements
.
Magnesium deficiency
Having low and/or deficient blood levels of magnesium may increase the risk of osteoporosis, elevated blood pressure, and heart disease.
Early signs of magnesium deficiency include loss of appetite, nausea, vomiting, fatigue, and weakness. Low serum magnesium levels can also result in serious adverse events including muscle spasm (tetany), irregular heartbeat (arrhythmias), and convulsions (seizures); however, patients do not always have these symptoms. Severe magnesium deficiency is rare. See the
What It Does
section of our Magnesium Supplements Review for more information.
Tests for magnesium deficiency
There are a number of tests designed to measure magnesium levels, however, most (including the most common test, serum magnesium concentration, or SMC) do not provide a complete assessment of magnesium status. For this reason, doctors use a combination of testing and evaluation of symptoms to diagnose magnesium deficiency. These include the serum magnesium concentration (SMC) test, the red blood cell (RBC) test, the magnesium loading test, the 24-hour excretion test, and others. You can find more information about these tests in the
ConsumerTips
section of the Magnesium Supplements Review.
Risks of getting too much magnesium
The daily Tolerable Upper Intake Level (UL) for magnesium for adults is 350 mg. However, the magnesium one consumes from food does not count toward the UL; only magnesium from supplements and medicine can cause adverse effects and counts toward this limit. So, as long as you're not getting more than 350 mg of magnesium per day from supplements and/or medicine and are getting some magnesium from foods (like whole grains, nuts, beans, and green leafy vegetables) you can satisfy the RDA without exceeding the UL.
Even at moderate doses, magnesium from
supplements
can cause
side effects
such as stomach upset, nausea, vomiting and diarrhea. This does not happen with magnesium obtained naturally from foods.
Know that slightly high blood levels of magnesium have been associated with
cardiovascular risks
, and
very high
blood levels of magnesium, known as
hypermagnesemia
, can cause more serious symptoms such as low blood pressure and slowed breathing, and can be fatal. Although uncommon, hypermagnesemia can occur with
excessive intake of magnesium-containing laxatives or supplements
, and has also been reported in people ingesting or gargling with large quantities of
Epsom salt
(magnesium sulfate). Magnesium supplements can be dangerous in people with
kidney disease
and should only be used with physician supervision.
If you are not taking magnesium specifically for its laxative effect, there are
forms which are less likely to cause diarrhea
. Also, be aware magnesium-containing supplements and laxatives can
interact with certain medications
.
Join today to unlock all member benefits including full access to all CL Answers and over 1,400 reviews.
Join Now
Already a member? Sign In Here.
Join now at www.consumerlab.com/join/