COVID Changed Supplement Popularity in 2020, ConsumerLab Survey Reveals
---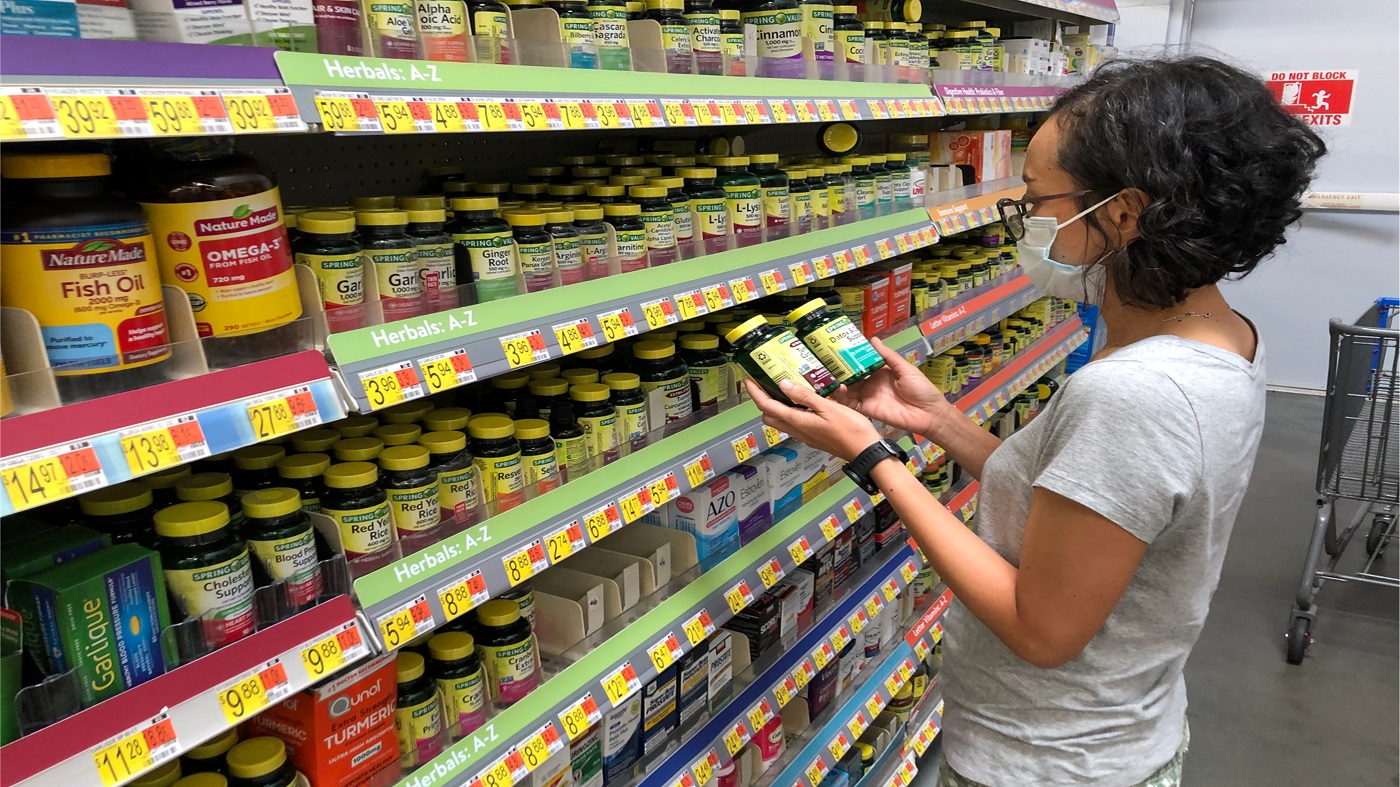 White Plains, New York, February 26, 2021 —
A survey of 9,647 people who use dietary supplements shows that the supplements which experienced the greatest growth in popularity in 2020 were those being promoted to prevent or treat infection with SARS-CoV-2, the coronavirus that causes COVID-19. (For a clinical review of these claims, see ConsumerLab.com's answer to the question "
Do any supplements help with the coronavirus (COVID-19)?
"). These supplements were
zinc
(+13.5 percentage points),
vitamin C
(+ 7.5 pts),
vitamin D
(+6.6 pts),
quercetin
(+4.9 pts), and
elderberry
(+4.1).
At the same time, most other supplements declined in popularity. Among the 30 most popular supplements (see table below) only 10 increased in popularity, while 19 declined and one did not change. The greatest declines occurred with
CBD/hemp extract
(-4.2 pts),
magnesium
(-4.1 pts), and
CoQ10
(- 3.4 pts) -- although CoQ10 was already in decline in 2019.
Most Popular Vitamins and Supplements

(% Survey Respondent Purchasing in Past Year)
Vitamin D (D2 & D3)
72.6%
Fish Oil/Krill Oil/Algae
Oil/Omega-3 (EPA/DHA)
50.8%
Magnesium
49.4%
Multivitamin/Multimineral
(including Prenatal)
42.3%
CoQ10/Ubiquinol/MitoQ
42.3%
Vitamin C (including Rose Hips)
42.0%
Probiotic (e.g., Acidophilus, Lactobacillus)
36.4%
Zinc
35.7%
Curcumin/Turmeric (as Supplement)
33.6%
B-Complex
31.3%
B-12 (Cobalamin)
29.3%
Calcium
28.4%
Melatonin
25.6%
Vitamin K (including MK-7 K2)
23.7%
Green Tea
20.9%
Joint Health Formula
(Glucosamine, Chondroitin, MSM, Boswellia)
20.4%
Apple Cider Vinegar
20.0%
Collagen
19.3%
Cocoa and/or Dark Chocolate
18.3%
Protein/Nutrition Powders & Drinks
(includes Whey)
17.9%
Ashwagandha
17.6%
Alpha Lipoic Acid
16.6%
Coconut Oil
16.5%
Digestive Enzymes
16.0%
Lutein/Zeaxanthin
14.8%
NAC (N-Acetyl Cysteine)
14.7%
Chia Seed
14.5%
Quercetin
14.2%
Vitamin E (including Tocopherols)
14.2%
Protein/Nutrition Bars
13.9%
The results are based on responses to the most recent
ConsumerLab.com Survey of Vitamin and Supplement Users
. The Survey is conducted each November among readers of ConsumerLab.com's semiweekly
newsletter
who utilize ConsumerLab's product reviews and information when choosing and using supplements and health foods. The ConsumerLab.com Survey was first conducted in 2002. Respondents are active users of supplements, with over 80% taking at least four different supplements daily.
The 2020 survey assessed the popularity of 190 types of supplements and analyzed popularity by respondent age, gender, and frequency of supplement use. Respondents also identified and rated their satisfaction with supplement brands and supplement merchants (see news release about
Top Rated Supplement Brands and Merchants
).
"The annual survey is a useful indicator of change in the market for dietary supplements and health foods. It guides our selection of products to test," said Tod Cooperman, M.D., ConsumerLab's President and Founder.
An extensive 150+ page
report
based on the survey is available. To purchase the report, contact Lisa Sabin at
lisa.sabin@consumerlab.com
.
Founded in 1999,
ConsumerLab.com
is a leading provider of consumer information and independent evaluations of products that affect health and nutrition. Membership to ConsumerLab.com is
available online
and provides immediate access to continually updated reviews of nearly every popular type of dietary supplement and health food, answers to reader questions, and product recalls and warnings. ConsumerLab also provides independent product testing through its voluntary
Quality Certification Program
. The company is privately held and based in New York. It has no ownership from, or interest in, companies that manufacture, distribute, or sell consumer products.
Copyright 2021 ConsumerLab.com, LLC. All rights reserved. It is unlawful to copy, excerpt, or distribute this content, nor use it for any promotional or commercial purpose, without express prior written permission from ConsumerLab.com, LLC.
— END —
Members of the media contact may contact media@consumerlab.com or call the ConsumerLab.com main number (914-722-9149). Please include the name of your news organization when contacting us.