Reviewed and edited by
Tod Cooperman, M.D.
Initial Posting: 2/21/20

Last update: 6/17/2020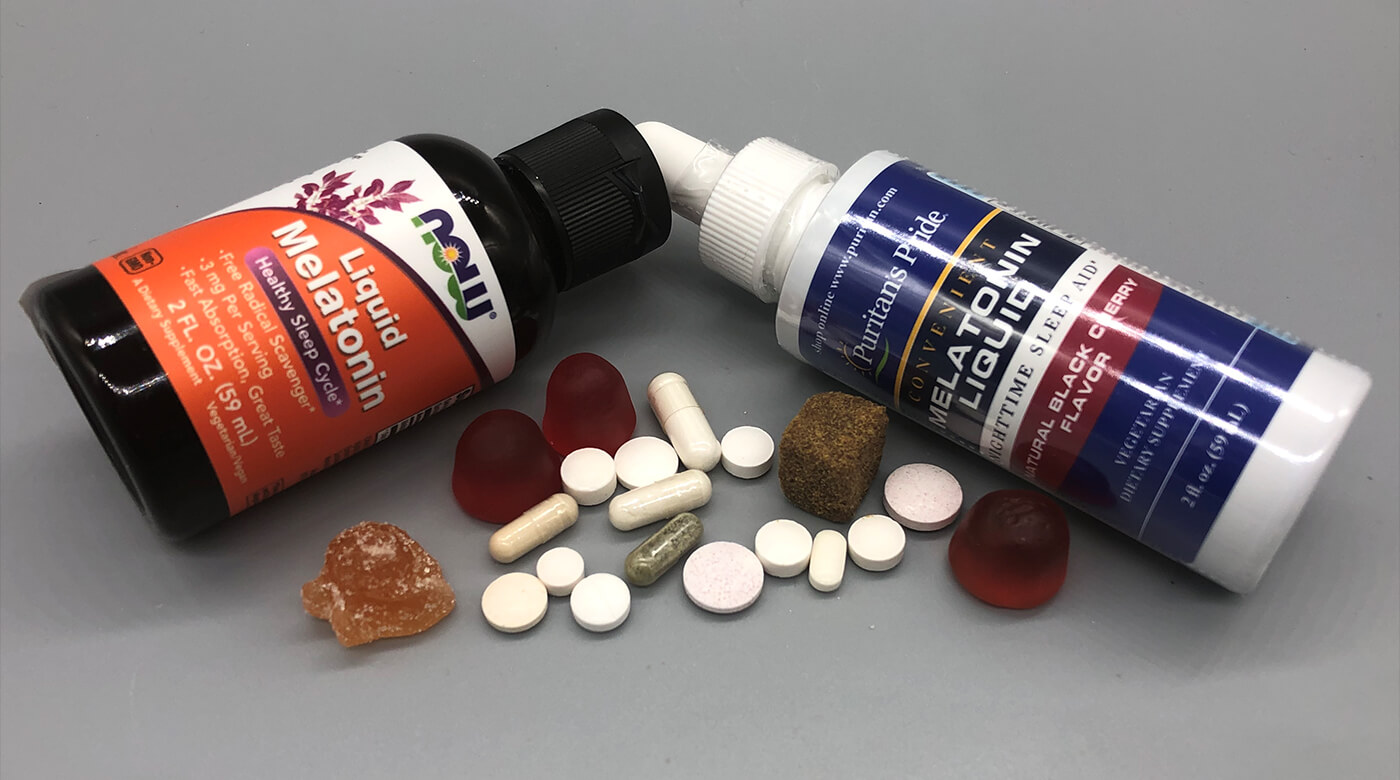 Sections:

Jump to a section by clicking on its name.

Summary: What You Need to Know About Melatonin Supplements

What It Is:


Melatonin (N-acetyl-5-methoxytryptamine) is a hormone produced by the pineal gland in the brain from the amino acid tryptophan. The melatonin in dietary supplements is generally manufactured synthetically or extracted from plants (in which melatonin also plays a biological role) and both are chemically identical to the melatonin in your body. Many foods contain extremely tiny amounts of melatonin — not enough in a typical serving to provide therapeutic amounts of melatonin.

[Note: A small study in Iran (Oladi, Spectrochim Acta A Mol Biomol Spectrosc 2014) reported that regional pistachio nuts contained melatonin at a concentration of 0.23 mg per gram (roughly 4 nuts), which is 100 to 1,000 greater than the amounts reported in other plants by other researchers (Meng, Nutrients 2017). However, the unusual extraction method used and near identical results across four types of pistachio raise questions about the comparability and reliability of the pistachio findings (Nawaz, Front Plant Sci 2016). More research is needed to confirm these findings.]



What It Does:


For Trouble Falling Asleep and Related Conditions:
Melatonin is known to play a role in regulating the body's natural wake-sleep cycle (circadian rhythm), triggering sleep. Levels of melatonin increase as exposure to light decreases, and decrease as light exposure increases. On this basis, it has been proposed as a treatment for people whose natural sleep cycles have been disturbed.

Melatonin has shown promise in the treatment of children with chronic sleep problems. A study among 84 children (average age 10) with chronic sleep onset insomnia (difficulty falling asleep) found 3 mg of melatonin taken each night at 7:00 pm for 3 to 4 weeks modestly improved sleep compared to placebo or bright light therapy. The time it took to fall asleep decreased by about 16 minutes with melatonin and by about 8 minutes using bright light therapy, while it increased by about 8 minutes among children given a placebo. However, total sleep time increased by only 5 minutes in those who took melatonin due increased waking after initially falling asleep (van Maanen, Sleep 2017). The authors suggested that the increase in waking may indicate that the 3 mg dose was too high -- noting other research which found lowering the dose of melatonin may decrease waking, and the recent recommendation (Bruni, Eur J Paediatr Neurol 2017) that children first try a lower dose (1 mg).

A 3-month study in the U.S. and Europe among 95 children and adolescents with autism spectrum disorder or Smith-Magenis syndrome and insomnia which did not improve with behavioral therapy investigated the effects of a prolonged-release melatonin supplement. Participants received either 2 mg of prolonged release melatonin minitablet daily (PedPRM from Neurim Pharmaceuticals — which funded the study) or placebo for the first three weeks of the study and, if there was no improvement, the dose was increased to 5 mg. Those who took melatonin fell asleep an average of 25 minutes faster per night and slept an average of 32 minutes longer compared to those who took the placebo. No significant changes in measures of blood pressure, heart rate or sexual development (important to note as melatonin may affect testosterone/estrogen metabolism) were found; however, headache (13% vs 6%) and daytime sleepiness (28% vs. 11%) were more common in those taking melatonin than in those taking placebo (Gringas, J Am Acad Child Adolesc Psychiatry 2017). In a follow-up study, 74 of the participants who chose to continue taking the prolonged-release melatonin (at a dose of 2, 5 or 10 mg) for up to two years were monitored for long-term safety. During this follow-up, the most frequent adverse events were fatigue (6.3%), somnolence (6.3%), and mood swings (4.2%), but changes in average weight, height, and body mass index remained within normal ranges and there was no evidence of delay in BMI or pubertal development (Malow, J Am Acad Child Adolesc Psychiatry 2020).

Beta blockers have been reported to cause difficulty sleeping, possibly due to the fact they can suppress the body's own production of melatonin at nighttime. A small study found that, compared to placebo, 2.5 mg of melatonin taken one hour before bedtime for three weeks slightly decreased the amount of time it took to fall asleep by 8 minutes and increased total sleep time by an average of 37 minutes in men and women who were taking beta blocker medications (atenolol (Tenormin) or metoprolol (Lopressor, Toprol XL)) to treat high blood pressure (Sheer, Sleep 2012). There were no adverse effects.

Melatonin may modestly help people with delayed sleep phase syndrome (DSPS), a condition in which people cannot fall asleep until early morning, possibly due to a delay in the body's production or release of melatonin. In a study in Australia, 104 men and women with DSPS took either a placebo or 0.5 mg of fast-release melatonin one hour before desired bedtime for at least 5 nights per week for one month in conjunction with setting a scheduled bedtime. Those who took the melatonin fell asleep an average of 34 minutes earlier and had significant decreases in self-reported sleep disturbance, severity of insomnia, and interference with daily life compared to placebo. However, by the end of the study there didn't appear to be any increase in natural melatonin production around the desired bedtime — suggesting that the treatment did not correct the underlying condition (Sletten, PLOS Med 2018).

Melatonin may also improve sleep in people with Parkinson's disease (in which the body's own production of melatonin may decrease), but it does not improve motor symptoms of Parkinson's (Mack, Oxid Med Cell Longev 2017; Medeiros, J Neurol 2007). This was most recently shown in a study in Korea of 34 men and women with Parkinson's disease and poor sleep quality. A 2 mg dose of prolonged-release melatonin taken one hour before bedtime daily for one month improved self-reported sleep quality (particularly the time it took to fall asleep and sleep disturbances), but not motor symptoms, compared to placebo. The study was funded by Kuhnil Pharmaceutical Company, which markets prolonged-release melatonin (Circadin) sold as a prescription drug in certain countries, but not in the U.S (Ahn, Parkinsonism Relat Disord 2020).

A study in Korea found that melatonin was not helpful in men and women with REM sleep behavior disorder (RBD) (a condition characterized by intense dreams and behavior such as laughing, yelling, kicking and punching during sleep) of unknown origin. In the study, 2 mg or 6 mg of prolonged-release melatonin taken 30 minutes before bedtime for one month did not reduce the frequency or severity of episodes, nor improve sleep quality, compared to placebo. The melatonin used in the study (Circadin, Neurim Pharmaceuticals) is sold as a prescription drug in certain countries, but not in the U.S. RBD can occur in people with Parkinson's disease, although none of the study participants had Parkinson's disease (Jun, Ann Clin Transl Neurol 2019).

Melatonin may also help with sleep problems that occur with withdrawal of sleeping medication. It has been shown to improve sleep in people with diabetes, schizophrenia, and Alzheimer's disease, and in people who are hospitalized.

Some benefit has been seen in sleep disorders relating to blindness and delayed weekend sleep pattern (difficulty falling asleep Sunday night after staying up late Friday and Saturday night).

Inconsistent evidence suggests that it may aid sleep in jet travelers who have crossed several time zones. Results have not been impressive in treatment of sleep disorders related to shift work, general insomnia for adults, or insomnia in seniors.

There is some evidence that melatonin may be helpful in reducing anxiety and aiding sedation before medical procedures. Two reviews of published clinical studies concluded that melatonin taken around 1 to 1 ½ hours before surgery reduces anxiety and enhances sedation compared to placebo, and, in some cases, as well the medication midazolam. In the studies reviewed, doses ranged from 3 mg to 15 mg of melatonin, and no adverse events associated with taking melatonin were reported (Yousaf, Anesthesiology 2010; Hansen, Cochrane Database Syst Rev 2015). In a clinical study (only the abstract appears to be available) in children age of 14 and younger, a dose of between 0.5 and 5 mg (0.5 mg/ per kg) taken 30 minutes before a blood draw was found to significantly reduce anxiety and pain levels compared to placebo (Marseglia, J Biol Regul Homeost Agents 2015).

There is some evidence that melatonin may help improve sleep in people with tinnitus. One clinical study also suggests it may improve symptoms of tinnitus. The study compared melatonin to drug treatment (sulpiride) or placebo and found that people who took 3 mg of melatonin daily for one month had a 40% reduction in perception of tinnitus, compared to a 56% reduction in those taking the drug and a 22% reduction in those taking a placebo (Lopez-Gonzalez, J Otolaryngol 2007). Those who took sulpiride and melatonin had an 81% reduction in perception of tinnitus, suggesting that melatonin may enhance the effects of the drug.

In women, the body's own production of melatonin at nighttime may be decreased after menopause (Toffol, Menopause 2014). A study in Poland among 60 postmenopausal women ages 51 to 64 found that melatonin taken twice daily (3 mg in the morning and 5 mg at bedtime) for one year modestly reduced the self-reported severity of symptoms such as difficulty sleeping, hot flashes and sweating, heart palpitations, dizziness, irritability, and depressed mood compared to placebo. Those who took melatonin had an average decrease of 9 points in overall symptom severity on a scale of 1 to 51, compared to a decrease of 3 points for those who took the placebo. Three women reported increased fatigue in the morning during the first week of taking melatonin, but it was otherwise well-tolerated. There were no significant changes in blood levels of melatonin, estradiol or follicle-stimulating hormone (FSH) in either group at the end of the study relative to the beginning of the study (Chojnacki, J Physiol Pharmacol 2018).

Also see ConsumerLab's answer to the question: Which supplements can help me sleep?

Headache:
A placebo-controlled study among 178 men and women diagnosed with migraine (with or without aura) found that 3 mg of melatonin taken daily for three months was modestly effective in reducing the number of days of migraine headache per month (from an average of 7.3 prior to treatment to 4.6 during the last month of treatment; placebo fell from 7.3 to 6.2 days). As part of the study, a group of patients received 25 mg daily of amitriptyline, an antidepressant used to prevent migraine. This was also modestly effective (7.2 days of headache falling to 5.0 days) but not statistically better than melatonin and it caused more side effects, including weight gain (Goncalves, J Neurol Neurosurg Psychiatry 2016).

Melatonin has also been reported to reduce episodes of primary stabbing headache, or PSH (brief but intense jabs of head pain lasting several seconds per episode). In adults with PSH, taking between 3 mg and 12 mg of melatonin nightly for two to four months has been reported to eliminate episodes (Rozen, Neurology 2003). A 7-year-old boy in Columbia who experienced approximately 21 episodes of primary stabbing headache per month given 1.5 mg of melatonin nightly experienced only two episodes within the first two weeks of supplementation, and had no further episodes during six months of supplementation. The authors of the report noted that melatonin has anti-inflammatory, analgesic, and antioxidant properties that may play a role in reducing primary stabbing headaches, and that its chemical structure is similar to indomethacin, an NSAID drug commonly prescribed to treat PSH (Salazar, Colomb Med (Cali) 2018).

Breast cancer and chemotherapy side effects:
A study among 36 women in Brazil undergoing chemotherapy after breast cancer surgery found that those who took melatonin (20 mg each night, one hour before bedtime) for 10 days beginning three days prior to the first chemotherapy session had modest but statistically significant improvements in sleep quality, symptoms of depression, and certain measures of cognitive function (such as executive function and episodic memory) compared to those who took a placebo (Palmer, PLoS One 2020). Similarly, a study in Denmark, using a lower dose of melatonin, found that it helped women fall asleep during the three months after having breast cancer surgery. Those who received melatonin (6 mg each night, one hour before desired bedtime) had 4% greater sleep efficiency (the percentage of time asleep while in bed for sleep) and slept an average of 37 minutes longer per night than those who received placebo -- although there was no significant difference in self assessments of sleep quality. Interestingly, only 1 out of the 28 patients treated with melatonin dropped out of the study, compared to 10 out of the 26 given placebo. The study also aimed to assess cognitive function (which has been known to decline) during the post-surgical period, but there was no decline in either group (Hansen, Intl J Breast Cancer 2014).

Other Uses:
Melatonin may be of some help to people with atopic dermatitis -- a common type of eczema characterized by itchy inflammation of the skin and affecting up to 10% of adults and 30% of children. A placebo-controlled study in children and adolescents with atopic dermatitis found that taking 3 mg of melatonin at bedtime every night for 4 weeks resulted in about a 20% reduction in symptoms and a 21.4 minute decrease in the time to fall asleep, with no adverse effects. It is unclear if or how melatonin may have modulated inflammation, as it did not affect measures of immune function, such as immunoglobulin E levels (Chang, JAMA Pediatr 2016). (See the Eczema article for more about this condition and other supplements used to treat it.)

Several small studies suggest melatonin may help reduce certain symptoms of irritable bowel syndrome (IBS), although, interestingly, it does not appear to reduce sleep disturbance. A small study among women with IBS found that 3 mg of melatonin taken every night before bedtime for two months reduced abdominal distension and pain, and abnormal sensations (urgency, strain, incomplete bowel movement) compared to placebo, although there were no changes in stool consistency or frequency and no improvements in sleep or mood (Lu, Aliment Pharmacol Ther 2005). Two other studies using the same dose of melatonin taken at bedtime found similar results, with significant improvements compared to placebo in overall IBS scores (45% vs. 17% improvement) and quality of life scores (44% vs. 15% improvement) (Saha, J Clin Gastroenterol 2007), and reductions in abdominal pain scores (2.35 vs 0.70) (Song, Gut 2005), but no improvements in sleep.

In addition to being produced in the brain, melatonin is also produced by cells in the gut — particularly those lining the stomach. There is preliminary evidence that supplemental melatonin may be beneficial in reducing various types and causes of stomach pain, although more research is needed:
Among people with H. pylori bacterial infection of the stomach (a common cause of stomach ulcer), those who are symptomatic (experiencing pain) have been shown to have lower nighttime blood plasma levels of melatonin (Wilhelmsen, J Pineal Res 2011), as well as lower expression of enzymes which synthesize melatonin (Chojnacki, Biomed Res Intl 2013). Animal studies suggest that melatonin may help protect the stomach lining and aid ulcer healing.
Animal studies and preliminary human studies suggest that supplementing with melatonin may reduce the pain of gastroesophageal reflux disease (GERD). A small study among people with GERD found that a 3 mg daily dose of melatonin for 4 and 8 weeks helped relieve pain associated with GERD, although not as well as omeprazole (Prilosec). However, these results are not meaningful because the study did not have a control group of people with GERD not receiving any treatment, i.e., some of the improvement may have occurred without treatment (Kandil, BMC Gastroent 2010). Another study using 6 mg of melatonin at bedtime in a formula including 100 mg of L-tryptophan, B vitamins, methionine and betaine, reported complete regression of symptoms after 40 days in 100% of patients, compared to 65.7% of patients given 20 mg of omeprazole (Pereira, J Pineal Res 2006). The results of this study are questionable as it was not double-blind, i.e., the researchers knew which patients received melatonin. The same formula was reported to successfully treat symptoms in a 64-year old woman with GERD treated for 40 days, although changing the treatment to just 3 mg of melatonin alone for 10 months resulted in some return of symptoms (Werbach, Altern Ther Health Med 2008). Be aware that any treatment of GERD would likely be long-term and melatonin has not been adequately studied for long-term use — with which there is a concern over increased risk of bone fracture.
A small study in adults with functional dyspepsia (stomach pain not caused by an ulcer) found that twelve weeks of melatonin (5 mg taken at bedtime) resulted in complete resolution of epigastric pain in 56.6% of patients as compared to only 6.7% of the patients who received placebo (Klupinksa, J Clin Gastroent 2007), although a study in among children (ages 8 to 17) with functional dyspepsia (who failed to respond to acid suppression medication) taking 5 mg of melatonin daily for two weeks was no better than placebo at reducing pain (Zybach, World J Gastro Pharm Ther 2016).
Middle-aged women in Spain with fibromyalgia reported improvements when given increasing doses of melatonin (ranging from 3 mg to 15 mg). Each dose was taken 30 minutes before going to bed for 10 days, preceded by 10 days of placebo. Although a decrease in pain was reported with 3 mg and 6 mg doses, it only became only statistically significant at doses of 9 mg and higher, as was the case with improvements in self-reported "fitness." Improvements in anxiety and "frame of mind" were statistically significant at doses of 12 mg and 15 mg. The researchers noted that other studies using lower daily doses of melatonin (3 mg to 10 mg) over longer periods (1 to 2 months) have also shown reductions in pain in people with fibromyalgia. Cortisol levels decreased with 6 mg and progressed with increasing doses (Castrano, Biol Res Nurs 2018).

Research suggests that melatonin has can increase bone density but, unfortunately, it may also make bone more susceptible to fracture. A placebo-controlled study in Denmark among post-menopausal women with bone loss given 1 mg or 3 mg of melatonin every night for one year, showed small, but significant, improvements in bone density of the leg and spine. Most notably, at the 3 mg dose, bone density in the neck of the femur in the hip increased relative to placebo by 2.3%, and inner bone thickness in the tibia (lower leg) and lumbar spine increased by 2.2% and 3.6%, respectively. All participants were also given calcium (800 mg) and vitamin D (800 IU) daily; while this increased calcium loss in the urine among those receiving placebo, it did not among those receiving melatonin (Amstrup, J Pineal Res 2015). However, the study did not determine the effect on fractures, and there is increasing concern that melatonin increases the risk of fractures by interfering with the normal cycle of bone resorption and formation (see Concerns and Cautions); more research is needed to determine if daily melatonin is beneficial for women experiencing bone loss. Interestingly, further analysis of this year-long study showed that, in women with a good quality of sleep, melatonin had no effect on sleep quality; however, in poor quality of sleep, small doses of melatonin trended towards improving quality. There was no effect on overall quality of life. The study also found no hangover effect affecting balance and muscle function (Amstrup, Nutrition J 2015).

Melatonin may be moderately helpful to women with polycystic ovary syndrome (PCOS), a condition affecting up to 10% of premenopausal women and characterized by hyperandrogenism (causing symptoms including hirsutism, i.e., unwanted male hair pattern, and ovulatory dysfunction). A small study in Iran found that 5 mg of melatonin taken twice daily for 12 weeks modestly reduced hirsutism and total testosterone, as well as biomarkers of inflammation and oxidative stress compared to placebo (Jamilian, Front Endocrin 2019).

Reduced melatonin levels following surgery have been implicated in the development of post-operative delirium (Cronin, Lancet 2000; Lewis, Med Hypotheses 2004), a state of altered mental status that can cause confusion, agitation and emotional dysregulation that occurs in approximately 15% of hospitalized older adults (Travers, Curr Gerontol Geriatr Res 2013). However, a study among 166 men and women (average age 68) in Australia undergoing major cardiac surgery found that supplementation with melatonin (3 mg taken for seven consecutive nights, starting two nights before surgery) did not reduce the incidence, severity, or duration of delirium compared to placebo. Further analysis suggested that melatonin may have reduced the risk of people age 75 or older but increased the risk among those with the lowest cognitive performance scores (Ford, J Am Geriatr Soc 2019).

Other potential uses for melatonin include reducing symptoms of tardive dyskinesia (a potential long term side-effect of anti-psychotic medications) and nicotine withdrawal symptoms. There is preliminary evidence that melatonin may also be useful as an adjunct to conventional therapy in treating some forms of cancer, reducing side effects or enhancing drug efficacy.

It has been said that melatonin levels drop with age and, on this basis, melatonin has been recommended as an "anti-aging" supplement. This does not appear to be the case in healthy individuals, but melatonin levels have been reported to be low in people with suffering from advanced medical conditions including poorly controlled coronary artery disease, as well as endocrine and liver disorders (Carillo-Vico, Int J Mol Sci 2013).

Because melatonin can affect immune system responses and has antioxidant properties, it has been theorized that melatonin may be beneficial in preventing or treating COVID-19, the infection caused by the SARS-CoV-2 coronavirus. Experiments in mice have shown melatonin administration to reduce mortality due to a variety of viral infections, increasing serum levels of cytokines (immune-regulating molecules) such as interleukin-1 beta (Carillo-Vico, Int J Mol Sci 2013). Melatonin also may also, indirectly, make it more difficult for SARS-CoV-2 to attach to cells in the body by increasing the expression of angiotensin I converting enzyme 2 (ACE2) and increasing the occupancy of ACE2 receptors, leaving fewer receptors to which SARS-CoV-2 can attach (Zhou, Cell Discovery 2020).

Interestingly, a study of 11,672 patients tested for COVID-19 at Cleveland Clinic locations in Ohio and Florida during March and April 2020 found that those who were taking melatonin (dosage and duration not reported) were less likely to have a positive test result. Individuals who had had a pneumococcal polysaccharide or influenza vaccine, or were taking paroxetine (Paxil) or the beta-blocker drug carvedilol (Coreg) were also less likely to test positive (Jehi, Chest 2020). While this is an interesting finding, it does not prove that taking melatonin supplements can prevent COVID-19. A clinical study is underway in health care workers in Spain to test this.

See the ConsumerTips section of this review for more information about suggested dosage and concerns and cautions. More information about the clinical uses of melatonin can be found in the melatonin article in the Natural Products Encyclopedia on this web site.



Quality Concerns and What CL Tested For:


Neither the FDA nor any other federal or state agency routinely tests supplements for quality prior to sale. Consequently, ConsumerLab.com tested melatonin products to determine if they contained listed amounts of melatonin. Standard tablets and caplets were also tested to be sure that they would disintegrate ("break apart") properly (See Testing Methods and Passing Score for more information).

Previous testing of melatonin supplements by ConsumerLab.com in 2015 found that all contained their claimed amounts of melatonin (i.e., not exceeding 10% less or 35% more than listed — allowing for normal manufacturing overage). A study of 30 melatonin supplements from Canada found that the majority (71%) were not within 10% of the amounts claimed on labels. Products with the most variability were chewable tablets (one contained 478% of the labeled amount), combinations with herbs (one contained 83% less than claimed), and capsules. Products least likely to vary from labels were melatonin-only, particularly in the form of regular or sublingual tablets, or as liquids. Tiny amounts of serotonin were found in 26% of the products, in most cases likely due to natural phytoserotonin in herbal ingredients (Erland, J Clin Sleep Med, 2017). #313#