Initial Posting: 9/8/18

Last Update: 4/14/19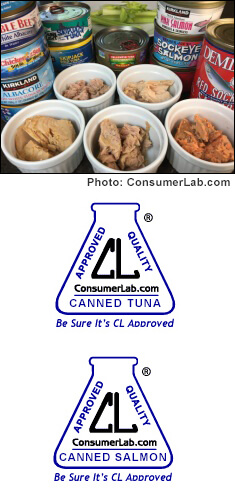 Sections:
Jump to a section by clicking on its name.
Summary:
Why eat them? Canned tuna and salmon are convenient foods that help meet dietary recommendations for protein as well as for the omega-3 fatty acids DHA and EPA (about 250 mg per day). They can also provide other nutrients, such as calcium (in some salmon) and small amounts of iron. Eating fish can reduce the risk of cardiovascular disease (see Background).
Why test them? Amounts of DHA and EPA in tuna and salmon can vary widely. In addition, products may contain concentrations of mercury and arsenic that should be avoided. Labels typically don't provide this information.
What did CL find? Among popular canned fish, amounts of DHA and EPA per serving ranged from just 45 mg to over 1,200 mg. In half the products, amounts of mercury and/or arsenic were found to be at levels suggesting they should not be eaten more than once or twice per week; such products included all five of the albacore ("white") tunas, as well half of the skipjack and yellowfin tunas (the "light" tunas). Two products contained significantly less DHA and EPA than claimed on their labels (see What CL Found).
Which are best? ConsumerLab selected four products as Top Picks within specific categories of canned tuna and canned salmon. Each provided a significant amount of DHA and EPA with minimal contamination and at a good price — as little as 60 to 80 cents per 2 oz. serving while some similar products cost twice as much or more. These Top Picks are particularly good choices for people seeking more healthful options to solid white albacore tuna.
Are they safe for children? See ConsumerTips.
Cautions: Be aware that fish can cause allergic reactions. See Concerns and Cautions for more information.
What We Found in Canned Tuna and Salmon

Background:


Fish meat is one of the most healthful sources of animal-based protein because there is typically less saturated fat in fish than in other meats such as red meat. Instead, the fats (i.e., fish oils) in fish meat are mainly monounsaturated or polyunsaturated — such as the anti-inflammatory omega-3 fatty acids EPA (eicosapentaenoic acid) and DHA (docosahexaenoic acid).

Although DHA and EPA can be obtained through supplements, and supplements may be helpful in a variety of conditions (see the Fish Oil Supplements Review), they have not been found to confer the cardiovascular benefits associated with eating fish. According to the American Heart Association, consuming at least one to two 3.5 oz servings per week of non-fried, preferably oily fish is associated with a lower risk of cardiac death, coronary heart disease, and ischemic stroke (the most common type of stroke) (Rimm, Circulation 2018). Along the same lines, U.S. Dietary Guidelines indicate that, "For the general population, consumption of about 8 ounces per week of a variety of seafood, which provide an average consumption of 250 mg per day of DHA and EPA, is associated with reduced cardiac deaths among individuals with and without preexisting CVD. Similarly, consumption by women who are pregnant or breastfeeding of at least 8 ounces per week from seafood choices that are sources of DHA is associated with improved infant health outcomes." Furthermore, "these eating patterns are associated with reduced risk of obesity." On June 19, 2019, the FDA announced that it would not object to the use of a qualified health claim similar to the following for foods and dietary supplements containing at least 0.8 grams (800 mg) of EPA and DHA (combined total) per serving: "Consuming EPA and DHA combined may reduce the risk of CHD (coronary heart disease) by lowering blood pressure." An important caveat is that any such claim must be followed by "However, FDA has concluded that the evidence is inconsistent and inconclusive."

Consuming at least one serving per week of fish has also been associated with a 42% reduction in risk of developing age-related macular degeneration (AMD) compared to eating less than one serving per month — and the benefit was greater with canned tuna or dark-meat fish (e.g., mackerel, salmon, sardines, bluefish, and swordfish, all of which are oily fish) than with other fish and shrimp, lobster and scallops (which contain lower amounts of omega-3 fatty acids (Christen, Arch Opthamol 2011). As with the findings regarding cardiovascular benefits, taking fish oil as a supplement (added to a vision health formula) does not provide an additional reduction in the risk of AMD.

Consumption of fish has been associated with a lower risk of cognitive impairment and slower decline of cognitive function. Two related studies involving a total of 7,756 older adults found that closer adherence to a Mediterranean diet (fish, nuts, olive oil, whole grains, legumes, vegetables, and fruits) over 5 years was associated with a 40 to 50% lower risk of developing cognitive impairment, but the food that appeared to be driving the association, and the only food associated with slowing cognitive decline, was fish. Significant benefit was seen starting with only around one serving per week and the benefit increased somewhat as fish consumption increased to about 2 to 4 servings per week (Keenan, Alz Dem 2020).

Note that the recommended average of 250 mg per day of DHA and EPA refers to the combined total of DHA and EPA and, over one week, this would equal 1,750 mg. This means that if you eat seafood three times a week, each meal should average nearly 600 mg of EPA + DHA. For young children, intakes need not be as high (see ConsumerTips).

However, most Americans don't get the recommended intakes of fish or other seafood, nor DHA and EPA. Average daily intake of fish and/or seafood is only about 9 grams (1/3 of an ounce) and nearly 50% of this is shrimp which contains only a moderate amount of DHA and EPA -- about 250 mg per 3 oz. serving (USDA 2005). The next most popular seafood is tuna which (as shown in the test results below) is not always rich in DHA and EPA. Of the top 10 seafoods consumed by Americans, only salmon regularly contains a sufficient amount of DHA and EPA to meet the requirements (Raatz, 2013).

Having higher blood levels of EPA and, interestingly, DPA (docosapentaenoic acid -- typically the third-most prevalent omega-3 fatty acid in fish oil) has been associated with healthier aging (longer life free from major cardiovascular, lung and kidney disease, cancer, physical or mental dysfunction). A 13-year-study of over 2,500 older men and women (with an average age of 74 at the start of the study) found that having the highest blood levels of EPA and DPA, as opposed to the lowest levels, was associated, respectively, with a 24% and 18% lower risk of unhealthy aging in men and women. No association was found between blood levels of ALA (alpha linolenic acid -- an omega-3 found in nuts, seeds and leafy greens) and healthier aging, and although higher levels of DHA

tended toward healthier aging, that association was

not statistically significant

(Lai, BMJ 2018). Higher blood levels of DPA have also been associated with lower blood triglycerides, cholesterol and inflammation, and a lower risk of heart attack and overall risk of coronary heart diseases (Byelashov, Lipid Technol 2015). In the body, DPA can be produced from EPA, and structurally, the two fatty acids are very similar (Dyall, Front Aging Neurosci 2015).

There are very few clinical studies on the effects of DPA supplementation. A preliminary study in Australia among ten healthy young women found that DPA supplementation (2 grams of 99.8% pure DPA taken for one day, followed by 1 gram per day for six days) significantly increased blood levels of DPA, as well as EPA plus DHA, and the researchers proposed that DPA may act as a "reservoir" for EPA and DHA for the body to use as-needed (Miller, Eur J Nutr 2013). A small company-funded study among men and women with moderate to high triglyceride levels found that 4 grams of a prescription DPA/EPA formula (MAT9001, Matinas BioPharma) taken for two weeks lowered triglyceride levels by about 13% more, and lowered very low density lipoprotein (VLDL) by 24% more than the same dose of a prescription ethyl ester EPA (Vascepa, Amerin). However, the exact amount of DPA in the product is not known, and the product does not appear to be on the market.



Quality Concerns and What CL Tested for:


Unlike fish oil, which ConsumerLab's tests of hundreds of supplements over the years have shown to be generally free of heavy metals, fish meat can be heavily contaminated with mercury and arsenic. High mercury levels have led to warnings from the FDA about consuming certain fish, particularly fish high in the predatory chain and long-lived, such as shark, swordfish, king mackerel, and tilefish, as well as marlin, orange roughy, and bigeye tuna. Although albacore tuna tends to have lower levels of mercury than these fish, it contains much higher levels than, for example salmon, and the FDA recommends limiting albacore tuna consumption to one serving (6 oz. or less) per week (FDA 2004; FDA 2017).

Mercury is of concern as it can cause neurological symptoms: In adults, extreme exposure to mercury can cause personality changes, tremors, changes in vision, deafness, loss of muscle coordination and sensation, memory loss, intellectual impairment, and even death. Children are particularly sensitive to mercury and it can cause a decrease in I.Q., delays in walking and talking, lack of coordination, blindness, and seizures. Mercury can be passed to the fetus through the placenta and to infants through breast milk (Health Canada).

Arsenic is of concern because long-term exposure to high levels can cause cancer of the bladder, liver, and lungs as well as symptoms such as thickening and discoloration of the skin, decreased blood cell production, and abnormal heart rhythms. Short-term exposure to very high levels can cause gastrointestinal discomfort, muscle cramping, weakness, skin rash, tingling or pain in hands and feet, and loss of movement and sensory responses (Health Canada). Most of the arsenic found in fish is typically not in the most toxic form, inorganic arsenic, but, by some estimates about 10% of the arsenic in fish may be inorganic.

At the same time, concentrations of mercury, arsenic, and omega-3 fatty acids can vary tremendously across fish even of the same species and it is extremely difficult for consumers to know the content of these in the fish and fish products they buy.

To help consumers find nationally available canned tuna and salmon products that provide significant amounts of omega-3 fatty acids with minimal exposure to heavy metals, ConsumerLab.com independently selected, purchased, and tested popular brands of these products, checking each for omega-3 fatty acids and contamination with mercury, arsenic, lead, and cadmium. ConsumerLab also tested the oil in products to determine if was fresh or rancid. (See How Products Were Evaluated for details.)

#277#