/ Do any supplements really help with brain function, like memory and cognition?
Our Members Asked:
Do any supplements really help with brain function, like memory and cognition?
---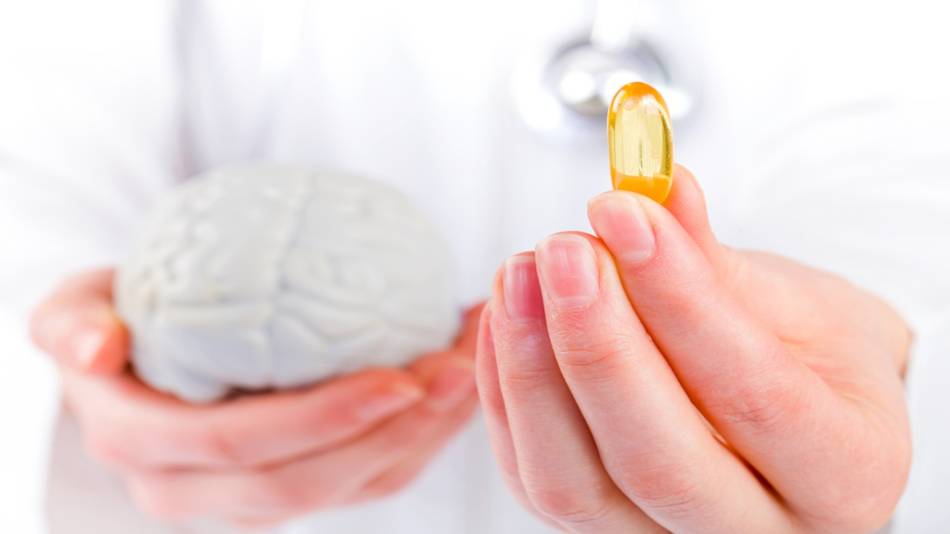 Answer:
There are a few supplements which may provide modest benefit with memory and cognition in certain people: These are
fish oil
, certain
B vitamins
,
cocoa flavanols
,
curcumin (from turmeric)
,
huperzine A
,
vinpocetine
, and
acetyl-L-carnitine
. In some situations, these may work together: One
study
found that fish oil may be helpful for people with Alzheimer's disease, but only those that also have adequate levels of B vitamins.
Increasing
magnesium
intake may improve cognition in older people who otherwise have a high ratio of calcium to magnesium intake.
CoQ10
may help improve statin drug side-effects, including memory loss.
Certain forms of
choline
may be help improve short-term memory and attention in older adults, or improve cognition in people with mild to moderate Alzheimer's disease, while other forms of choline have not been found to have a benefit.
In girls deficient in iron,
iron
supplementation may improve learning and memory.
Probiotic
supplements may improve overall cognition in older people with cognitive impairment but not those with intact cognitive function.
Although green tea has been touted for improving brain function,
this effect is not well established
. Other supplements touted for brain function, such as
Gingko biloba
and
vitamin E
have, by and large, not been found to be helpful.
Be aware that some proprietary formulas that contain some of these ingredients, such as
Procera AVH
, may promise more of a benefit than clinical evidence suggests. The FDA has
warned
that many supplements promoted to treat Alzheimer's disease and dementia are marketed with unproven claims and are "selling false hope." The FDA has also
advised consumers to avoid supplements
promoted to prevent or treat traumatic brain injuries.
Vinpocetine
, and ingredient in memory supplements such as
Procera AVH
and
Alpha Brain
,
may cause fetal harm or miscarriage
, and should not be taken by women who are pregnant or who could become pregnant. It can also inhibit blood platelets from forming clots and could dangerously interact with other blood- thinning supplements like garlic, ginkgo and high dose vitamin E, and drugs such as aspirin, clopidogrel (Plavix), ticlopidine (Ticlid), or pentoxifylline (Trental) and Coumadin.
Also be aware that some supplements promoted for memory and cognition contain
drugs that do not have FDA approval
for use and are not permitted to be sold as dietary supplement ingredients. These drugs include
Noopept
(omberacetam) and its analogs, such as piracetam, aniracetam, oxiracetam or phenylpiracetam.
Foods and cognition
Diets providing higher intakes of certain antioxidant compounds have been associated with a decreased risk of Alzheimer's disease and other forms of dementia. In a study that followed over 2,500 people 50 years of age or older for 20 years, the risk of Alzheimer's and other dementias was reduced by 76% among those with higher intakes of anthocyanins (16 mg/day from foods such as blueberries, strawberries and red wine) and by 46% among those with higher intakes of flavonols (14 mg/day from foods such as tea, apples and pears) compared to those with the lowest intakes (
Shishtar, Am J Clin Nutr 2020
). These higher amounts are not difficult to obtain. For example, you can get 16 mg of anthocyanins from just ¼ cup of blueberries (
Routray, Compr Rev Food Sci Food Saf 2011
).
When combined with other healthy lifestyle factors, consuming a high-quality "MIND" diet (Mediterranean-DASH Diet Intervention for Neurodegenerative Delay) is associated with a significantly decreased risk of Alzheimer dementia, according to results of two studies that followed over 2,500 older Americans for about six years. The MIND diet is based on ten healthy food groups (leafy green vegetables, other vegetables, nuts, berries, beans, whole grains,
fish
, poultry,
olive oil
, and wine) and five unhealthy food groups (red meats, butter and stick margarine, cheese, pastries and sweets, fried food, and fast food). The quality of the diet is evaluated by how often foods in each group are consumed. Five healthy lifestyle factors were considered: having the highest MIND diet score (upper 40%), not smoking, engaging in >150 minutes per week of moderate to vigorous-intensity physical activity, light to moderate alcohol consumption (one drink per day for women and two for men), and engagement in late-life cognitive activities (such as reading, writing, or playing chess). The risk of Alzheimer dementia was 37% lower in those with 2 to 3 healthy lifestyle factors and 60% lower in those with 4 to 5 factors compared to those with no or only one healthy lifestyle factor (
Dhana, Neurology 2020
).
You can read more about the potential memory and cognition benefits of these supplements by using the links above.
Join today to unlock all member benefits including full access to all CL Answers and over 1,300 reviews.
Join Now
Already a member? Sign In Here.
Join now at www.consumerlab.com/join/
34

Comments