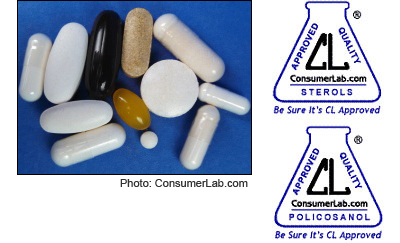 Product Review:
Review of Cholesterol-Lowering Supplements (Sterols and Policosanol)
Initial Posting: 9/27/17 Last Update: 1/2/18
Make Sure the Supplements You Take to Lower Cholesterol Passed Our Tests
Some Supplements Can Help Lower Cholesterol and Reduce the Risk of Heart Disease.

Find Out Which Cholesterol-Lowering Supplements Are Best!
See the report now
---
Brands compared in report
| | |
| --- | --- |
| | Andrew Lessman's ProCaps Laboratories CholestaCare |
| | Enzymatic Therapy Cholesterol Shield |
| | Life Extension Policosanol |
| | Nature Made CholestOff |
| | Nature's Life Policosanol |
| | Pure Encapsulations CholestePure |
| | Puritan's Pride Policosanol |
| | Shaklee Cholesterol Reduction Complex |
| | Solgar Policosanol |
| | Source Naturals Cholesterol Rescue |
| | Swanson Ultra Policosanol |
| | Vibrant Health Cholesterol Blocker - Version 2.1 Vanilla |
See the report now
---
More about this report
Elevated cholesterol is a key risk factor for heart disease. Many supplements are sold to improve cholesterol levels. Some really work to lower cholesterol, while the evidence is not as strong for others. Among those proven to work are plant sterols, also known as phytosterols. ConsumerLab.com tested several sterol supplements, however, one product appeared to be best -- having clinical evidence to support it and being lowest in cost.
Another supplement ingredient touted to lower your cholesterol is policosanol, although the evidence is mixed. Tests by ConsumerLab.com identified several policosanol supplements that delivered what they promised, and one was, by far, the best value.
ConsumerLab.com also reviewed the evidence for many other ingredients that may improve cholesterol levels and/or triglyceride levels.
You must be a member to get the full test results for plant sterol and policosanol supplements along with ConsumerLab.com recommendations and quality ratings. You will get results for ten supplements selected by ConsumerLab.com and for two others that passed voluntary, quality certification testing.

In this comprehensive report, you'll discover:
Which plant sterol and policosanol supplements failed testing and which passed
Direct comparisons and quality ratings of cholesterol-lowering supplements (and discussion of Smart Balance and Benecol spreads)
The pros and cons of other cholesterol-lowering ingredients such as fish oil (omega-3), garlic, niacin, red yeast rice, guggulsterone, pantethine, soy protein and Sytrinol, and which may be best for you. (Links to product tests for many of these supplements are included.)
Dosage recommendations and how best to take cholesterol-lowering supplements, including plant sterols, plant stanols, and policosanol
Concerns, cautions, drug and nutrient interactions, and potential side effects of plant sterols and policosanol
See the report now
---