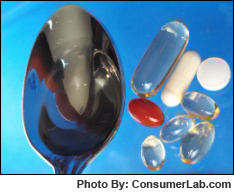 Product Review:
Vitamin A Supplements, Including Beta-Carotene and Cod Liver Oil
Initial Posting: 12/17/17
Choosing the Best Vitamin A Supplement
Best Quality Vitamin A Supplements Identified - But You May Not Need One

Find Out More Now!
See the report now
---
Brands compared in report
| | |
| --- | --- |
| | Carlson Norwegian Cod Liver Oil |
| | ChildLife Cod Liver Oil Natural Strawberry Flavor |
| | CVS/pharmacy A |
| | Nature Made A |
| | Nature's Bounty Beta-Carotene |
| | NOW Vitamin A |
| | Puritan's Pride Beta-Carotene |
| | Rite Aid Natural Vitamin A |
| | Solgar Dry Vitamin A |
| | Thorne Research Vitamin A |
| | Vitacost Norwegian Cod Liver Oil |
| | Vitamin World Beta-Carotene |
See the report now
---
More about this report
Vitamin A is necessary to maintain good vision, skin and immune functioning. Supplementation may also slow the progression of macular degeneration, enhance healing after laser eye surgery, and reduce the risk of certain cancers. So how do you choose the best vitamin A supplement? You'll find out in this report -- but you'll also find out that too much vitamin A can be dangerous and Americans are more likely to be getting too much vitamin A than too little. Excess vitamin A can weaken bones, damage the liver, and cause birth defects; and as beta-carotene, too much also poses dangers for certain people.
You'll also find out that labels on supplements containing vitamin A often don't tell you if they exceed tolerable levels. In addition, some labels don't accurately tell you how much you're getting. Over the years, ConsumerLab.com has found many supplements having far more or less vitamin A than listed.
In this comprehensive review, you'll get test results and quality ratings for 10 popular vitamin A supplements and information about 2 other vitamin A supplements similar to ones tested and rated. You'll learn:
Which vitamin A supplements passed or failed testing. (All fish oil products were tested for PCBs and mercury)
Direct comparisons and quality ratings of vitamin A supplements, including cost comparisons that show you can pay just 1 cent to more than $2 for the same amount of vitamin A.
What vitamin A can and cannot do
Which foods are rich in vitamin A
Recommended daily intake and dosages of vitamin A - and which products exceed tolerable intake limits
Concerns, drug interactions, and potential side-effects of vitamin A from retinol (or retinyl palmitate -- the form in cod liver oil) and beta-carotene
See the report now
---