Initial Posting: 8/15/14

Last Update: 6/24/17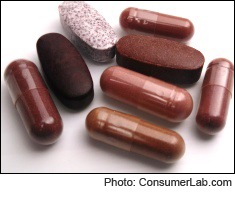 Sections:
Jump to a section by clicking on its name.
What It Is:
Red yeast rice is a substance made by fermenting rice with a species of yeast called Monascus purpureus. The fermented rice has been used as a food and a traditional medicine in China for over 1,000 years (since 800 AD). Red yeast rice naturally contains a variety of compounds known as monacolins (or mevinic acids). Some of these monacolins are known to inhibit cholesterol production by inhibiting the enzyme HMG-CoA reductase.

Among the monacolins in red yeast rice is monacolin-K, also known as lovastatin. Lovastatin is the key ingredient in the prescription drug Mevacor®, one of the "statin" drugs used to lower cholesterol levels in people with high cholesterol. Closely related to monacolin-K is its hydroxy acid form (known as monacolin KA), which is the activated form of lovastatin after it passes through the liver. Lovastatin and its hydroxy acid form are typically the predominant monacolins in red yeast rice. (In this Review, the term "total lovastatins" refers to the sum of these two compounds in any red yeast rice product.)



What It Does:


Several well-designed human studies have found that red yeast rice taken daily for two to three months lowers total cholesterol, low-density lipoprotein (LDL) cholesterol, and triglycerides in people with elevated cholesterol. In one study, total cholesterol fell by an average of 18%, LDL by 23% and triglycerides by 15% (Heber, Am J Clin Nutr 1999). When combined with lifestyle changes and fish oil use, a more dramatic decrease in LDL (a 42% decline) has been reported (Becker, Mayo Clinic Proc 2008). In these studies, levels of high-density lipoprotein (HDL, "good cholesterol") did not significantly change. Although these studies were too short to fully assess effects on mortality, a study in China of several years duration among people with a previous heart attack showed a significant decrease in recurrent heart attacks, heart attack-related deaths, and the need for angioplasty or heart surgery (Lu, Am J Cardiol 2008). In this study, a 20% decrease in LDL cholesterol and a 4% increase in HDL cholesterol were also observed.

The total amount of lovastatin in clinically tested red yeast rice is typically less than half the amount used in prescription lovastatin products. For example, in recent clinical studies, the daily amount of lovastatin in the red yeast rice preparations has ranged from 5 mg to 18 mg. The standard dose of lovastatin prescribed to achieve LDL reductions of 30% to 40% is typically 20 mg to 40 mg. A likely explanation for this difference is that red yeast rice contains a variety of compounds, including other monacolins that may contribute to cholesterol lowering. For more information about dosage, see What to Consider When Using and Buying.

Because of these other compounds, red yeast rice may be effective in people who do not respond to prescription statins and side-effects seen in patients treated only with lovastatin may potentially be diminished because of the lower amount of lovastatin in typical dosages of red yeast rice. In fact, among a group of people who experienced muscle pain with a statin drug, only 7% of reported muscle pain when switched to red yeast rice (Becker, Ann Int Med 2009).
A small, 4-week study which compared red yeast rice (300 mg, four times daily, providing a total of 10 mg of lovastatin) to simvastatin (Zocor) (20 mg daily) found a similar cholesterol-lowering effect of each treatment but slightly more muscle fatigue and reduced physical activity with simvastatin than red yeast rice (
Xue, BMC Cardio Disorders 2017
).
Even among people using a marketed red yeast rice product of their own choosing, 92% who were previously intolerant to statin drugs were able to tolerate red yeast rice and achieved an average LDL reduction of 21% (Venero, Am J Cardiol 2010). See Concerns and Cautions for potential side-effects of red yeast rice.

More information about the clinical evidence for red yeast rice is available in the Encyclopedia article on this site. Other natural products that may lower high cholesterol include oats and oat bran, soy protein, flaxseed, psyllium, and plant stanols and sterols. For information about these, see ConsumerLab.com's Review of Cholesterol-Lowering Supplements and the Encyclopedia Article about natural treatments for high cholesterol.

FDA Action:
In the late 1990s the marketing of a prominent red yeast rice product (Cholestin®) was challenged because its label listed the amounts of lovastatin contained in each dose and made specific claims about the product's ability to lower cholesterol. The FDA determined that Cholestin®, by containing lovastatin, was an unapproved drug and ordered it removed from sale. (A reformulated version of Cholestin®, containing no red yeast rice, is currently sold in the US). However, other red yeast rice dietary supplements continue to be sold in the US. Their labels state only the amount of red yeast rice, not the amount of total or individual monacolins. In August of 2007, the FDA sent warning letters to several companies promoting the cholesterol-lowering effect of their red yeast rice supplements. The FDA classified these products as unapproved drugs and issued a warning to consumers to avoid these products. It appears that products that did not claim to lower cholesterol or prevent disease did not receive warnings. However, any supplement containing more than trace amounts of lovastatin may technically be in violation of FDA policy.



Quality Concerns and What CL Tested for:


There are no standards for amounts of lovastatin and other monacolins in red yeast rice dietary supplements and, due to regulatory issues, these levels are generally not listed on supplements. This makes it very difficult to anticipate and gauge the safety and efficacy of products. A study of nine red yeast rice supplements published in 2001 (Heber, J Alt Comp Med 2001) also found great variation in types and amounts of monacolins across products. That report emphasized that clinical results with one product should, therefore, not be generalized to other products. Reasons for variations may include differences in strains of yeast, culture conditions and media, procedures for extracting and concentrating the compounds, drying, and other manufacturing processes. Tests by ConsumerLab.com in 2008 of ten red yeast rice products showed a 100-fold range in total lovastatins. (These results were published by ConsumerLab.com in 2008 and were subsequently published in a scientific paper in Archives of Internal Medicine in 2010 (Gordon, Arch Int Med 2010). Most recently, tests of 28 brands of red yeast rice purchased from major retail chains in the U.S. showed that monacolin K was not detectable in two brands and ranged more than 60-fold among the remaining brands (from 0.09 to 5.48 mg per 1,200 mg of red yeast rice (Cohen, Eur J Prev Cardiol 2017). [Note: Unlike ConsumerLab's Review, this study did not measure amounts of monacolin KA, which also has cholesterol-lowering activity, nor amounts of the toxin citrinin (described below), and did not identify names of the tested brands.]

Another concern with red yeast rice is that it may inherently contain amounts of citrinin — a potential toxin that can be produced by yeast or fungi grown on corn, rice and other cereal grains. In animals, citrinin has been shown to damage kidneys. Similar effects are suspected in humans but have not been proven. Citrinin is typically not found in high levels in human food because it is eliminated during processing and baking.

In addition to these concerns, a study by researchers at Oregon State University showed that the FDA has no routine sampling or analysis program for red yeast rice products and, as with other types of dietary supplements, the FDA does not track products on the market or know which are made under Good Manufacturing Practices (Childress, J Clin Lipidol 2013).

ConsumerLab.com, as part of its mission to independently evaluate products that affect health, wellness, and nutrition, purchased red yeast rice dietary supplements sold in the U.S. and tested them for their levels of lovastatins and other monacolins and citrinin. Any supplement in the form of a regular tablet underwent disintegration testing to see if it would properly break apart.



Update:
(2/24/16): A CL member informed us that a certificate of analysis included with bottles of one of the products in this review is not authentic and appears to have been altered by the company. Details are found in the Update in the full Review.

#185#